Sad news from Wallace Roberts & Todd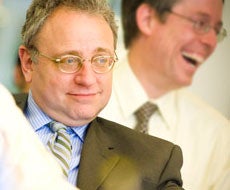 The following is the news release from WRT
It is with deep sadness that we announce the death of Gilbert A. Rosenthal, FAIA who passed away on June 27, 2011.
A principal of our firm for nearly 30 years, Gil's impact—on both the firm and the world at large—has been profound.
Recruited in 1983 to build an architectural practice within what was known at that time as a renowned planning and landscape firm, he first began his career in Pittsburgh, following graduation from the M. Arch program at Harvard University and his Bachelor of Architecture from Cornell University.
Gil's legendary drive, commitment and devotion to his practice brought his clients and the firm great success. But more than that, Gil's primary focus on serving the underprivileged defines his life. He leaves an astonishing mark in the rejuvenation of inner city neighborhoods with affordable housing, the enrichment of school life with the expansion of college and private school campuses and new student life facilities, and the creation of community centers and senior living facilities in cities around the country.
Though he did not seek recognition, Gil won countless awards for his affordable housing work. He was a prolific writer, writing articles on the practice of architecture for journals and educators. A lasting gift to the WRT staff was his publication in 2010 of "Gil's Guide to Marketing," a humorous book full of quips and stories of how (and how not) to market professional services.
In addition to his practice, Gil was an educator to all, particularly to his staff. He taught and was guest lecturer at numerous institutions, including the University of Pennsylvania, The Kennedy School (Harvard), Cornell University, Carnegie-Mellon University, Temple University, Bennington College, and Drexel University. Most recently he gave the Keynote Address at Roger Williams University.
Family was, without question, the most important aspect of life for Gil. His beloved wife, Judy (Sullivan) and daughters Emily, 26, and Grace, 23, were an ever-present source of joy, pride and laughter for him.
WRT has established a scholarship in Gil's name to honor his legacy and continue his positive impact on the underprivileged from the communities he served. Contributions to the Gilbert A. Rosenthal Fund can be sent (check or money order) to WRT, c/o Susan Sweeney, 1700 Market Street, 28th Floor, Philadelphia, PA 19103.