Sacred spaces reimagined with preservation, Philly communities in mind
Food was a common thread connecting all three projects.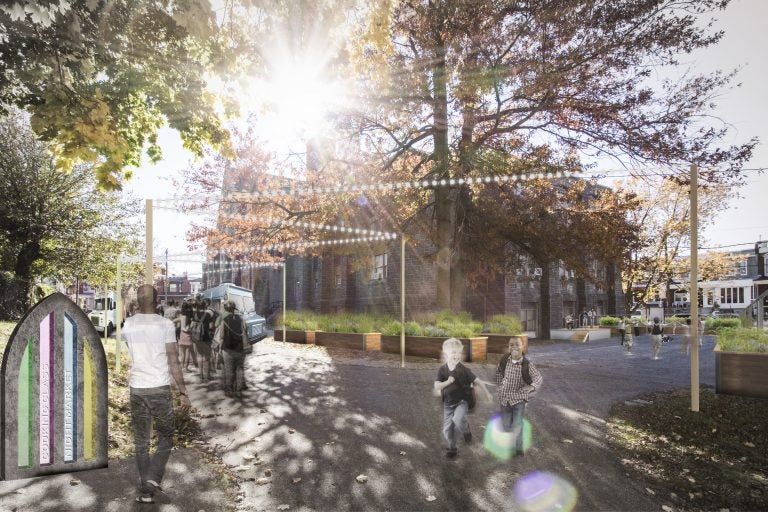 This article originally appeared on PlanPhilly.
—
Philadelphia has no shortage of lux condos carved out of historic churches but how about a grocery store with stained glass windows?
That was one of the ideas shared Tuesday at a grand reveal of conceptual designs created through a competition run by Philadelphia's Community Design Collaborative and Partners for Sacred Spaces, a national nonprofit that works with congregations to repurpose underused religious buildings for community use.
Across Philadelphia, communities are grappling with how to reinvent historic religious buildings as neighborhoods change and congregations move or shrink. In the last year alone, multiple historic churches in the city have fallen to the wrecking ball, or come close to it, as congregations struggle to cover the cost of maintaining aging buildings.
"Often, the choices are selling the buildings, repurposing them with no sacred component, or demolition," said Anne Fadullon, Director of Planning and Development for the City of Philadelphia. "Instead, there should be some creative options."
Fadullon got her wish at Tuesday's presentation of the Sacred Places/Civic Spaces design challenge.
There was the grocery store imagined inside the steepled 100-year-old church annex belonging to Zion Baptist Church in Nicetown-Tioga and affordable housing built on the sprawling Mill Creek campus of The Philadelphia Masjid. For Wharton-Wesley United Methodist Church in Cobbs Creek, congregants working with an interdisciplinary design team drew up plans to replace an old parking lot with green space for gardening and events.
Food was a common thread connecting all three projects.
"We are situated in a food desert," Rev. Michael Major Sr. said of Zion Baptist Church. The Masjid and Wharton-Wesley both included cafeterias and commercial kitchens for culinary training.
The designs include a myriad of other services and assets, such an urgent care health clinic and small business incubator at Zion, the affordable housing at Masjid and places for entrepreneurs to set up food trucks at Wharton-Wesley. All three religious buildings anchor neighborhoods with high rates of poverty and commercial corridors with potential for growth — Zion along North Broad Street at Erie Avenue; Wharton-Wesley near Baltimore Avenue; and the Masjid close to Lancaster Avenue in an area that's eligible for government tax incentives through two programs, Obama's Promise Zone initiative and Trump's Opportunity Zone policy.
The projects were reviewed by an expert jury of preservation architects, design professionals, developers, public sector representatives and faith leadership, midway through the design process and then at the presentation of the final plans on Tuesday.
At the latter, jurors gave accolades to all three plans. Their concerns centered around questions of sustainability. The operating and staffing needs will be beyond the capabilities of the congregations, so partners will be needed. They also asked about the scalability of the projects: what would be possible if the necessary funding for the full project isn't found?
Though the design teams were charged with making realistic proposals, cost calculations weren't officially part of this process. But naturally, any non-profit organization or faith community has to have costs on their minds, and some are not waiting to find out. "We already got some numbers," said Aazim Muhammad, Director of Community Development for The Philadelphia Masjid. "And we're not afraid of this project."
Many of the 800-plus historic sacred places in the city of Philadelphia already offer their spaces for events, programs, and to other organizations. This project seeks to solidify the bonds between faith institutions and their surrounding communities.
To that end, each of the religious sites was paired with a community organization from their neighborhood, as well as a pro-bono team of professional designers. The Philadelphia Masjid joined forces with The People's Emergency Center, the community development corporation (CDC) that serves Mantua and West Philadelphia, and a group of designers led by the firm HOK. Wharton-Wesley United Methodist Church teamed up with ACHIEVEability, an agency that offers supportive services to low-income residents, and designers led by Brawer & Hauptman Architects. Along North Broad Street, Zion Baptist Church's community partner is Called to Serve CDC and the design was led by Studio 6mm.
The next phase for the congregations will be their capital plans. Beth Miller, executive director of the Community Design Collaborative, says they hope in the future to have another round of Sacred Places/Civic Spaces to assist more faith communities and neighborhood groups in Philadelphia, as well as sharing the program's template with other cities.
"In Philadelphia, many communities are in transition, and it just makes sense to look to sacred places as the community hubs that they were intended to be," said Miller in a statement. "Sacred Places/Civic Spaces explores what can and should be done to preserve, protect and re-purpose sacred places as civic spaces that can be open to all."
WHYY is your source for fact-based, in-depth journalism and information. As a nonprofit organization, we rely on financial support from readers like you. Please give today.