Russian-language radio breaks sound barriers in reaching out to Philly community
It's no easy thing to start a radio station from scratch, especially if you're a radio rookie. From compressors to coaxial cables, from transmitters to transcription, radio can seem as complicated as chemistry.
Throw in a foreign language, and surprises arise.
"I get emails, I get phone calls even, that I did not say a correct word. Being a native Russian speaker, I thought that I speak Russian very well, and now I have to improve my Russian!" Alexander Yuchkovski said, laughing. "When there are thousands of people listening, they notice mistakes."
Such pique over pronunciation may be understandable, when you're the voice of a whole community.
Radio Philadelphia, a Russian-language station that sits at 106.5 FM on the radio dial, launched nearly two years ago. Although it's a low-power station, with a transmission radius of just three miles, it has become an indispensable part of Philadelphia's burgeoning Russian-speaking community, thanks to online live-streaming that allows listeners to tune in from around the world.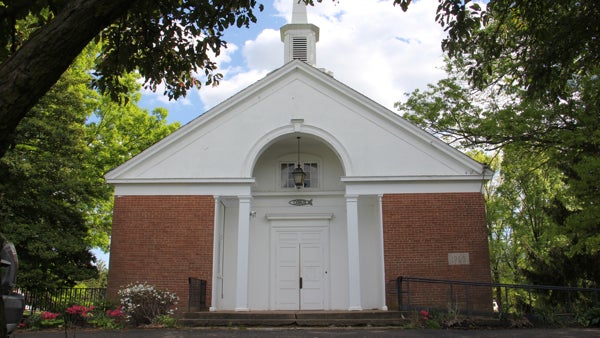 Yuchkovski and his brother Vitali — Moldova natives who are longtime Christian ministers in Northeast Philadelphia — started the station as an extension of their Russian Missions.
"The radio is a very helpful tool to reach out," said Vitali Yuchkovski, 46, pastor at New Beginning Church in Somerton. "Our radio is serving as a bridge for the community."
A little bit of everything
Although it's rooted in the brothers' ministry, the station feels far from a church service. It airs everything from pop music to political debate to dental hygiene tips. One recent afternoon, for example, tag-teaming hosts talked about nuclear warfare; mulled whether people should read horoscopes; invited listeners to call in to share their opinions; and promoted an upcoming show on green cards and other immigration-related issues.
The banter was bookended with songs by Vladimir Vysotsky, the late Russian bard who became wildly popular in the 1960s and 1970s for songs that criticized the Communist regime.
At a time when Russia dominates much of U.S. media coverage, President Donald Trump is frequent fodder on the station's talk programs. But the station tries to represent all viewpoints, the brothers agreed.
"Our primary goal is to educate," said Alexander, 52. "We have different groups of people participating, different views expressed, different social topics. We are not sectarian."
And while Trump is the most unpopular new president in modern times, many Radio Philadelphia listeners are more philosophical about the country's current political chaos.
"The Soviet Union was a country where people were oppressed. America is a country of democracy, a country of freedom," Vitali explained. "So whoever is in the office, the country is still a country of refuge, a country of embracing people who come from painful experience."
Russia and other Eastern European countries typically don't get much air time on their station, his brother added.
"We don't talk too much about Russia here, because we live in America, and we're all U.S. citizens. We are here to build this wonderful country and to make it better," Alexander said. "We talk a lot about our city and what's going on here."
Relishing freedom of expression
The brothers revel in their diverse programming, noting that during their childhood under Soviet authority, religion was under attack, and media, tightly controlled.
Such stifling conditions drove the brothers to emigrate about 25 years ago to the United States. Alexander came to study at Eastern University's Palmer Theological Seminary in Wayne. His brother enrolled at a seminary in Kansas City.
So it's perhaps fitting that their radio station is located inside an old church in Churchville, Bucks County. They converted a church office into a soundproofed studio brimming with microphones, computers, and other recording equipment. Maps of Moldova adorn the walls, and Russian nesting dolls are everywhere.
The station is nonprofit, so no one draws a salary, Vitali said. They fundraise to cover station expenses. While Vitali still helms a church, his brother devotes all his time to the radio station.
The brothers don't know how big their audience is. With no formal radio training, they've spent so much time learning the tough technological stuff and honing their on-air personalities that analytics have become an afterthought.
"I'm so new to this sort of thing, and I'm learning. So of course, there are mistakes, [such as going off the air], and me or somebody else would have to learn how to fix those problems," Vitali said.
Still, more than 40,000 people of Russian ancestry live in the Philadelphia region, according to 2015 U.S. Census data. And if you include people from other Eastern European countries, there are likely tens of thousands more Russian-speakers here.
That's a lot of potential listeners.
A valued resource
Olia Prokopenko, a professor of Slavic studies at Temple University, has appeared as a guest on Radio Philadelphia to discuss bilingualism in Russian-American families and maintaining native-language skills in an English-speaking environment. She encourages her students to listen to Radio Philadelphia to improve their Russian comprehension and speaking skills.
"People from the former Soviet Union really value radio a lot," said Prokopenko, who grew up in the former Soviet Union. "Sometimes, in Soviet times, radio was their source of truth, and I'm not talking about the official radio in Russia, but [instead] the Russian-language broadcasts from the BBC, Radio Liberty, or Voice of America."
She added: "In my family, radio programs were playing from morning to night. It was music, it was news, it was literature programs. Here, in Philadelphia, there are quite a number of families with older generations of Russians who have that tradition of listening to the radio, who are less comfortable with internet news, and who don't read in English. So for them, Russian radio is a link with their native home culture."
Indeed, ethnic media is the fastest growing sector of American journalism, with more than 3,000 outlets nationally, according to New America Media, a California-based nonprofit that tracks ethnic media.
And Alexander Yuchkovski sees only bigger things ahead.
"A lot of our people here never had a radio experience. They are becoming tremendous talk show hosts, which amazes me," he said. "Some of them, we try, and it doesn't work. But we teach people, and we see how they discover their talent. Our future is bigger coverage, becoming more and more the heart of the community."
And maybe the future will bring a celebrity guest.
"I was watching Jimmy Kimmel, the guy who does the comedy show, and I just love the way he told his story about his son. It touched my heart and just made me cry, honestly. He spoke from the heart, and I just love the way he encourages people not to forget about people in need," Vitali said. "Jimmy, if you're hearing me, come to our Russian show!"
—
WHYY's Irina Zhorov contributed to this story.