Route 9 Library in New Castle opens to the public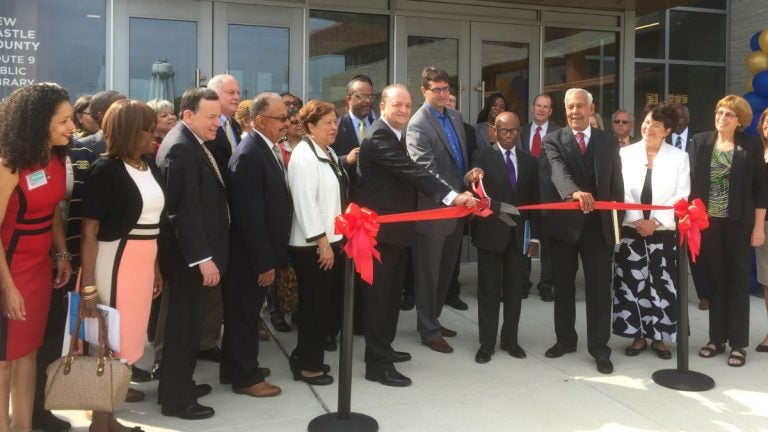 A county library years in the making came to fruition Tuesday.
Adults and children were greeted by the smell of new books as they explored their favorite authors and examined the latest technology inside a modern library newly opened to the public.
On Tuesday, the Route 9 Library and Innovation Center opened its doors for the first time. The grand opening was marked with a ribbon cutting ceremony and reception featuring city, county and state officials.
"For so many of us, this is a dream—this is about people having an idea, coming together, mobilizing and saying, 'This community matters, this Route 9 corridor matters and the cornerstone of this community going forward will be an educational institution," said New Castle County Executive Matt Meyer, D-New Castle.
"The most important thing we can do is to use this institution to address illiteracy in the community, address the fact kids these days spend all their time on their phone and not much time in their books. We need to get them here, we need to make sure they use this facility to enhance their own futures."
The almost $31 million facility, shared by the county and state, was originally placed in the county budget in 2012 during Paul Clark's time in office as county executive, but construction didn't begin until 2015. The county set aside $1.3 million in its operating budget for this fiscal year.
There are about 10 full-time and 35 part-time staff working at the library.
In addition to checking out books, the community will be able to take advantage of a Maker Lab, STEM room, sensory room, Bookatarium, Scriptorium, Black Box Theater and cafe. Members of the community will be able to receive writing help, and participate in community engagement programs and activities.
Colonial School District also has partnered with the library for a pilot program that helps public and school libraries fill in the gaps of learning.
"Delaware school libraries have been in crisis for decades, and, especially for children in poverty who live in book deserts, lack of access to books results in poor reading scores and academic achievement," said State Librarian Annie Norman.
Rev. Christopher Bullock of Canaan Baptist Church, who was County Council President during the time construction started, moved his church to the area eight years ago to address issues like drug addiction and prostitution. He said the new library is just one aspect of the goal to revitalize the community.
"We saw the potential. Where others saw a desert, we saw an oasis," Bullock said. "Route 9 is the first exit into Delaware from the Delaware Memorial Bridge, so it should not only be a corridor of substance but also a corridor to celebrate, and for the revenue to be generated, but we need businesses, we need community support. This is a day of hope and faith—and dreams do come true."
Thirteen-year-old Serviam Girls Academy Students Jaila and Treasure said the new library will benefit them greatly.
"We really don't have a library, our library is pretty small, this library we got more choices and we get to study here and do work projects," Treasure said. "It's more quiet, more focused in here to do study hall and homework. I have brothers (at home), so you know, they make noise and play with you and stuff, so you get to focus on your work."
Jaila look forward to having resources so close to home.
"And it's something different for our community, because I don't live too far from here," she said.
John King and his mother Arlene Parker said they're excited to have a library so close to their New Castle home. They previously had to travel to Newark or Old New Castle if they wanted to use library services. King said the library will be a huge benefit for the community's adults and youth.
"Anything positive we can have in our community is always a forward thing for us—we always hear about how bad things are, drugs, and so forth, crime and so forth, but when you look at something like this and the kids can come and see this it will reinforce them to want to learn and expand their horizons," King said.
Parker said she too will take advantage of everything the library has to offer.
"I'm going to learn how to use that computer—because that's the main thing now that you need to know—so that's going to be the first thing on my agenda," she said. "I read anyway and all my kids read—because they were raised that way."
WHYY is your source for fact-based, in-depth journalism and information. As a nonprofit organization, we rely on financial support from readers like you. Please give today.