Rooms for rent: Inside Philadelphia's shadow housing market
One year ago, a family died in a Philadelphia rooming house fire. City officials promised reform. Nothing has changed.
This story originally appeared on PlanPhilly.
—
James Smith Jr. got lucky.
The 68-year-old pays $80 a week to live in a safe building in Brewerytown, one of the city's quickly gentrifying neighborhoods. He moved in five years ago, looking for an affordable place to live alone after his wife died.  
"I'd say it's peaceful," says Smith, who enjoyed a spell of fame and fortune as a vocalist with the Philadelphia R&B group The Stylistics. "It's convenient for me. It's got transportation. All I have to do is go out the door, and I'm on the bus. I go to church down the block. Basically, I'm a loner."
From the outside, Smith's building is unremarkable: a scruffy brick edifice with the landlord's offices on the ground floor. But go inside, and its two shared bathrooms and small, kitchenless dwellings tell a different story.
Smith lives in one of the city's few legal rooming houses. Called boardinghouses, rooms for rent or just a cheap place to stay, rooming houses are defined by city officials as rent-by-the-room establishments where more than three people unrelated by blood or marriage live and share a bathroom and (sometimes) kitchen facilities. The city does not know how many are currently operating, but, over the last decade, the Department of Licenses and Inspections has approved permits for 82 facilities across the city.
---
Reporter Jake Blumgart unpacks Philadelphia's underground housing market on Thursday's episode of WHYY's The Why. Listen now and subscribe on Apple Podcasts or Stitcher.
---
They occupy a perilous niche in the city's housing landscape — unwelcome and banned in most city neighborhoods, yet in demand from renters in need of affordable and accessible options.
Alita Johnson was one of those renters on a brisk day last March when she ended up trapped with her 6-year-old son and her father on the third floor of one of the city's thousands of illegal rooming houses.
The building's owner, Tyrone Duren, had carved as many as six units into the North Philadelphia row house, despite permits and zoning that listed it as a single-family home. Lacking smoke detectors or other fire safety infrastructure, the brick home on North 21st Street had racked up numerous code violations.
When the house broke out in flames last March, firefighters didn't find Johnson and her family in time to save them. It was only days after the blaze had been extinguished that firefighters finally came across the bodies of Johnson, her young son, Haashim, and her father, Horace McOuellem, hugging each other in a bathtub. Philadelphia Fire Commissioner Adam Thiel blamed the grisly tragedy on the rooming house itself.  
"It is also important to note that this building was zoned and expected to be a single-family dwelling, where you would expect the family unit that lives there to be able to report the whereabouts [of the house's residents]," Thiel told reporters in 2018.
In the wake of the inferno, city officials promised action. But with the exception of legislation mandating that the city's few legal rooming houses adopt interconnected smoke detectors such as those found in standard multifamily buildings, nothing has changed since the deaths.
Policymakers continue to dodge difficult conversations about the city's untold thousands of rooming houses, how to better regulate them or even bring their owners out of the shadow. Meanwhile, the cost of housing continues to rise, and people keep looking for rooms they can afford.
"There are far more rooming houses in the city of Philadelphia than people have any idea of, especially now with prices going up beyond what many people can pay," said Karla Cruel, a longtime legal aid attorney in Philadelphia. "By making it so difficult to create rooming houses, it makes landlords go underground. And illegal rooming houses make it much easier to oppress and manipulate people and put them in really dangerous situations."
Outlawed affordability
James Smith Jr.'s landlord, Victor Pickney, opened his Cecil B. Moore Avenue rooming house in the 1980s. He says that he got permission to open through political connections in City Hall. Though he serves as vice president of an organization that represents Philadelphia landlords, Pickney said he doesn't know anyone else who owns a legal rooming house.
"I know there are a lot of people who want rooms though," he said, "because I generally don't have vacancies, and I have a lot of people who come here looking for rooms."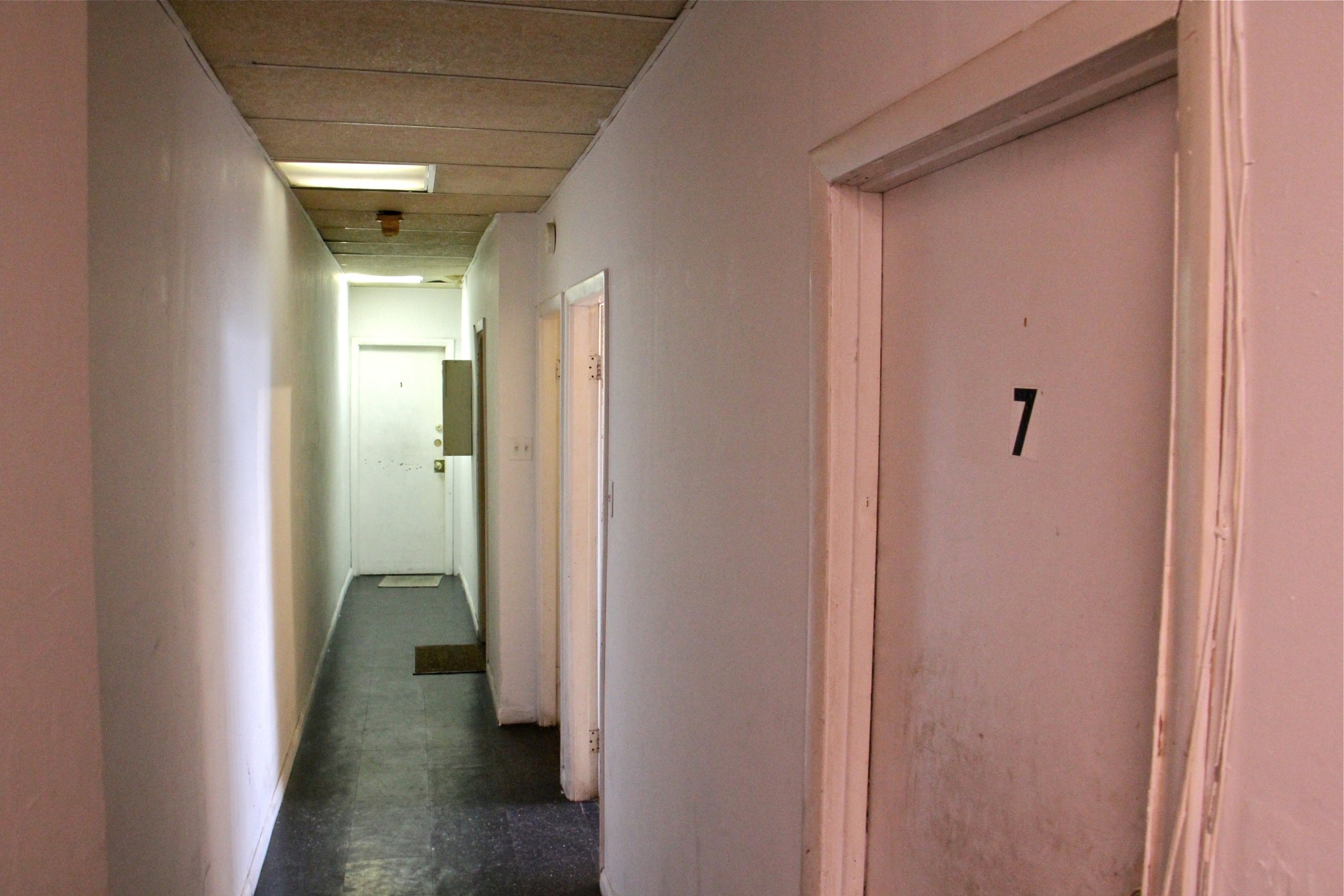 It wasn't always this way. In the 1930s, a Philadelphia Tribune report tallied 50,000 of them in the city. But by the time Pickney opened his doors, legal rooming houses were becoming rare. Philadelphia's zoning code makes it extremely difficult to establish single-room residences. They are banned in all but the highest-density zoning districts, which are mostly found in Center City and University City. To legally establish one requires a round of often-hostile community meetings and a trip to the Zoning Board of Adjustment, which does not tend to look favorably on such requests.
It is impossible to fully map the city's illegal rooming houses, but violation data from L&I provides a window into their geography. Inspectors wrote the most violations in North Philadelphia, with large numbers also found in Kensington, South Philadelphia west of Broad Street, and parts of Germantown, Southwest, and West Philadelphia.
Even this data is fuzzy. Although the agency receives more than 500 complaints about illegal rooming houses annually, inspectors are largely unable to gain entry to the buildings. No law requires residents to allow government agents into their home without immediate cause — and they have little incentive to admit an L&I worker. Why let in an inspector who could imperil your living situation, forcing you onto the street?
The more limited pool of actual rooming house violations collected between January of 2016 and December of 2018 shows almost 400 violations across some 300 properties, ranging from a lack of carbon monoxide alarms to plumbing code violations.
But as far as the number of violations and the number of complaints, city officials believe there are exponentially more rooming houses out there than they ever hear about.
Consider the findings of the Centennial Parkside Community Development Corporation, which attempted to map known rooming houses in the neighborhood in 2017. Although no rooming house-related L&I violations are shown in the neighborhood over the course of three years, the group reported almost 40 rooming houses on four thoroughfares in the neighborhood.  
By contrast, that's roughly the number of legal rooming houses that have been established across the entire city of Philadelphia since 2012.
"It's easy to tell people what they can't do, and then they continue to do it," said Councilwoman Maria Quiñones-Sánchez.  "But [rooming houses] exist. I have them in my district, and I've tried to work with some of the owners to become compliant. But there is no pathway for them to become compliant because we don't have it in our code right now."
After the fire, L&I Commissioner Dave Perri said he supported changing the city's zoning code to make it easier for legal rooming houses to operate.
"We have an affordable housing crisis, but a prohibition against establishing the most inexpensive form of housing in the areas where they are needed most," said Perri in an interview with PlanPhilly. "The code is out of sync with reality. The question is how can we responsibly put rooming houses back into neighborhoods?"
But Perri declined recent interview requests, saying that nothing has changed since last spring, so he had nothing more to add. A change in zoning would require City Council actions that haven't materialized.
'We didn't have much at the time, but it was convenient'
Outside of lower-income communities, the city's rooming houses are visible only when tragedy strikes. But for a lot of Philadelphians, rooming houses are a part of the everyday fabric of life, providing shelter for those who do not have the money for a full house or access to the legal housing market.
In interviews with rooming house operators and tenants, PlanPhilly heard a variety of accounts about life in these one-room, shared facility units. Some residents told horror stories of violence and drug use, others had happier tales of well-run homes where the renters lived like a family or were able to save up enough by living in an $80-a-week room to eventually buy a house.
Rooming house tenants tended to describe them as housing of last resort — and not necessarily because of their lower costs. Many low-income renters have been evicted or have bad credit, which can prevent traditional landlords from renting to them. Undocumented immigrants, people recently released from prison, or teens too young to live alone face barriers to the normative housing market as well.
Semajae Forrest spent much of her childhood living in rooming houses. Her family relied on their affordability and flexibility for places to stay when they weren't staying with relatives.
"It was me, my mom, and two of my sisters all in one room," Forrest recalls about one boarding house where she used to live. "We didn't have much at the time, but it was convenient. As far as the upkeep of the house, it was always in good condition. There were never problems. I saw the landlord, he was active, that  house was a lot more better [than the one I just left]."
More recently, Forrest decided she had to move out of a relative's home because she was near the end of her pregnancy. She found a room with her boyfriend in a boarding house in North Philadelphia on a small blocked marred by vacancy. They would have preferred an apartment, but the landlord of the rooming house proved to be the only one who responded to them.
Forrest says that, like most of the rooming houses where she's lived. it was cheaper than an apartment or a house. She rented a large bedroom with her boyfriend for the couple and their newborn for $575 a month. The price and accessibility to mass transit made the place appealing.
The problem came when Forrest noticed that the landlord did not seem to screen the other tenants and was largely absent except when it came time to collect rent. Forrest didn't control her living space, which proved especially galling after the baby was born. Most troublingly, the door didn't have a key, just a keypad to punch a password into.
"You never know what kind of person you will have to share that space with," said Forrest. "I noticed that some people had the door code who didn't live in our building. That brought up my anxiety.  You don't know what's going on, why are these random people walking in and out of the house who don't live here."
Pickney describes his legal rooming house as almost a kind of public service. Walking down the scuffed hallways, with the dull murmur of daytime television leaking from beneath closed doors, he says matter-of-factly: "It's not much, but it's liveable."
Pickney's rooming house might not accord with middle-class norms or with the press release-ready images of new Philadelphia Housing Authority homes. But as a landlord with an investment in running a rooming house over the long term, he ensures that his tenants have a safe and clean place to live. He does not check credit, or ask for first and last month rent plus a full month's security deposit as he does for the apartments and homes he rents out.
Most of his tenants either work minimum-wage jobs or make do with Social Security, disability payments or other public assistance. This is all they can afford without housing subsidies.
"The rental market you are trying to reach, you are really helping people," said Pickney. "I take people in my rooms who could not qualify for an apartment.  I give them a safe place to be. If they aren't in a decent legal rooming house, they are probably in some underground rental market …"
—

WHYY is one of 22 news organizations producing Broke in Philly, a collaborative reporting project on solutions to poverty and the city's push towards economic justice. Follow us at @BrokeInPhilly.
WHYY is your source for fact-based, in-depth journalism and information. As a nonprofit organization, we rely on financial support from readers like you. Please give today.