For their 100th anniversary, robots go 'Beyond the Binary' in Philly choral performance
Autonomous technologies help the Mendelssohn Chorus perform a new work about the ethics of robotics.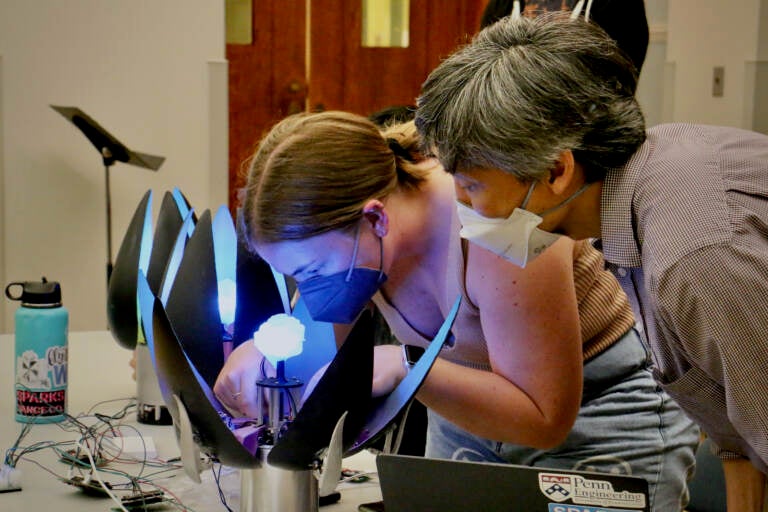 This year is the 100th anniversary of the arrival of robots in America.
The word "robot" was coined in 1921 by Czech playwright Karel Čapek in his play "R.U.R." a.k.a. Rossum's Universal Robots. It premiered in America the following year in New York, in 1922. It gave actor Spencer Tracey his first Broadway role, as a robot.
Now, Philadelphia composer Andrea Clearfield and librettist Ellen Frankel are marking that centenary with a new choral work about artificial intelligence: "Beyond the Binary: A Meditation on Humans and Machines."
"The piece starts out with this duality – the pros and cons of robots," Clearfield said. "As the piece goes on it starts to nod to other possibilities: What if we went beyond yes and no, on or off, one and zero, black and white, male and female, to an expanded way of thinking?"
Clearfield wrote the music for voice and percussion machines invented by musical instrument designer David Kontak.
As the chorus sings:
Reality is Boolean! All logic is Boolean!
But one is alone; And two divides us.
…
There are more things in heaven and earth than are dreamt of in your philosophy!
The work will be performed on Sunday at the Fillmore in Philadelphia's Fishtown neighborhood, by the Mendelssohn Chorus with the percussion trio Square Peg Round Hole. The performance will feature various forms of robotics developed by engineers at the University of Pennsylvania's GRASP lab (General Robotics, Automation, Sensing, and Perception).
The "binary" of the title refers to a common narrative trope popularly assigned to robots: that they are either subservient to humans, or prone to destroy them. That dichotomy was laid out in that first story of robots by Čapek, in which a population of artificial people is at first content — even pleased — to be occupied with menial labor, but ultimately rise up and kill their creators.
Of course, in 1921 Čapek did not invent the idea of artificial humans, a concept that goes back to ancient Greek, Jewish, and Norse mythologies. What the playwright did in 1921 was give them drudge work, naming them after the Slavonic word robota, or forced labor.
"We originally thought about having this piece start where the play leaves off," said Clearfield, referring to the final act of R.U.R. when the robots destroy all of humanity and set out to create a new population of artificial beings. "Then we decided that it might be interesting to have these different tableaus based on the themes brought up in the play."
Those century-old themes have not entirely gone away. Mark Yim, a professor of mechanical engineering at Penn and director of the GRASP lab, said one of the issues scientists and engineers are grappling with right now is the same central premise of R.U.R.: robots that kill.
"One of the big things that the robotics community is struggling with is what we call Lethal Autonomous Weapons Systems (LAWS)," Yim said. "It's something that's really difficult now with Ukraine and the war going on. There are drones that are semi-autonomous. They're using robotic technology and it's helping to defend Ukraine. Maybe defense is a good thing, but at the same time the whole war is really bad. Killing people is bad."
The GRASP lab primarily works on interdisciplinary projects with other fields, developing autonomous technologies for architecture, design, and medicine. Yim finds it valuable for his students to also work in the arts, to develop creative thinking in addition to technical problem-solving.
The autonomous technology Yim and his team of Penn students are developing for "Beyond the Binary" is not at risk of killing anybody. The performance on Sunday will feature mechanical flowers which respond autonomously to certain musical cues, opening their petals and glowing when triggered by specific sounds.
Some audience members at the Fillmore will be given hand-held pods embedded with colored LED lights, which they can turn on at will like an electronic version of a Bic lighter.
However, at some point during the performance the pods will take control themselves and act collectively as a swarm.
The pods are able to spatially find each other, and coordinate their flickering lights to create patterns like a wave or a swoosh.
The pods were developed by Sam Biddle and Noam Aizenberg, two mechanical engineering students in the GRASP lab who are applying a technology called fine time measurement (FTM), which is able to pinpoint locations with extreme accuracy within a local WiFi network.
"The technology itself is pretty new. The fact that it's now in cheap WiFi chips is even newer," said Aizenberg. "It's a more accurate way of positioning people indoors, where you need meter to meter accuracy inside buildings where GPS is not going to be able to do that."
For practical uses, think navigating a shopping mall, tracking kinetic equipment on a factory floor, or maneuvering the so-called internet of things.
But for "Beyond the Binary," it's just meant to be fun.
"It's the intersection of architecture, technology, and mechatronics," Biddle said. "I don't know if this technology will go out into the world and make an impact, but I hope it'll make an impact for the performance, hopefully make a lasting impression on the person who's sitting in the seat."
"Beyond the Binary" will have just one performance, on Sunday evening at the Fillmore. Clearfield said right now there are no additional performances planned.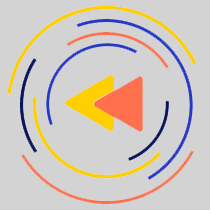 Saturdays just got more interesting.
WHYY is your source for fact-based, in-depth journalism and information. As a nonprofit organization, we rely on financial support from readers like you. Please give today.