Commentary: Chris Christie's 'support' of medical marijuana just a smokescreen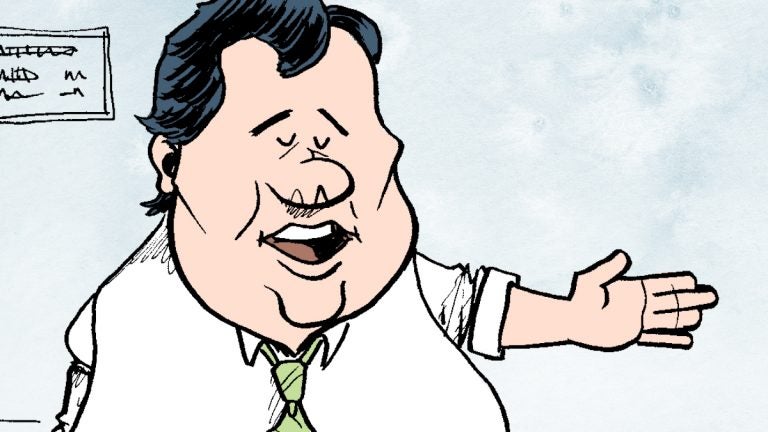 "Tell it like it is." That's how Chris Christie bills his presidential campaign. He's supposed to be the guy that can tell the hard truths and cut through the fog of campaign silliness to take on the real problems that face our country.
So it was fascinating to watch this scion of truthfulness twist and contort his views on marijuana like a Philly pretzel in an attempt to soften his hardline stance.
"I'm not against medical marijuana," Christie proclaimed in an exchange with Kentucky Sen. Rand Paul, who has been the governor's harshest critic when it comes to pot. "In New Jersey, we have medical marijuana laws which I supported and implemented."
Only he didn't. Back in 2009, Christie told NJ101.5 FM that he opposed a then-pending medical marijuana bill on the basis that it was too lax. That bill would later be signed into law by his predecessor, Jon "I lost $2 billion" Corzine, leaving Christie to drag his feet on implementation (the Star-Ledger dubbed it "bureaucratic sabotage").
Once the medical marijuana law was finally implemented, Christie vetoed legislation designed to make it easier for patients to treat their sick children. The legislation was inspired by the plight of 2-year-old Vivian Wilson, who suffers from a rare from of epilepsy that cannabis has been shown to drastically help.
"Please don't let my daughter die, governor," Vivian's father Brian, told Christie face-to-face at a campaign stop in 2013. Christie's response was to let a re-worked version of the bill he vetoed sit unsigned on his desk for months, eventually forcing Vivian and her family to give up on their home and move to Colorado to gain access to the medicine she needs.
As recently as June of last year, Christie was calling medical marijuana programs "a front for legalization," and five years after it was legalized, only half the permitted dispensaries have opened. Just 4,000 patients have registered to participate, a far cry from the 100,000 anticipated.
And the Christie administration did everything they could to stop edible marijuana from reaching sick kids, stonewalling on guidelines for 18 months.
"Why did it take them 1 1/2 years to develop these standards? They exist in other states – why do we have to reinvent the wheel?" complained Ken Wolski, executive director of the Coalition for Medical Marijuana New Jersey.
Then there's the issue of taxes. Christie has said taxes taken from the sale of marijuana are "blood money." But sick patients who are able to navigate New Jersey's labyrinth of laws and regulations quickly find themselves paying one of the highest tax rates in the country on medical marijuana.
"If taxing medical marijuana means he supports it, then yes I guess he supports it," said PolitickerNJ columnist Jay Lassiter. "For a party that supposed to be about limited government and less taxes Chris Christie finds creative ways to insinuate the government into our lives while simultaneously taxing us for being sick enough to need medical cannabis."
Not only is Christie's distain for medical marijuana apparent to all, he's the only Republican candidate who admits he'd enforce the federal ban on marijuana use in states that have legalized the drug for recreational use.
"If you're getting high in Colorado today, enjoy it," Christie said while campaigning in New Hampshire. "As of January 2017, I will enforce the federal laws."
This hardline position puts Christie to the right of all GOP candidates and a majority of Americans, who say recreational pot should be legal. It also puts the states-rights conservative at odds with the 10th Amendment, and would suggest a lack of understanding of federal law, where there is no distinction between recreation and medical marijuana.
As recently as April, Christie has said he considers marijuana a "gateway drug," a view that's at odds with medical experts whose research clearly shows the vast majority of users do not go on to use harsher drugs.
No surprise that a Republican is at odds with science.
And yet, even Christie admitted during Wednesday's debate, "I think the war on drugs has been a failure." Christie also noted he's "for rehabilitation," but in New Jersey that means appearing before a "drug court" that still relies on the criminalization of drug users, who are given a choice between jail and treatment.
So is Chris Christie in favor of medical marijuana? I guess the "Tell it like it is" answer is it depends on what group of potential voters your talking to. But in the real world, his support for medical marijuana is about as strong as his latest poll numbers.
_____________________________________________________________________
Rob Tornoe is a cartoonist and WHYY contributor. Follow Rob on Twitter @RobTornoe