Review: 'The Body of an American,' the travails of a playwright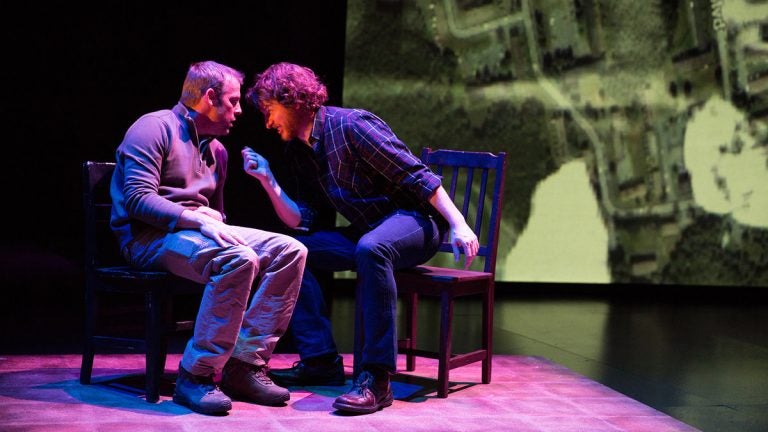 A writer named Dan O'Brien tuned into "Fresh Air" on August 27, 2007, and this is what Terry Gross was saying:
"Remember that famous 1993 photo of a dead American soldier being dragged through a street in Mogadishu, Somalia, by a mob that danced and cheered while beating the corpse? That picture was taken by my guest, Paul Watson. Although he won a Pulitzer Prize for the photo, that picture and its afterlife still haunt him."
That, thought O'Brien, is a play. In the highly affecting "Fresh Air" interview, Watson explained why he was haunted. In the second before he took the photograph, Watson said, he heard the dead soldier, Staff Sgt. William Cleveland, telling him: "If you do this, I will own you forever." After the program was aired, a listener wrote on a photography Web site: "It was hard to listen to, but I found it harder not to listen to it."
The play O'Brien subsequently wrote should be the same. Despite Wilma Theater's sterling production and spot-on direction by Michael John Garcés, "The Body of an American" never really grips us the way it's obviously meant to. O'Brien builds the play around his quest to meet Watson and understand him. But unlike another such play — the celebrated "I Am My Own Wife," which traces playwright Doug Wright's quest to crawl into the mind of his subject — "The Body of an American" never finds a "reveal" or even skims beneath the surface of Paul Watson's psyche.
The play, produced at the Wilma on a scant set with a rich projection design of Google maps, archive photos and a blizzard by Jared Mezzocchi, takes us all over; it covers the Mideast hotspots where Watson spent much of his career in great danger to report the news and document atrocities, and ends up in the Canadian north, where Watson and the playwright finally meet after a long period of e-mail interviews. Despite its geographic breadth, "The Body of an American" ends up nowhere. It leaves us hanging, after an indulgent hour and 50 minutes without intermission.
The warm curtain call that Ian Merrill Peakes and Harry Smith received for the many roles they gamely take was well deserved at the performance I saw Friday night. But even as I enthusiastically applauded the acting and the production, I couldn't help but wonder what we were all doing there.
The playwright shows us, in his script, that as he and Paul Watson became friends, the somewhat disinterested Watson gave him scant insight. And that's just what he passes along.
_"The Body of an American" runs through Feb. 1 at Wilma Theater on Broad Street, between Locust and Spruce Streets. 215-546-7824 or www.wilmatheater.org.