Review: 'Sex with Strangers,' on-line and off
Listen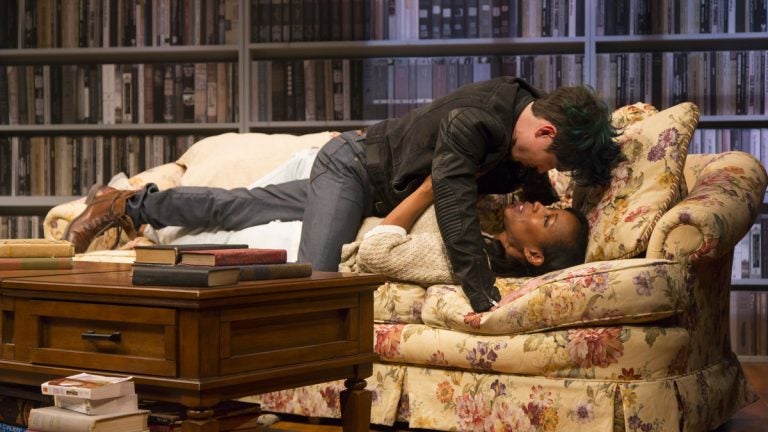 I didn't trust Ethan from the minute I saw him. In Kyle Coffman's portrayal at Philadelphia Theatre Company's "Sex with Strangers," the young Ethan is cocky, menacing, quick-tongued and a few degrees too smooth: a total scam artist, I thought.
That might have made for a good play, but Laura Eason's "Sex with Strangers" is far better than a just good play. Her character Ethan is, in fact, everything he says is — a highly successful author with money in his pocket, a nonstop sex machine who's turned Internet postings about his one-nighter exploits into a publishing career, a guy with connections. The legion of women he's barely known but slept with either celebrates or excoriates him on the web. What more could an amoral 27-year-old guy ask?
And then, on a snowy night inside a cozy house far from the fast lane, Ethan meets a stranger, an older woman named Olivia. She's a published fiction writer doesn't believe in herself, and as portrayed by JoAnna Rhinehart, a bit of a loner, a little repressed and generally serious.
Each has come to this retreat to work on writing projects. Both had expected to be alone. And so the fun begins as the pair get to know, and Know, each other.
But it's not all so simple, especially for Ethan, whose sex with strangers provides a paycheck from his Web postings that he claims he no longer values. What happens when people want to throw away the personas they've created on the Internet — fictitious, real, or a mixture of both? When the pixels come home to roost?
In Ethan's world, it's not the pictures that count — his entire being on the Web is formed by his own words and the words of others who comment, and in book sales that come from his collection of those words. It's not porn, he protests, because it's not pictures. It's just words.
Just words. To Ethan, those words are something he feels he must downplay on his new route to becoming a serious writer. On the Internet, though, the past is always in the present, even after your server is dead. So to Claudia — the stranger swept up by Ethan and also the object of his more serious desire — there's no real difference between his past words and his current ones.
The compelling "Sex with Strangers" looks at two disparate people who have what each other wants: Claudia has respectability, Ethan has fame and a following. What each might gain in a relationship is unclear. What each could lose is more to the point.
Both actors in this two-hander feel genuine in their carefully built portrayals, and David Saint directs the play to feel like it's moving steadily on four wheels, the same way he directed this season's Off-Broadway success "Clever Little Lies" with Marlo Thomas. The show is a co-production between Philadelphia Theatre Company and George Street Playhouse in New Brunswick, N.J., where it ran before opening here.
The Internet is making for some good drama nowadays – along with "Sex with Strangers," check out "The Nether" at InterAct Theatre Company, a couple blocks away. For characters like Ethan and like those in "The Nether," their lives are defined digitally. What happens on the Internet stays on the Internet — not always such a good thing.
—
"Sex with Strangers," produced by Philadelphia Theatre Company, runs through May 8 at the company's Suzanne Roberts Theatre, Broad and Lombard Streets. 215-985-0420 or www.philadelphiatheatrecompany.org.
WHYY is your source for fact-based, in-depth journalism and information. As a nonprofit organization, we rely on financial support from readers like you. Please give today.