Review: 'Private Lives' on public display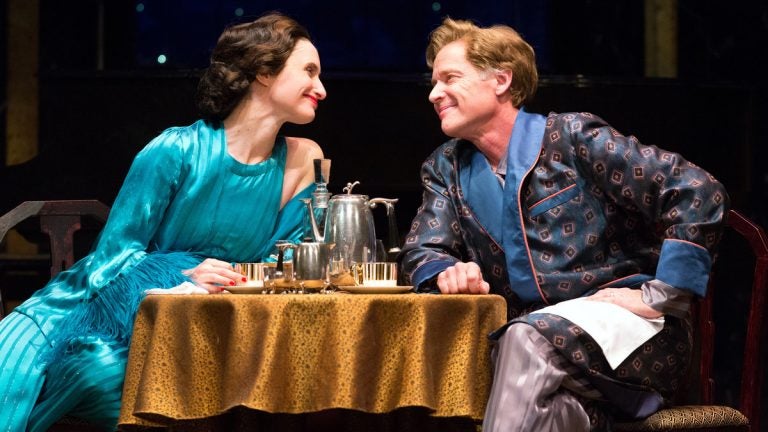 About 85 years ago, when Noël Coward was writing his now-classic "Private Lives," name-calling was probably pretty funny. A good deal of the verbal brawling in "Private Lives" comes down to that, which nowadays is not exactly perceived a substitute for wit. (Well, maybe on some Comedy Channel specials.)
Still, in Walnut Street Theatre's super-stylish production of "Private Lives," which feels like the world is one big art-deco burst of British energy, the evening is more than Coward's shrill and repetitive zingers. It's a time capsule, a world made of money and class. It's a place where everyone who's worth anything can afford the clothes by designer Mark Mariani, costumes of such rich confection you just want to walk on stage and chew the collars.
And that's my kinkiest thought about "Private Lives," a rolling acrimony between a couple stuck in love, for worse or for worser, that goes round and round. Back in the '30s, though, the idea that a gregarious, world-loving divorced couple (Kathleen Wallace and Greg Wood, both fantastic) could rekindle their stormy relationship only minutes after each marries new spouses was surely wild and crazy. They are all thrown together by chance, each couple honeymooning at the same resort and in side-by-side rooms. The old couple's new and more grounded partners (Lauren Sowa and Dan Hodge, entertaining and holding their own in somewhat back-seat roles) soon learn just how fickle love can be.
Even though I question the play's shelf life, others don't – it's had seven Broadway revivals, the last time just four seasons back. At the Walnut, it succeeds because of the way director Bob Carlton chooses to tell Coward's story. Here, it's as much a comment on Coward's characters and milieu as a presentation of his comedy. Carlton makes the divorced couple larger than life. Wallace gives her character the most transparent (and sometimes funny, sometimes overdone) airs. Wood, whose character is written as "flippant" in the script, also gets into a lot of shtik. There's a pulsing sophistication about them – the sense you get is that without it they would be deflated balloons. A sign of this is the way Carlton has them deliver their patter, full of self-awareness and pretense and, as a plus, sounding as close to dialogue Oscar Wilde might have written as I've ever heard.
I wish Carlton had given the play some breathing room between the second and third acts; it was written with two intermissions, but has a break at the Walnut only between Act I and the rest. As a series of theatrical crescendos, "Private Lives" needs air or else it becomes cloying.
Robert Koharchik's two sets for the show use every bit of the Walnut's stage to impart the production's big feel. The first is a grand terrace at the resort, which looks like something out of a travel ad. The second is the Paris "flat," as it's called, where the formerly married couple runs off to escape their honeymoons and new partners. It's the most sumptuous set I've seen in some time, Broadway or Philly. From the audience it appears as a surfeit of black marble with colored marble inlay, and with sconces that swirl like custard and a center rear-stage window that reveals a glittery Eiffel Tower in the distance, lit by designer Stuart Duke. Now that's the sort of flat anyone could bicker in, in peace.
"Private Lives" runs through March 1 on the main stage of Walnut Street Theatre, Walnut between Eighth and Ninth Streets. 215-574-3550 or www.walnutstreettheatre.org.