Review: 'Pericles,' on a fast track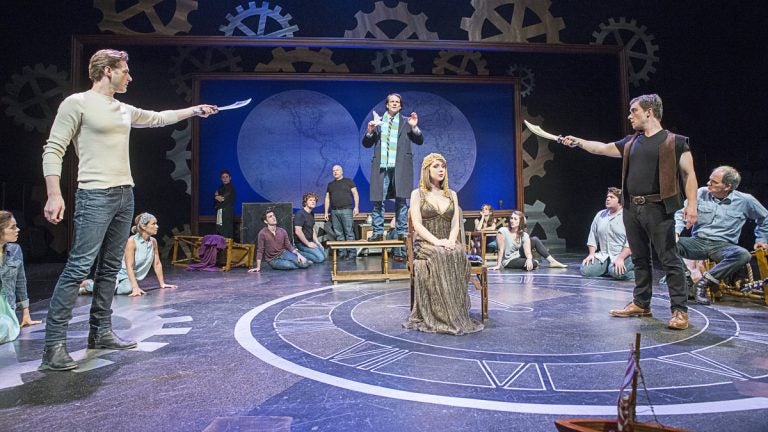 The epic story of "Pericles," in Shakespeare's telling, has it all – birth, death, wandering, royalty, dejection, elation and … just fill in whatever you can think of. And it's even more fun the way The Pennsylvania Shakespeare Festival is doing it.
Part of the intrigue of this "Pericles" is the way it comes to the stage. The festival has put it together as if it were being done in Shakespeare's time (for this play, 407 years ago): a few days of rehearsal (rather than today's standard three weeks) with no director (the cast makes decisions by consensus) and no costumes or set designers (the cast scours the festival's costumes closets and their own, and uses whatever's around the scenery shop).
Anything can happen. You may see actors carrying notes around during a performance. They may call for a line now and then. The festival has left standing a floor and wall design remaining from a former production. It's also allowed two nights of previews, which likely would have made Shakespeare jealous, before the official opening last Friday.
The festival has staged plays close to the Elizabethan way before — it's become popular at other festivals around the world. It provides added pizzazz, even for a play like "Pericles," thick enough with plot and scene changes to twirl the heads of casts that actually have enough time to prepare under the current standards.
This version is a highly entertaining production. The initial credit goes to the festival's producing artistic director Patrick Mulcahy and to the director James J. Christy, who teamed up to edit "Pericles" for maximum brio, then gave the script to the cast and bowed out of the process. With all due respect to the Bard, the turgid "Pericles" must be heavily edited. It's performed so infrequently because it is a turgid mess and virtually unreadable. Go ahead, try, I dare you.
What the cast had on hand was a fast-moving version with speedy transitions between scenes in different countries, plus all the necessary elements in Shakespeare's plot about Pericles, the king of Tyre, and his life jammed with fortunes, mishaps and trials.
The veteran actor Christopher Patrick Mullen is a highly realistic Pericles — when he hurts, so do you, and when he fails in a quest your heart sinks with his. The large cast boasts Susan Riley Stevens as a supremely bitchy queen, Ally Borgstrom as Pericles' hapless daughter. Spencer Plachy, Eric Hissom, Richard B. Watson and others play multiple roles, and are joined by additional actors. They offer a bright evening, a spirited rendering — and a production that feels as if it were much more meticulously planned out.
"Pericles" runs through August 2 at the Pennsylvania Shakespeare Festival, on DeSales University Campus, 2755 Station Avenue in Center Valley, a few miles north of Quakertown. 610-282-9455 or pashakespeare.org.