Review: 'I Promised Myself to Live Faster'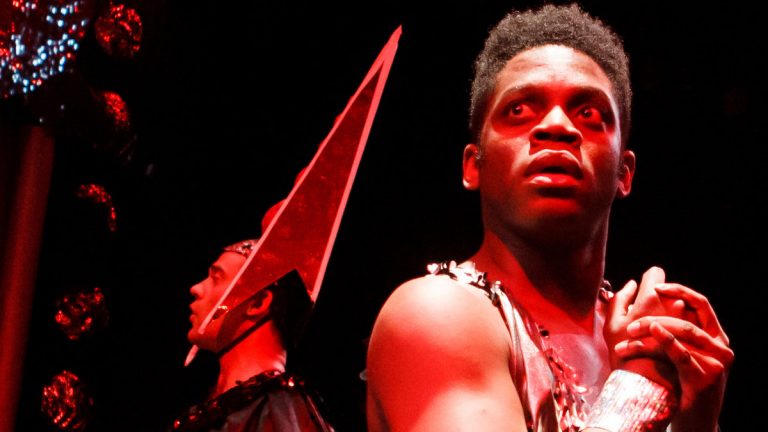 A long, crawly thing made of floppy red tubes worms its way across the stage. (It's hard to describe what Pig Iron Theatre Company's "I Promised Myself to Live Faster" looks like.)
Some earthling named Tim is trying to find the holy gay flame on an intergalactic galaxy and if he doesn't, gays will be wiped off the earth. (It's hard to describe what "I Promised Myself to Live Faster" is about.)
An androgynous evil-doer named Ah-Ni turns out to be Tim's pleasant traveling companion through space. (It's hard to describe what "I Promised Myself to Live Faster" means by character development.)
"I Promised Myself to Live Faster" is Pig Iron's newest, collectively conceived show, and it is One Big Goof – an absurd sci-fi adventure that says something, according to Pig Iron's own description, about being gay in 2015. Just what that is, don't ask me. I couldn't find a serious bone in the body of the work, and that's a good thing. Funnybones are its very foundation. (Dramaturg Eric Hoff writes a nice piece about the history of gay bars in the program notes, but to what end? In relation to the show, he could just as well have described chaos theory.)
The show premiered this spring at Louisville's Humana Festival of New Plays, and is continuing its run in Pig Iron's home town, at FringeArts. It's funny, campy, kinetic and eye-popping – costume designer Machine Dazzle (yes, that's the name, and unlike some names in the show like Moody Garland, he's real) outdoes himself in blending two themes: the cosmic and the gay. He's supported in this by William Boles' thick backdrop of silver dangles and Rob Kaplowitz's original music and outer-space sound design. Bring on the aliens!
But before they come, consider Tim (the excellent and limber Mikéah Ernest Jennings), the young gay guy alone in his flat, eating from a box of Chinese food in bed, fooling with his smart phone. A mysterious texter bids him to go to the bar on the corner, where the diffident Tim tries figure out who sent the message and is sucked into a world of three weird sisters (thanks, Shakespeare) dressed like nuns with upside-down white cones on their heads. Turns out, they somehow impregnate themselves with gay babies and they'll be out of jobs unless an earthling rescues the stolen holy gay flame and … I'm not going on from there, it's just too bizarre to put into a plot capsule.
The show's many characters are played by only five people – at the curtain call I expected maybe a dozen. In addition to Jennings, the three sisters are Jennifer Kidwell (she also does a great job as guy who tends bar) Mary McCool and Michele Tauber. Pig Iron co-founder Dito van Reigersberg plays the rest, including a drag queen (shades of his Martha Graham Cracker alter ego, which draws a ton of fans) and the nasty Ah-Ni – he looks marvelous in a multi-horned silvery headpiece Machine Dazzle designed.
After the stage company worked out the basics, playwright Gregory S Moss put it all together in a script that's all but officially dedicated to the late theater artist Charles Ludlam, a brilliantly absurdist creator-performer and one of the guiding spirits of the Pig Iron company. Dan Rothenberg, a Pig Iron cofounder and one of its artistic directors, artfully moves all the pieces around this cosmic puzzle. Still, at about 110 minutes "I Promised Myself to Live Faster," is just plain belabored. To make things worse, when I saw it Tuesday the pacing in parts seemed to fall apart, and I wondered whether "I Promised Myself to Act Faster" might be a more accurate title. The proof of the production, though, is in its tickling – and at times I found myself laughing out loud at the simple sight of whatever was on stage.
_
"I Promised Myself to Live Faster," created and produced by Pig Iron Theatre Company, runs through May 31 at FringeArts, Race Street and Columbus Boulevard. 215-413-1318 or www.fringearts.com.