Review: 'Henry V,' singing its way to war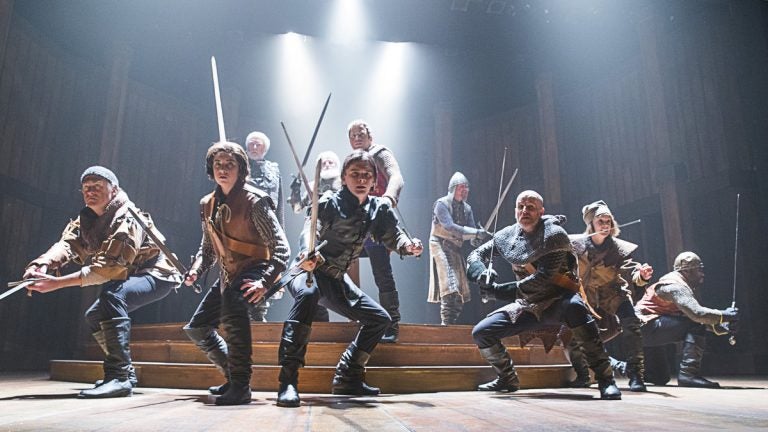 William Shakespeare made a pre-emptive strike centuries before anyone ever used the phrase. In "Henry V," he has to depict a monumental battle between the British and the French – a daunting task to stage then, as now. So before he gets into the play, he sends out a chorus to apologize in advance. Sorry, they implore us. The play should be more convincing, or the scene change is too quick to get the full picture. Or, please, imagine a horse here – we can't supply one.
The chorus comes out from time to time not just to beg our indulgence, but to move the story along. It's Shakespeare's smooth way of telling this particular history, of the playboy prince who becomes the no-nonsense king of England and engineers a land grab in France that ends with the Battle of Agincourt in 1415. (And with his marriage to the French princess, which gives the Bard a neat love-story subplot.)
In the regal "Henry V" that opened last weekend at the Pennsylvania Shakespeare Festival at DeSales University, north of Quakertown, that chorus comes down to one actor – the engaging Greg Wood. It's not unusual for a single actor to take the chorus' role in modern stagings. What's odd here is the way Wood brings it off: he's much more the narrator than the apologizer. Director Matt Pfeiffer, in his editing, seems to have cut some of the apologia, and Wood's own delivery doesn't emphasize what's left. He focuses, rather, on the story itself.
Nothing wrong there. Editing "Henry V" is not just a whim on Pfeiffer's part, it's a requisite for modern productions of Shakespeare, making him the Silly Putty of Western playwrights. Still, I missed all the disingenuous humility that Shakespeare focused on himself.
Adding theatrical elements to Shakespeare is also a director's prerogative – and here, Pfeiffer made a decision that makes this "Henry V" distinctive. He hired the Philadelphia composer and theater artist Alex J. Bechtel to write original music for the production. Shakespeare wrote lyrics for several of his plays, but not "Henry V," and Bechtel's interludes come at just the right turning points and have just the right feel. According to Pfeiffer, Bechtel uses two traditional hymns, a song Shakespeare wrote for "Henry IV, Part Two," and a couple of pieces from the folk band Fleet Foxes.
"Henry V" doesn't need enhancing, but the music is an bubbly addition and the cast brings it off as if it were there all along, pumped by Bechtel's Elizabethan-style arrangements. The musical interludes give this "Henry V" a cadence that carries into the text, although sometimes Zack Robidas, as King Henry, becomes a bit too enthused to be fully understood in his quick delivery. That aside, he makes for a commanding king – and adroitly supplies nuance to Henry's several moods. Two of Robidas' scenes are outstanding: In one, Henry rouses his beaten-down men to fight on and in another, he laments the weighty load of his crown.
Marnie Schulenburg, who is married in real life to Robidas, plays the French princess he will wed; she appears so delicate she could break in two, and beautifully offers up a scene in which her maid (Jane Ridley) teaches her some English. Anthony Lawton plays too many characters, all of them very well, but especially the Welsh captain who considers himself an expert of the history of war, and Carl. N. Wallnau – a favorite at the Pennsylvania Shakespeare Festival – also doubles down. (Shakespeare calls for more than 40 actors, which almost no production can afford, and this one weighs in at 17.) Nym and Pistol, comic characters, are Jacob Dresch and William Zielinski.
They and others compose a major-league cast, moved fluidly by Pfeiffer on Bob Phillips' wood-drenched set anchored, Globe Theatre style, by a round stage that sits on the rest of the playing space. Sam Fleming dresses the British and the French each in distinctive costumes so we can tell them easily apart – and J. Alex Cordaro's fight choreography simplifies the war scenes to swordplay between a few characters, rather than the rash of actors in some versions who fight as the British one minute, then come on stage as French the next. Thom Weaver's moody lighting design contributes heavily to this production's intense look.
"Henry V" runs through August 2 at the Pennsylvania Shakespeare Festival, on DeSales University Campus, 2755 Station Avenue in Center Valley, a few miles north of Quakertown. The play runs in repertory with "The Foreigner," performed by the same cast. 610-282-9455 or pashakespeare.org.