The Philadelphia Housing Authority (PHA) has embarked on its sweeping, half-billion dollar plan to replace its aged Norman Blumberg Apartments complex and remake a substantial portion of the surrounding Sharswood neighborhood, a section of North Philly just north of Girard College. NewsWorks and PlanPhilly reporters are producing a series on Sharswood that will trace the history of the Blumberg site, PHA's plans as they continue to evolve, and stories from the neighborhood as its promised transformation begins.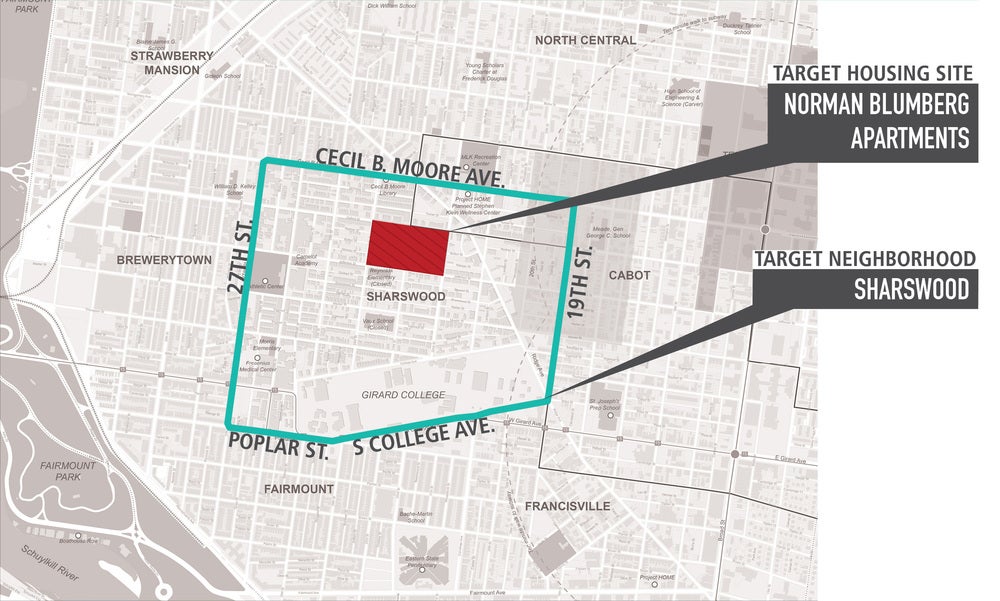 On March 19, PHA will implode the Norman Blumberg Apartments, a 1960s public housing complex on an eight-acre site with three towers and 15 low-rise buildings. In doing so, the authority is making good on a long-standing promise to improve the state of public housing in this corner of North Philly. It will mark the beginning of the authority's most ambitious project ever.
Over the years, the Blumberg complex became a symbol of decline. By PHA's own description, Blumberg became an "obstacle to neighborhood renewal" and was considered the agency's most distressed public housing complex. Plagued by drug and violent crime, Blumberg was also a place of concentrated poverty at a rate double the city's already high 26% average.
While housing values climb in surrounding neighborhoods like Brewerytown, Fairmount, Francisville, and North Central Philly, investment in Sharswood has lagged. The neighborhood has hundreds of vacant properties, including blocks bulldozed by the city under the Neighborhood Transformation Initiative a decade ago.
Now a new transformation is on the horizon: PHA's Sharswood-Blumberg Transformation Plan, released late last year, envisions a 10-phase vision for the neighborhood renewal, including the addition of 1,200 new units of mixed-income housing.
"It's a very detailed plan, it's an aggressive plan, it's an ambitious plan," PHA President and CEO Kelvin Jeremiah said in an interview with PlanPhilly's Jared Brey earlier this month. "It requires a lot of resources, but we're doing it with a lot of private partners as well. This is not PHA going it alone. This is not PHA wanting to correct a mistake that it created. I know that there are some who might believe that, but it's not. It's creating a better life for the families who have had to wait for something different and better for over 50 years. We've been telling them for the last 20 years we are going to confront these issues. We're doing it in a meaningful way."
Replacing an aging, distressed public housing complex is not an uncommon project for PHA. But this plan is different. Here, the housing authority is betting the farm that it can also remake the entire neighborhood surrounding the Blumberg site too. In addition to new mixed-use housing, the plan's goals include stimulating commercial development on Ridge Avenue, adding a school back to the neighborhood, and relocating PHA's headquarters to Ridge.
Work is already underway for the project's first phase. By the end of last year, 500 families were relocated from the Blumberg site. Two of the three towers are slated for implosion on March 19th. Meanwhile, the authority is acquiring 1,300 neighborhood properties, 800 of which are privately owned, through eminent domain. Of those, 73 of are occupied. Demolition in the neighborhood is already making way for new developable sites. PHA is expected to award more development contracts soon, and it says it has funding sources and tax credits lined up for early phased work. But the project's whole half-billion price tag assumes a lot of funding will fall in this project's direction. That's not at all set in stone.
In addition to funding questions, others remain:
Can the housing authority be successful at rebuilding a neighborhood?
The housing authority knows how to replace its old housing towers and build mixed-income housing. But does it know how to make a healthy place, a neighborhood from whole cloth? That's new territory for PHA.
Is this urban renewal in new clothes?
Decades ago, old cities like Philadelphia were remade through huge blight-clearance projects geared at reviving urban areas in the face of decline. This was top-down planning that razed blocks to make way for projects exactly like the Norman Blumberg Apartments. What's interesting is that the housing authority is deploying old-school urban renewal tools—like eminent domain and blight clearance—with the promise of a different result. PHA hopes to achieve this by relying on a layered approach that not only aims to improve housing but invest in community resources and opportunities for residents.
How responsive will the future development phases actually be to the neighborhood's professed needs and desires?
Those were captured during an extensive community engagement process that informed the transformation plan. But the plan leaves a lot of room for developers to determine the character of new development. What will Sharswood look and feel like 10 years from now? What about next year?
How will the housing authority manage a project of this scope?
After the eminent domain acquisitions are complete, three-quarters of the project area's vacant land will be publicly controlled. That means the fate of this neighborhood is in the housing authority's hands.
Stay tuned for a series of stories from WHYY on what's happening in Sharswood… In the coming weeks, we'll take a deeper look at the history of the Blumberg site and a bit more on how we got to the Choice Neighborhoods Transformation Plan. We're also talking to residents, and we'll be sharing the perspectives of people experiencing eminent domain, living amid the transformation, and some who have been relocated.
VACANT LAND IN SHARSWOOD:
Green parcels in map above represent vacant land as determined by a review of 2014 satellite images and field survey work in October 2015 by graduate students in PennDesign's program in Historic Preservation for a studio course on Sharswood. Map credit: Preston Hull + Ashley Hahn.
PHA project website: http://www.sharswoodblumberg.com/
For more project background:
WHYY is your source for fact-based, in-depth journalism and information. As a nonprofit organization, we rely on financial support from readers like you. Please give today.