College students document Sharswood's 'resilient voices'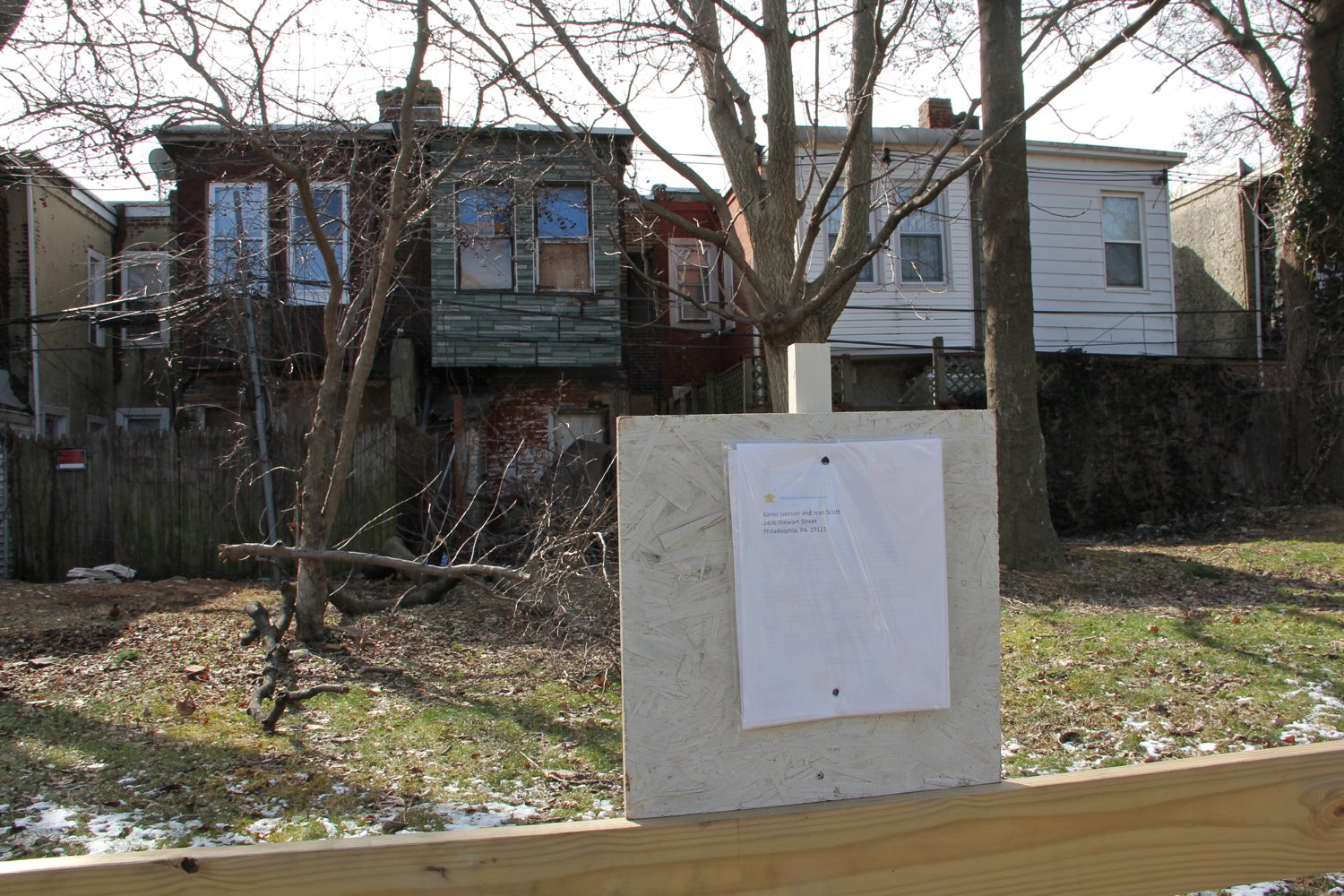 On Oct. 25, 2015, representatives from the Philadelphia Housing Authority (PHA) placed plywood signs reading "Declarations of Taking" in front of 500 properties in Sharswood. This spring, they'll appear on the same blocks—but with a facelift.
Last semester, Temple University undergraduates painted the signs neon green and pink, sticking a "Citizens' Declaration" on each, which read: "we hope to inform those who like so many of us are confused and angered by PHA's proposals and conduct. These signs hope to raise awareness of PHA's plans and activities."
The signs made their debut Tuesday night at a panel discussion entitled "Searching for Sharswood: Resilient Voices from North Philadelphia," which highlighted student projects from Temple, Philadelphia University and the University of Pennsylvania that all focused on Sharswood, a North Philadelphia neighborhood in the midst of a dramatic urban renewal effort led by PHA.
Andrew Hart taught a Temple class focused on making positive change in the neighborhood through projects, like making the aforementioned signs, and moderated the panel discussion.
"The interesting thing, I think, about this amount of students is all the various ways you could go about being a good neighbor," Hart said. "We all find ourselves on that spectrum at one point in our lives where we need to up our neighborly responsibility to one another."
Hart was the project's ringleader. In addition to teaching at Temple, Hart inspired PennDesign professors to focus a preservation class on Sharswood. Hart, who is also an assistant professor at Philadelphia University, helped arrange a student presentation on low-energy households design for Sharswood residents.
YFPA co-chair Lynn Alpert said the organization has been working in the neighborhood since they heard of PHA's ten-phase, $675 million plan to transform Sharswood about two years ago.
"How can we spread our experience in the community and what PHA is doing and what they're planning? How can we get that out to a wider audience?" Alpert said. "Those are the questions we wanted to try and resolve."
For the future, Alpert said she hopes that the conversations started by the project continue and turn into concrete, positive action in the neighborhood.
Not everyone at Tuesday's event shared Alpert's optimism. PennDesign alumna Sonja Lengel has a slightly more dubious outlook. Lengel helped draft the preservation plan for Sharswood, researching the neighborhood's history and sketching designs for housing that would echo the scale and style of the neighborhood's remaining homes.
After the semester, Lengel said she and her team presented their work to PHA representatives, but she doubts that they will implement any of the solutions they formulated.
"PHA's plan for the neighborhood lent us a sense of urgency as we worked," Lengel said. "We felt like we really needed to get something out there as a response."
Darnetta Arce, Brewerytown-Sharswood Community Civic Association director, said there's "nothing wrong" with the students' presence in the neighborhood, but she would like the project's research to be shared with the community and campus tours at each school for Sharswood's children.
Hart, who moved to Sharswood 15 years ago as a Temple undergraduate, said college students in Philadelphia need to understand their responsibilities as citizens and understand the neighborhoods around their campuses.
"Everyone's got a voice," he said. "How can you be a force of positive change for your neighbors in the span of time you're given? I think it's important to continuously ask ourselves that question."
WHYY is your source for fact-based, in-depth journalism and information. As a nonprofit organization, we rely on financial support from readers like you. Please give today.