'Regulatory issues' delay opening of Sunoco's Mariner East 2 pipeline
PUC cites 'numerous ongoing matters' yet to be resolved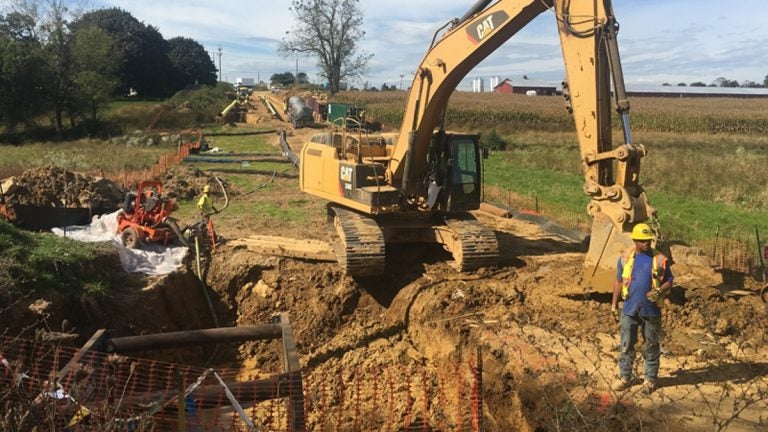 This story originally appeared on StateImpact Pennsylvania.
—
The Mariner East 2 pipeline, previously scheduled to be in operation by the end of September, is delayed again.
Sunoco said it is still working to overcome "regulatory issues." The company missed its own target of starting to operate the troubled natural gas liquids pipeline by the end of September.
"ME2 is not in service at this time due to regulatory issues we continue to work through. These issues have slowed our construction in a few areas along the route. We will put the line in service once it is mechanically complete," Vicki Granado, a spokeswoman for Sunoco's parent, Energy Transfer Partners said in a statement.
Granado did not specify the issues, but Nils Hagen-Frederiksen, a spokesman for Pennsylvania's Public Utility Commission, said there are "numerous ongoing matters" regarding the project that are before the PUC and have yet to be resolved.
They are:
A PUC injunction that blocks construction at two sites in Chester County's West Whiteland Township;
A complaint to the PUC by state Sen. Andy Dinniman (D-Chester) and others, seeking to stop construction in West Whiteland;
An investigation into the June spill of 33,000 gallons of gasoline into Darby Creek near Philadelphia from an existing ETP pipeline that the company plans to use temporarily as part of ME2 while the new pipeline is being completed;
An investigation into a strike on a section of ME2 by a water contractor at Middletown, Delaware County, in May;
A joint federal-state investigation into "allegations concerning weld inspections."
In late August, the PUC said it was looking into reports of "improper" weld inspections. At the federal level, the Pipeline and Hazardous Material Safety Administration said it too was investigating concerns about welds, but said it was focused on how weld x-rays had been taken rather than on the welds themselves.
Bobby Fraser, a PHMSA spokesman, said that x-rays had been taken from the wrong angle in two locations — one in western Pennsylvania and one in the east — but that "no abnormalities" had been found with any of the welds.
Hagen-Frederiksen said there may also be "other matters" before the Department of Environmental Protection or other state and federal agencies.
Neil Shader, a spokesman for DEP, said it has yet to issue a permit for construction near an apartment building in Media, Delaware County, and other permits may also be needed.
The delay is the latest in the turbulent history of the pipeline, which was first announced in 2014 and is now at least 18 months behind its original schedule. In February this year, Sunoco repeated an earlier forecast that the line would be operational by the end of June. It later told the public and investors that the line would be open by the end of the third quarter of 2018.
The earlier delays were prompted by continuing technical challenges, including the appearance of sinkholes at a pipeline site in suburban Chester County, which prompted the PUC to halt construction pending a safety inspection.
In recent weeks, Sunoco had to replace at least one section of newly laid pipeline because of problems with anti-corrosion coatings.
The delays have led Sunoco to repurpose a 1930s-era 12-inch pipeline as a temporary stand-in for a section of ME2 in Delaware and Chester counties while the new line is completed. Use of the old line — part of which leaked gasoline into Darby Creek in June — fueled fears that it would leak again when placed into service as part of ME2.
Critics said the latest delay has been prompted by Sunoco's failure to satisfy regulators that the pipeline will not endanger public safety.
"It's hardly a surprise that Sunoco has once again failed to execute on schedule," said Eric Friedman of the community group Del-Chesco for Pipeline Safety. "There is no doubt that the issues it's facing relate to the enormous, unmitigated safety risks associated with its proposed operations, and the lack of any credible plan to protect the public."
The announcement follows dozens of spills of drilling fluids, prompting 70 notices of violation by the DEP; three construction shutdowns ordered by regulators or courts, and a $12.6 million fine for what the DEP called "egregious and willful" violations.
The pipeline, which has been under construction since February 2017, will carry propane, ethane and butane from the Marcellus Shale of southwest Pennsylvania to a terminal at Marcus Hook near Philadelphia where most of it will be exported to Scotland for making plastics.
WHYY is your source for fact-based, in-depth journalism and information. As a nonprofit organization, we rely on financial support from readers like you. Please give today.