'An intense 24 hours': Philly region cleans up, surveys damage from Isaias
Philadelphia officials said Wednesday afternoon that the recovery from Tropical Storm Isaias would take time, with some neighborhoods hit harder than others.
Updated: 5:00 p.m.
—
Residents, business owners and government officials on Wednesday were left to clean up and assess the damage the day after Tropical Storm Isaias brought widespread flooding and power outages across the Philadelphia region.
"It's been a pretty intense 24 hours," said Philadelphia Fire Commissioner Adam Thiel at a press conference Wednesday afternoon.
There were more than 200 rescues and assist missions Tuesday, including 100 residents in the city's Eastwick neighborhood, which has experienced chronic flooding for years, Thiel said.
Rescuers also evacuated residents of an apartment building in Manayunk, some of whom had to be placed in boats.
"We're seeing Philadelphians pulling together, neighbors helping neighbors and doing everything we can to get things back to normal," Thiel said, noting that it will take a while with some roads still flooded.
"If you see standing water, if you see a lot of mud, that's not something you want to be walking through," Thiel said. "That mud is not entirely mud, and the water is filled with all different types of chemicals — you can actually smell the water. Please be careful over the next several days."
Anyone who needs recovery help can go to Penrose Elementary School in Eastwick between 10 a.m. and 6 p.m. The city's Office of Emergency Management also will open a help center in Manayunk, the location of which will be announced later Wednesday.
If you were impacted by Tropical Storm Isaias yesterday in Eastwick and need assistance or recovery resources, stop by Penrose Elementary School on the 2500 block of S. 77th Street. We're there until 7pm tonight and will be back from 10am to 6pm tomorrow. pic.twitter.com/DQJHTnp8FS

— Philadelphia OEM (@PhilaOEM) August 5, 2020
The American Red Cross has sheltered more than 130 people so far, and expects to shelter 160 residents this evening. The organization is still accepting calls at 1800-RED-CROSS.
Philadelphia residents can text "Storm PHL" to 888777 for up to date information, call 911 for emergencies and 311 for non-emergency help.
First responders in Montgomery County conducted 134 water rescues Tuesday, pulling stranded commuters from vehicles and ferrying residents from their homes. They also responded to more than 5,000 911 calls for assistance, more than double the typical day.
Police Wednesday found the body of a 5-year-old girl who went missing during the storm.
Eliza Talal, who is autistic, was found around 10:40 a.m. in Fischer's Park, about two miles from her home on Spring Valley Road in Lansdale.
She had wandered outside during the storm, and was likely carried away when the creek behind the home had arisen.
A Delaware woman was found dead at her home on North Shore Drive in Milford around 11:45 a.m. Police have not released details, but believe it was storm-related.
In Delaware County, flooding Tuesday displaced about 100 households, and those residents were moved to temporary housing.
Johnny Singh, owner of 69th Street Car Wash, Gas Station and Smoke Shop in Upper Darby, said he doesn't have flood insurance.
"I didn't know I was in a flood zone. How the hell would I find out I'm in a flood zone? I spend lots of money here, and when spending money here I should know that," he said.
The inside of the smoke shop and car wash at 69th. The owner, Johnny Singh, says he was already struggling from the pandemic and from being looted. He doesn't have flood insurance: "there are no words." pic.twitter.com/x0g0arG79X

— Miles Bryan (@miles__bryan) August 5, 2020
Pat Burns, CEO of Fresh Grocery, said there is more than four feet of water in his store. He said he's lost hundreds of thousands of dollars in inventory and $2 million worth of equipment is damaged.
Pat blames the state, county and city governments for not fixing the drainage problems in the area.
"This has been going on for 20-something years. They never controlled the stormwater in this area and they kept pushing it off, and businesses like me are suffering and the people in this area are suffering," he said.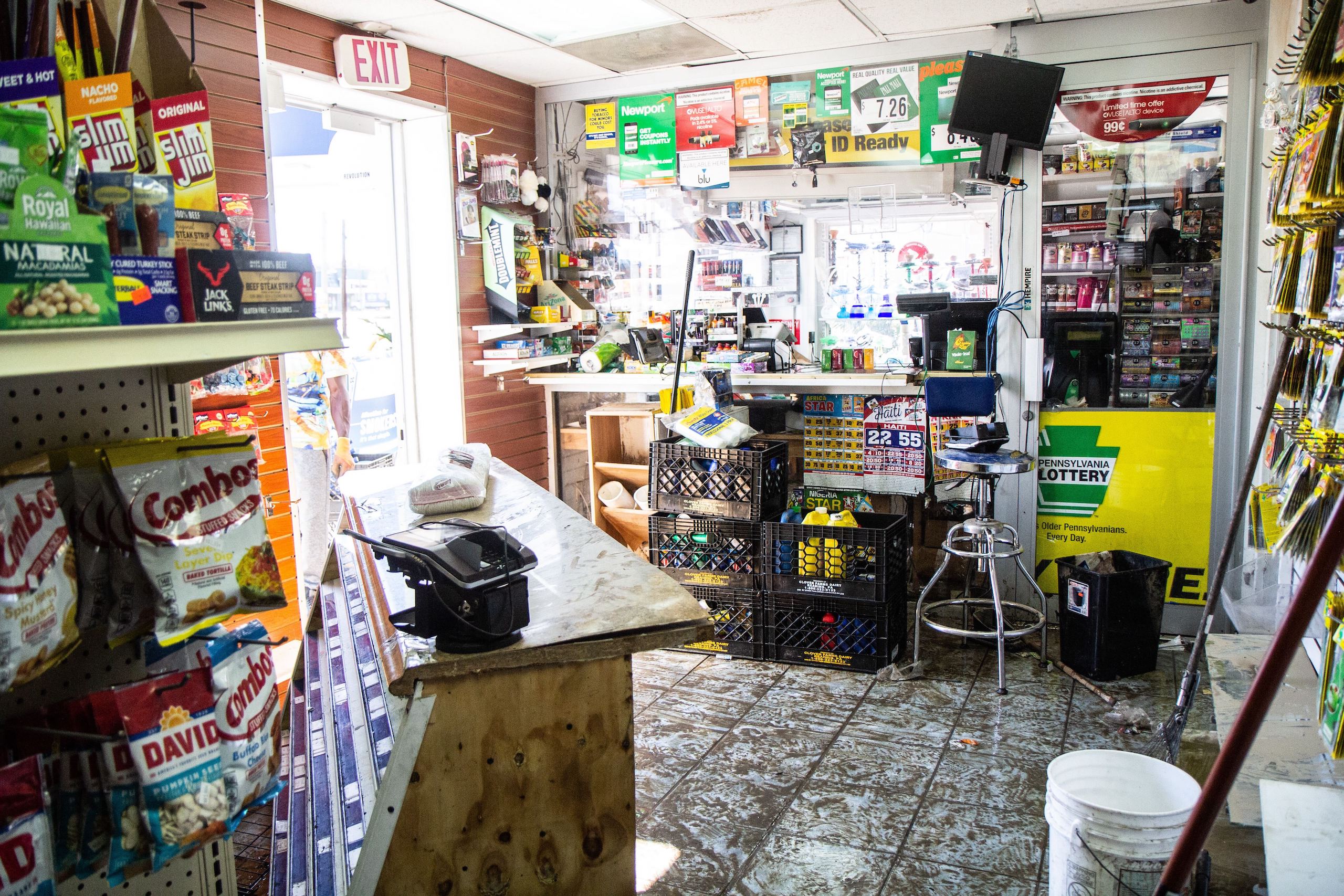 Transit woes
While SEPTA is now operating some limited Regional Rail services, a spokesman said the agency expects rail service at the 30th Street bridge to remain closed through Wednesday.
The commuter rail system was mostly affected by flooding and down trees. But the most significant impact to the rail system was when Tropical Storm Isaias raised the Schuylkill River and sent an unsecured construction barge into the Vine Street Expressway Bridge.
SEPTA was concerned about the possibility for the barge to free itself and hit the Market Street connector bridge for the railroad, so the agency suspended services between Suburban Station and 30th Street.
The U.S. Army Corps of Engineers said the agency and a contractor are attempting to bring in three tugboats to the location of the barge to retrieve it, but don't expect to be able to do so until early afternoon Thursday due to river velocity.
The barge was being used as part of a project to dredge portions of the Schuylkill River above the Fairmount Dam.
Officials said high flows in the Schuylkill River caused the barge to move. The river was projected to crest at 15.4 feet, the second-highest on record (the highest was 17 feet in 1869).
There is some minor damage to the bridge, PennDOT officials said, but nothing that compromises its structural integrity.
I-676, which crosses the bridge, also was closed in both directions from Broad Street to 30th Street. Drivers should plan to use surface streets to cross Center City through Thursday.
About half of SEPTA's commuter system was running by Wednesday afternoon, and about 1,400 residual delays to about 1,500 hours. SEPTA hopes regional rail will be completely returned to normal Thursday.
Trolley systems are now running in full operation, and buses have mostly been detoured.
Now forecasting the second highest crest on record. This would cause substantial damage in Philadelphia. pic.twitter.com/2hHk8t3oV3

— Gary Szatkowski (@GarySzatkowski) August 4, 2020
In New Jersey, NJ Transit train service was suspended Wednesday morning while the railroad said crews cleared about 250 trees and repaired signals and overhead wires.
Northeast Corridor, Raritan Valley, Main/Bergen County and Pascack Valley trains have resumed service, but on weekend schedules.
NJ TRANSIT NEC, RVL, PVL, Main/Bergen County and Port Jervis Lines are operating on a weekend schedule. ACRL is operating on a regular weekday schedule. Rail tickets and passes are being cross-honored with PATH at NPS, HOB, and 33rd St, NJT light rail, bus & private carriers. -MB

— NJ TRANSIT (@NJTRANSIT) August 5, 2020
The Atlantic City Rail Line is running on a regular weekday schedule. NJ Transit's other lines will resume service once repairs are completed.
Power outages
Power is slowly starting to come back on across the region.
As of 11:30 a.m. Wednesday, PECO reported more than 2,000 power outages, affecting about 115,000 customers in the Philadelphia region, while PPL reported more than 5,000 power outages, primarily in Berks, Bucks, Lehigh and Montgomery counties. More than 64,000 homes and businesses in Montgomery County were out of power during the height of the storm. More than 10,000 customers remain without power as of Wednesday afternoon.
More than 1.3 million homes and businesses were without electricity across New Jersey. Utility crews slowly restored service, but 981,868 customers were still without power as of Wednesday morning, and some may have to wait days before they have their electricity back.
About 575,000 PSE&G customers have reported a power outage or damage due to Tropical Storm Isaias. According to the utility's outage map, Bergen, Essex and Burlington counties have borne the brunt of the outages. Nearly all of the more than 1,600 customers in Monmouth County are also without power.
The company said could be Monday morning before power is fully restored, and is calling for help from other companies across the U.S. and Canada.
PSE&G says while Sandy was the strongest storm to hit their service territory, #Isaias ranks between Floyd and Irene. Calls for mutual aid continue to be made across the U.S. and Canada. It could be Monday morning before power is fully restored. @WHYYNews #NewJersey

— P. Kenneth Burns (@PKBNews) August 5, 2020

The utility says it is still assessing damage from the storm which was among the strongest to hit PSE&G's service territory. The company is encouraging customers to report downed wires or outages and follow updates on their website or through their mobile app.
Delmarva Power said it restored service to more than 100,000 customers by 8 a.m. Wednesday morning, with workers fixing tree damage, broken utility poles, downed wires and damaged electrical equipment through the night.
Crews are now working long shifts to restore the remaining 15,000 customers impacted by the storm. Companies from as far away as Florida and Texas are assisting Delmarva's more than 800 personnel in the restoration effort.
The company said it is prioritizing restoring power to hospitals, nursing homes, as well as fire and police facilities, before restoring power to its remaining customers.
Most customers should expect service to resume by the end of the day Thursday, and those in heavily damaged areas by Friday evening.
"We understand that as outages go into another day and possibly into Friday for some, customers need to make plans for themselves and their family members and timely updates are important," said Gary Stockbridge, Delmarva Power region president in a statement.
Customers can visit delmarva.com, use the company's mobile app, or contact the company at 800-898-8042 for the latest estimate of when service will be restored to their home or business.
Soo and James Lee, owner of Lee's Best Dry Cleaning in Upper Darby said they had experienced flooding like that caused by Isaias only twice in 21 years of business. (Kimberly Paynter/WHYY)

James Lee indicates how high water rose in the basement of his dry cleaning business. (Kimberly Paynter/WHYY)

Crews clean up after Tropical Storm Isaias caused major flooding at Bond Shopping Center. (Kimberly Paynter/WHYY)

The aftermath of storm clean-up at the 69th Street Car Wash and Smoke Shop. (Kimberly Paynter/WHYY)

Fresh Grocer employees in Upper Darby threw away thousands of flood-damaged food items on Wednesday morning. (Kimberly Paynter/WHYY)

Dumpsters in front of the Upper Darby Fresh Grocer contain thousands of products destroyed by flooding caused by Tropical Storm Isaias. (Kimberly Paynter/WHYY)

Flooding from Tropical Storm Isaias left many products at the Upper Darby Fresh Grocer ruined. (Kimberly Paynter/WHYY)

An Upper Darby Fresh Grocer employee tosses flood-damaged syrup bottles into a dumpster in front of the store. (Kimberly Paynter/WHYY)

A Philadelphia police officer rushes to help a stranded motorist during Tropical Storm Isaias, Tuesday, Aug. 4, 2020, in Philadelphia. (AP Photo/Matt Slocum)

Cars plow through water at Ridge and Henry avenues during Tropical Storm Isaias on Tuesday. (Kimberly Paynter/WHYY)

Cars navigate around a downed tree at Fox Street and Roberts Avenue in Philadelphia during Tropical Storm Isaias. (Kimberly Paynter/WHYY)

Centerton Road in Mount Laurel, N.J., was flooded by heavy rain from Tropical Storm Isaias. (Emma Lee/WHYY)

Alfredo Salce records footage of the auto shop he works at nearly under water on Colwell Lane in Conshohocken, Pa. (Kimberly Paynter/WHYY)

A home under water in Conshohocken during Tropical Storm Isaias. (Kimberly Paynter/WHYY)

A Philadelphia Water Department Vehicle closes down flooded Tulip and Lehigh streets during Tropical Storm Isaias in Philadelphia. (Kimberly Paynter/WHYY)

A road under water in Conshohocken during Tropical Storm Isaias. (Kimberly Paynter/WHYY)

Residents and businesses on Colwell Lane in Conshohocken were evacuated as Isaias brought heavy rains to the area. (Kimberly Paynter/WHYY)
More flooding; tornadoes confirmed
Widespread rainfall totals of 4 to 7 inches were reported across the Lehigh Valley region, according to the National Weather Service, with a few amounts in excess of 7 to 8 inches.
Isaias' rainfall led to severe flash flooding, with some rivers reaching major flood stage. Little Lehigh Creek in Allentown and Perkiomen Creek in Graterford reached their highest levels on record, per the NWS.
Flood Warnings remain in effect for the following counties:
Pennsylvania: Chester, Delaware, Montgomery and Philadelphia counties
Delaware: New Castle County
The NWS on Wednesday also confirmed five tornadoes moved through the Delaware Valley on Tuesday:
Pennsylvania: Bucks and Montgomery counties
New Jersey: Cape May and Ocean counties
Delaware: Kent and New Castle counties
The Associated Press and NBC10 contributed to this report.
WHYY is your source for fact-based, in-depth journalism and information. As a nonprofit organization, we rely on financial support from readers like you. Please give today.