Tropical Storm Isaias brings flooding, road closures, power outages to Philly region
The National Weather Service warned that damaging winds and flash flooding are the highest risks to the region.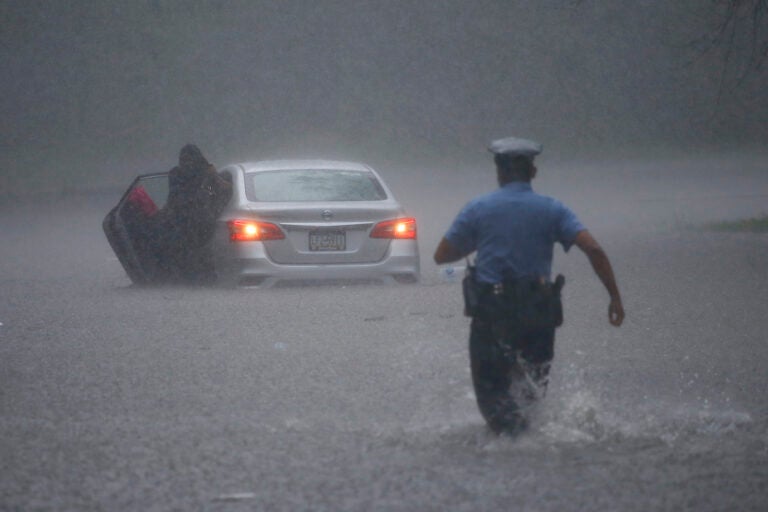 Updated: 7:10 p.m.
Tropical Storm Isaias traveled along the East Coast Tuesday after crashing onto shore overnight and bringing with it a day of widespread flooding, road closures and power outages in the Philadelphia region.
About 5:10 p.m. Tuesday, the National Weather Service canceled all watches and warnings  across Southeastern Pennsylvania, New Jersey, Delaware, and Northeast Maryland. Weather-wise, that meant the worst was over, although residual floodwaters — and a great deal of cleanup — remained. 
"We have numerous flood warnings [still] in effect, numerous creeks and rivers that are well over their banks — that stuff is all still a problem," said Nick Carr, a meteorologist for the NWS in Mount Holly. "But the good news is the winds are basically done, obviously there's no more tornado threat … even though the rain has stopped, there's still a lot of water moving."
At 4:30 p.m. Tuesday, the Weather Service revised its flooding forecast from "moderate" to "major" severity for the Schuylkill River, affecting Chester, Montgomery and Philadelphia counties. It predicted that the river would continue rising to around 20.5 feet by midnight and fall below flood stage, 13 feet, late Wednesday evening.
As of midday Tuesday, "widespread amounts " of rain had already fallen, the Weather Service said — "4 to 6 inches with as much as 8 inches … and heavy rain is lifting to the north. Widespread flash flooding is occurring. The greatest totals are near and west of the I-95 corridor." Areas of flash flooding were expected, especially in urbanized and flood-prone areas, the Weather Service said. 
Earlier Tuesday, Philadelphia Fire Commissioner Adam Thiel expressed concern about severe flooding in the region.
"We expect the Schuylkill River will actually rise to 18 feet tonight. … We are spinning up now to deploy additional resources. We've had multiple water rescues," Thiel said. 
In the city's Eastwick section, major flooding prompted Philadelphia's Office of Emergency Management to recommend evacuation for residents with nonworking utilities or over 12 inches of water in their homes. 
Attention Eastwick area residents affected by today's flooding: If you have over 12 inches of water in your home or your utilities are not working, it is recommended that you evacuate. (1/3)

— Philadelphia OEM (@PhilaOEM) August 4, 2020
"If you are evacuating, please bring your medication, pets and pet supplies, and other essential items to be out of your house for the night," the city tweeted. "Please bring a mask, if you do not have a mask, one will be provided for you. If you smell gas, call 911."
He added that the city was lending resources to nearby counties.
Flooding was especially serious over the city line in Delaware County, where Lansdowne and the residential neighborhoods surrounding 69th Street were "covered in mud," Upper Darby Township Mayor Barbarann Keffer said Tuesday.
Officials said the flooding displaced about 100 households. Those families were being moved to temporary housing.
"Right now, shelters are being opened up here in Upper Darby," said Tim Boyce, director of Delaware County's emergency services department. "Our new reality is that we try to get them into hotels or motels, because it's just not practical to put them into traditional shelters where they may be exposed to COVID. … we're meeting with them, we're bringing PPE to the scene."
In neighborhoods around 69th Street, structural racism and historic inequality may make it more difficult for residents to recover from catastrophe.
"It's more important than ever for us to make sure that those who were probably on the margins before this flood get the best services we can give them now," Boyce said.
Shortly before 7 p.m. PECO was reporting about 3,000 power outages, affecting about 265,000 customers in the Philadelphia region, while PPL reported about 26,000 customers without power, primarily in Berks, Bucks, Lehigh and Lancaster counties. Delmarva Power reported active outages across Delaware and parts of Maryland affecting more than 50,000 customers. New Jersey's largest electric utilities — PSE&G, JCP&L, and Atlantic City Electric — reported more than 240,000 customers without power as of 11:45 a.m, and by 7 p.m., PSE&G alone was reporting 6,500 outages affecting more than 465,000 customers.
High winds, high water
Weather watchers spotted a number of what appeared to be tornadoes across the Jersey Shore.
One circular cloud was spotted in Marmora, Cape May County, near Ocean City.
Marmora resident Rich Devine said his home lost power Tuesday morning amid high winds.
"The winds came in very big gusts, the trees were bending in every direction and then began to snap," Devine said. "It was rather frightening. We had a concern that something would come into the house but nothing did."
Devine said the gusts also downed several trees on his property.
In the Philadelphia suburbs, flooding caused intermittent road closures and stranded vehicles. In Bucks County, officials said a pregnant woman was rescued from her car in New Britain Township after her vehicle became stuck in high waters.
UPDATE — Traffic is moving again on County Line after water rescue. https://t.co/O2km5vPkMT

— BucksCountyGovt (@BucksCountyGovt) August 4, 2020
High winds tore across the Doylestown Hospital campus Tuesday afternoon, overturning vehicles in the parking lot and partially ripping the roof off the Children's Village day care center there.
Doylestown Health spokesperson Ron Watson told WHYY that the staff was "still assessing [the] situation," but that despite widespread campus damage, there were no serious injuries.
"As a result of the heroic efforts of the Children's Village staff, hospital Associates and community first responders, all children and teachers were moved to safety in the radiation vault on the first floor of the Cancer Institute in the Pavilion. They were later transported to Lenape Middle School to be reunited with their families. Four children were treated for minor injuries and released," Watson said in an email to WHYY. Four staffers also suffered minor injuries, county officials confirmed.
The infusion center and lobby of the Cancer Institute at the Doylestown Health campus experienced damage, Watson said, as did the roof and windows of the pavilion where physician offices are located. A half-dozen vehicles or more were damaged in the parking lots on campus, he said.
Earlier in the day, some residents and businesses in Conshohocken, Montgomery County, were asked to evacuate due to flash flooding.
All residential units and businesses within the Conshohocken section along Colwell Lane are recommended to evacuate due to flash flooding. If you have an emergency, please dial 911. Please continue to stay tuned for further updates regarding the storm. https://t.co/Mov7Jmuo9q

— Conshohocken Borough (@ConshyBorough) August 4, 2020
Alfredo Salce works at Paul's Auto Repair on Colwell Lane. "This morning, we had a call from the fire department that we have to evacuate," he said. "Pretty much we ran out of there. The water was coming really fast, it was getting flooded really fast."
Salce said he's never seen flooding like this before in Conshohocken, and estimated that 5 feet of water was flooding the area near the shop.
In Philadelphia, the city's Office of Emergency Management advised that all residents should secure loose objects, including trash cans, tents, patio furniture and outdoor signage, due to "sustained high wind gusts." The city is under a tornado watch until 4 p.m.
⚠️ Sustained high wind gusts forecast for tomorrow. Secure loose objects, including; trashcans, recycling containers, patio furniture, tents, and outdoor signage at private or business properties and construction sites. (1/2)

— Philadelphia OEM (@PhilaOEM) August 3, 2020
The storm made landfall near Ocean Isle Beach, North Carolina, just after 11 p.m. Monday. Originally forecasted as a hurricane with sustained winds of 85 mph, it lost intensity after hitting land and was downgraded to a tropical storm, but its effects are still projected to continue well into Tuesday night. Those effects could be further complicated by the ongoing coronavirus pandemic, since social distancing rules alter evacuation planning and crowded storm shelters' safety.
The National Hurricane Center reports heavy rainfall and possible flooding along the Mid-Atlantic coast. Tornadoes over Eastern Maryland and the Delmarva peninsula are projected to move northward.
Cars plow through water at Ridge and Henry avenues during Tropical Storm Isaias on Tuesday. (Kimberly Paynter/WHYY)

Cars navigate around a downed tree at Fox Street and Roberts Avenue in Philadelphia during Tropical Storm Isaias. (Kimberly Paynter/WHYY)

A women carries a pup through the rain in Old City, Philadelphia, during Tropical Storm Isaias. (Kimberly Paynter/WHYY)

Isaias claims an umbrella in Philadelphia during intense storms Tuesday. (Kimberly Paynter/WHYY)

A Philadelphia Water Department Vehicle closes down flooded Tulip and Lehigh streets during Tropical Storm Isaias in Philadelphia. (Kimberly Paynter/WHYY)

Utility crews perform work on street lights at Frankford and Delaware avenues. (Kimberly Paynter/WHYY)

Water spurts from the ground during Tropical Storm Isaias on Delaware Avenue in Philadelphia. (Kimberly Paynter/WHYY)
Street and transportation issues
In Philadelphia, street flooding has closed Kelly Drive between the Art Museum and Falls Bridge, as well as Cobbs Creek Parkway between 70th Street and Baltimore Avenue. I-676 is currently closed in both directions between I-76 and 22nd St.
Drivers are advised to avoid flooded parkways; as the National Weather Service says, "Turn around, don't drown."
⚠️Traffic Advisory: Street flooding has closed the following roads in Philadelphia.
🔴Kelly Drive between the Art Museum and Falls Bridge.
🔴Cobbs Creek Parkway between 70th Street and Baltimore Avenue.
Others streets may become impacted today. Avoid flooded roadways.

— Philadelphia OEM (@PhilaOEM) August 4, 2020

SEPTA reported rail delays of up to half an hour due to weather-related problems, with limited service along multiple lines and service to West Trenton and Newark suspended completely. Service on the Norristown High Speed Line has been suspended until further notice due to high water levels. Trolley routes 11,13 and 36 in West Philadelphia aren't running past 40th Street Station, with shuttle bus service for surface transportation, and trolley routes 101 and 102 are both down. Most rail services will likely remain suspended through the end of the day, and multiple bus routes are on storm-related detours. Riders are advised to plan extra time for any travel.
📸 Most rail services that have been suspended will likely remain suspended through the remainder of the day. Many bus routes are on storm related detour, and more could be added: https://t.co/1juYihnQQs @SEPTA #SEPTAnews @SEPTA_SOCIAL @SEPTAPHILLY pic.twitter.com/mCSYTLh5Cb

— SEPTA Media Relations (@SEPTANews) August 4, 2020
Isaias is affecting Philadelphia's public services, too. Library pickup and dropoff services are suspended, and four of the city's 20 free senior meal sites are closed.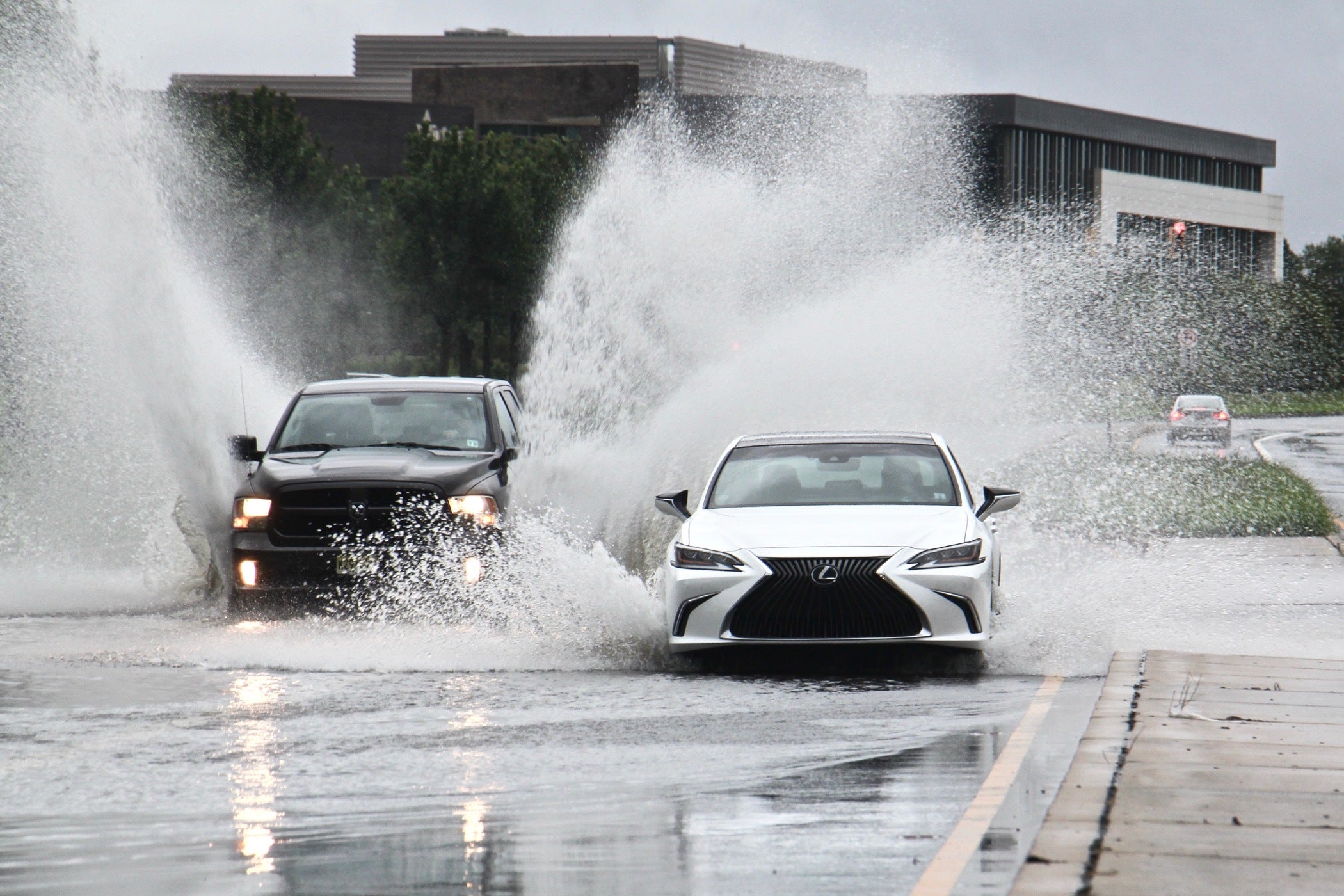 Murphy on N.J. storm preparation: 'We are ready for it'
The entire state of New Jersey was under both a tornado watch and a flash flood watch Tuesday morning as the tropical storm began moving across the Garden State. The state of emergency declared Monday night in anticipation of the storm remained in effect.
Gov. Phil Murphy said residents could see up to five inches of rain in the western parts of the state, 40- to 70-mph wind gusts in some places, and the potential for flash floods in low-lying areas. But he reassured the public that first responders and emergency services personnel were prepared for the coming weather.
"We believe we are ready for it," Murphy said.
"Hopefully — and this is our best-case scenario — today will be just a washout, and tomorrow we'll be back to summer sun. But in the meantime, we hope for the best, and prepare for the worst," he added.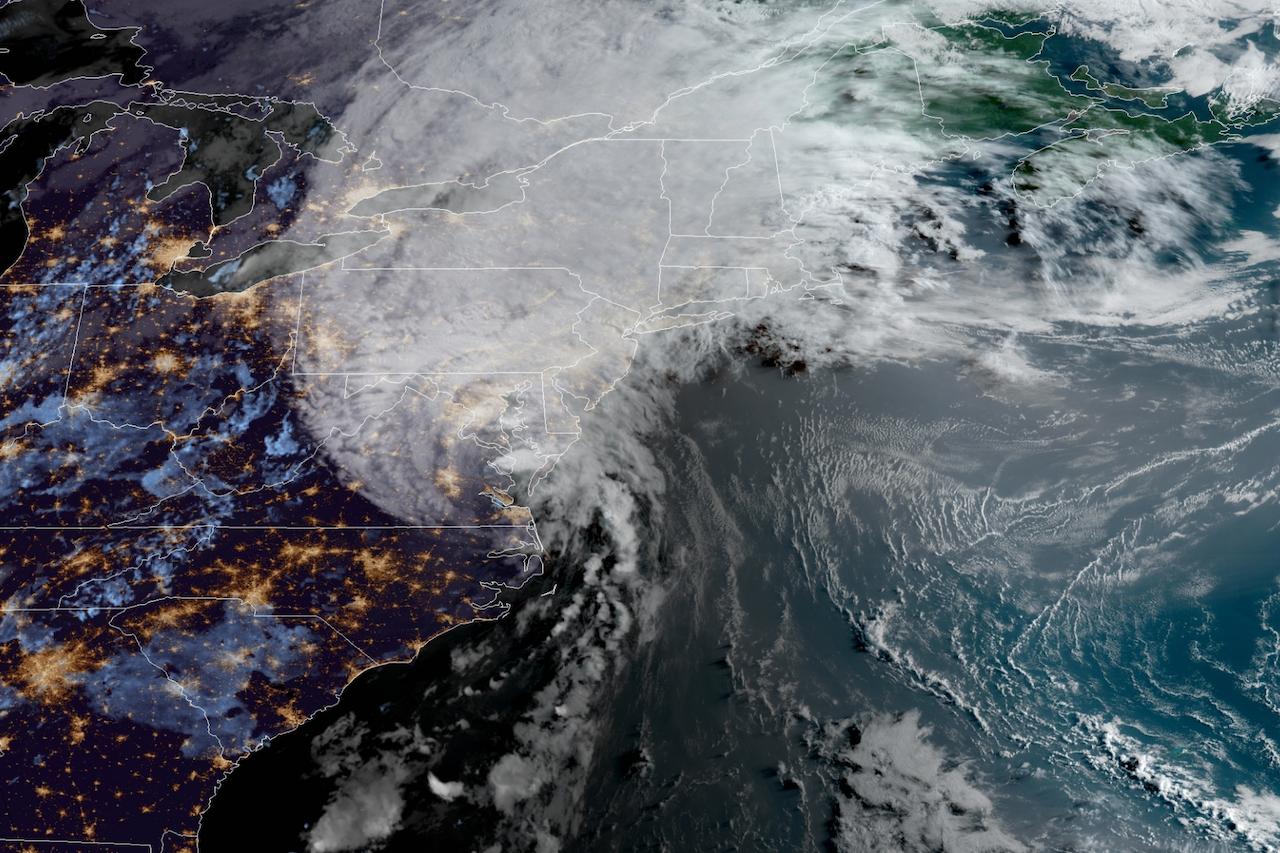 Murphy said the storm was moving quickly and should be out of the area in six to nine hours. State officials urged residents to stay inside if they could, avoid flooded roads and report downed power lines to authorities.
Joseph Fiordaliso, president of the New Jersey Board of Public Utilities, said the state could experience "hundreds of thousands" of power outages due to the expected high winds.
"That possibility exists, and I don't want anyone to be under the illusion that it does not," he said.
All state offices were closed Tuesday. Public transit was operating on a normal schedule as of Tuesday morning.
Motorcycles and passenger vehicle-drawn trailers were prohibited on the New Jersey Turnpike and the Garden State Parkway.
A trained weather spotter confirmed a tornado on the ground in the Strathmere section of Upper Township in Cape May County around 9:50 a.m, according to the National Weather Service.
There was a tornado warning off shore and caught it on Local Cam in Strathmere NJ!! #StormHour #ThePhotoHour pic.twitter.com/LMXtromWAF

— Brian Sudol (@sudbri) August 4, 2020
Trees were reportedly down on the Garden State Parkway around mile marker 24 in Upper Township.
Tornado damage blocking the southbound Lanes of the Garden State Parkway… Tornado video will follow within the hour …
katebilo@KathyOrrFOX29 @cecilyTynan@6abcadamjoseph @nynjpaweather @NJWxNews@myWeatherNJ @NWS_MountHolly@NorEasterNick@danZarrow pic.twitter.com/7nEtrimVZw

— Bob Kissling (@BobKissling) August 4, 2020
All New Jersey state parks, historic sites, wildlife management areas and natural areas are closed to visitors, the state Division of Fish and Wildlife announced Tuesday morning.
A weather station on Long Beach Island registered a 109-mph wind gust at 10:53 a.m. during a tornadic thunderstorm, according to the National Weather Service. The service said the gust was an outlier and not representative of the tropical storm's larger wind field.
A nearby weather station in Little Egg Harbor reported a sustained wind of 52 mph and a gust to 70 mph.
Tornado confirmed in Delaware
The National Weather Service has confirmed a tornado touched down in Smyrna, Delaware, along Route 13, and in Dover near Route 8 and Bennington Street.
In Dover, residents took to social media to report snapped power lines and down tree limbs in the area of the tornado.
Delaware Emergency Management also reported damage in Smyrna.
David Marchlik of Middletown said he was at home around 9 a.m. when he heard a roaring sound, and saw massive winds like he'd "never seen before."
"I shouted to my family, 'Get downstairs I think we have a tornado going,'" he said.
When the storm passed, the family took a walk in the neighborhood and saw debris and some fallen trees on the pathways. The storm caused significant damage to a neighbor's house, tearing down the siding, and exposing the second floor of the house on one side.
"We just hope people are okay and getting what they need," he said.
At a press conference Tuesday, Gov. John Carney said there had been a significant number of power outages, and property damage and flooding. First responders have responded to multiple water rescues, he said.
"Watch the areas where they tend to flood, and don't venture out to those areas in your car and certainly not by foot," he said.
Alfredo Salce records footage of the auto shop he works at nearly under water on Colwell Lane in Conshohocken, Pa. (Kimberly Paynter/WHYY)

Residents and businesses on Colwell Lane in Conshohocken were evacuated as Isaias brought heavy rains to the area. (Kimberly Paynter/WHYY)

A home under water in Conshohocken during Tropical Storm Isaias. (Kimberly Paynter/WHYY)

A road under water in Conshohocken during Tropical Storm Isaias. (Kimberly Paynter/WHYY)
In the Pa. suburbs
A combination of downed trees and high water closed roads, with reports of trees striking a house in Langhorne and a police car in Bensalem.
If you live in Skippack, Graterford, Schwenksville, Lower Frederick Twp and points north/west:

▪ Get to an interior room in the lowest floor of your building
▪ Take your cell phone
▪ Stay away from windows pic.twitter.com/v3BIULSvMz

— Montco DPS (@MCpublicsafety) August 4, 2020
Current road closures include 313 in Quakertown (flooding), Mill Creek Road in Wrightstown (trees & wires), Old Bethlehem Pk in West Rockhill (flooding) and County Line Rd in New Britain (partial, flooding). Callowhill Rd in Hilltown has reopened after tree removal. #IsiaisBucks

— BucksCountyGovt (@BucksCountyGovt) August 4, 2020

During the morning's tornado warning, officials in Montgomery County advised residents to prepare to take cover. That includes getting to an interior room on the lowest floor, staying away from windows, and bringing a cell phone for emergency contact.
A tree and wires are down on Bristol Rd between Valley Rd and Guinea Ln. Bristol Rd is completely blocked. Avoid the area. We are also having power issues in the area. PECO and PennDoT have been notified.

— Warwick Police Dept (@warwickpdbucks) August 4, 2020
"Please stay home if at all possible unless it is an emergency," Whitemarsh Township tweeted Tuesday afternoon.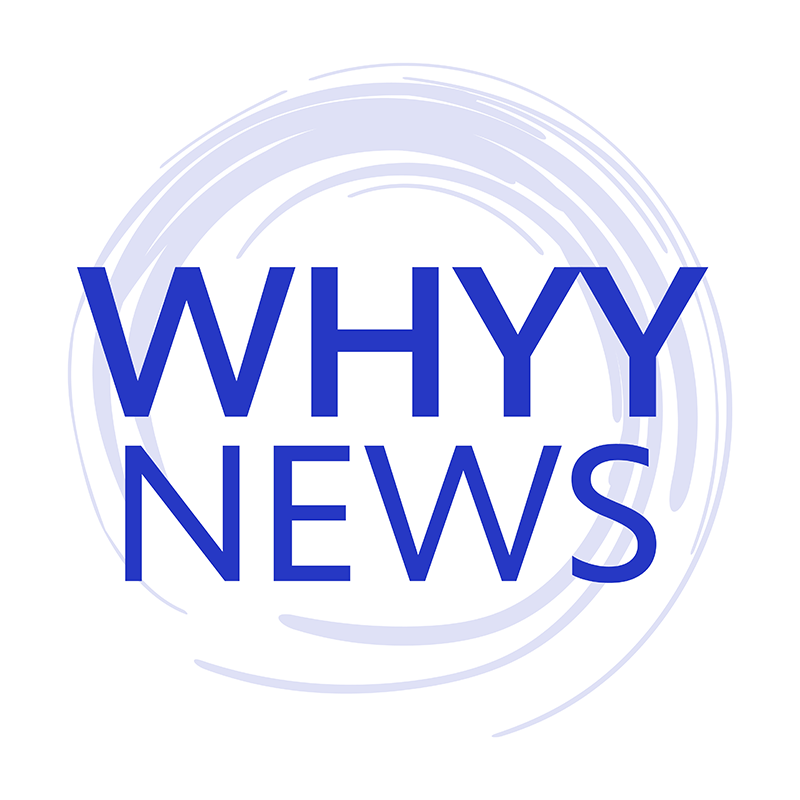 Get daily updates from WHYY News!
WHYY is your source for fact-based, in-depth journalism and information. As a nonprofit organization, we rely on financial support from readers like you. Please give today.