Redistricting: How critics claim John Perzel shaped District 172 in his own image
This is part of ongoing coverage in "District 172: The Politics of Change after State Rep. John Perzel," a collaborative effort with Philadelphia Neighborhoods funded by J-Lab.
Shaping legislative districts is by no means illegal. It's a part of the democratic process.
After each U.S. Census informs leaders about population and demographic shifts throughout the country, each state, county and municipality is meant to see subtle movement in its boundaries to better reflect the realities there, from balancing population totals and community divides. For example, in the post-1990-census redistricting, Philadelphia lost two House seats to its western suburbs due to population growth there.
Where redistricting has earned the more negatively connoted term of 'gerrymandering' — coined in 1812 after a partisan Massachusetts governor — has been when political, not population, shifts seem to motivate legislative rewiring.
Now again, Pennsylvania is revisiting its boundaries, like the rest of the country, following the 2010 census. In April, a former Superior Court president was named the independent chair of the state's Legislative Reapportionment Commission, which by October is due to send to the state Supreme Court its reapportionment draft of state legislative districts.
One district that will be watched by some insiders is the Pennsylvania 172nd State House Legislative district, formerly the precinct of John Perzel.
WHY IS THE 172ND GERRYMANDERED?
In the November 2000 elections, while George W. Bush and Al Gore were still counting chads, Perzel squeaked passed Democratic challenger Mark Chilutti by fewer than 100 votes, 92 to be exact: 12,620 to 12,528.
Coming that close to losing a legislative seat he held since 1976 threw Perzel into defense mode, says then-Attorney General Tom Corbett, who alleged it was that near-defeat that prompted the powerful state legislator to begin using public money to fund data-driven computer analysis of voter trends to bolster GOP efficiency. [Read the pre-trial grand jury findings on Perzel's indictment in PDF part one, part two and part three.]
That fear bubbled over to his district too, critics say. During the following year's redistricting, Fox Chase and a part of Burholme, which still had meaningful Republican registrations, were broken off the formerly nearby 176th district, then represented by Perzel's outgoing GOP state house colleague Chris Wogan, and merged into Perzel's 172nd, bolstering his likely supporters. (In that same redistricting year, the 176th district was moved altogether, leaving Philadelphia and heading north to Monroe County.) See the 1992-era Pennsylvania House districts here [PDF].
HOW BADLY IS IT GERRYMANDERED?
But just how irrational are the boundaries of the 172nd today?
Only one ward's boundaries are within the 172nd entirely — the 64th, of which Perzel is still ward leader — while another six — 55-58, 63 and 66 — are broken into neighboring districts. Go back to Perzel's 2000 battle with Chilutti and, sure enough, in the 64th ward, Perzel had an 18 percent swing over his Democratic challenger, while the 55th was basically a draw and Chilutti cruised by 20 points in the 62nd. The former was sliced and diced and the latter was eliminated altogether in that following year's redistricting and the 64th stayed firm.
That means, if you live on the 3100-block of Hellerman Street, a block from the major Frankford Avenue corridor often dubbed the Gateway to the Northeast, despite being in the heart of Mayfair, despite being solidly in the 55th ward [PDF], despite being surrounded by neighbors who vote in the 172nd district, you no longer did after that election. Neither does anyone southwest of Levick Street and east of Frankford Avenue, which bleeds into adjacent Wissinoming, a neighborhood seeing its racial demographic and voting patterns change rapidly.
In a 2010 white paper [PDF], local online mapping company Azavea used its software to track how compact the country's legislative districts were at all levels of government. The thinking, with exception given for quirky geographic and municipal boundaries, is that the less compact a district, the more its boundaries have been massaged, presumably for political protection by limiting political diversity.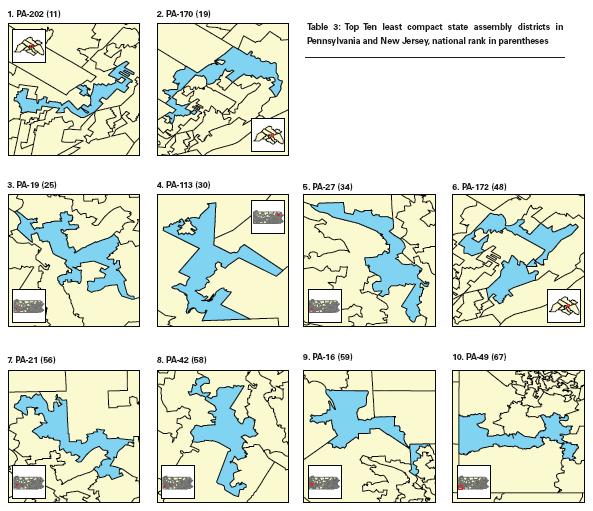 What resulted from an analysis of mapping compactness was a call that Pennsylvania's 172nd state house district — John Perzel's — was the sixth least compact in the state and among the 50 most gerrymandered in the country.
In May 2008, the Pocono Record called the 172nd state house district the one with the state's most ill-intentioned boundaries, having been reshaped with political motivations by those pressed by Perzel, whom the paper's editorial board called "a long-standing opponent of legislative reform, fighting citizens' groups seeking transparency in government, curtailment of lobbyists and other needed changes in the way Harrisburg operates."
CAN GERRYMANDERING BE UNDONE?
When NEast Philly asked Rep. Kevin Boyle, the young, freshman Democrat who beat and replaced the indicted Perzel, what should happen to his legislative district boundaries, he said he would serve his constituents, whoever they are, though he likes his district now.
"I want to keep the big districts here, like Mayfair, Tacony and Fox Chase," "There will be pressure to change the boundaries because Perzel so gerrymandered them to get them as Republican as can be. The new 172nd may look better in terms of how it appears on the map, but hopefully it won't change the neighborhoods I represent."
But some are concerned that the process might make changes for the worse, says James Browning, the regional director of citizen advocacy group Common Cause. Common Cause advocates for a redistricting process like what Californians voted into practice in 2008, Browning said, where a Citizens Redistricting Commission is formed by a drawing of registered voters, not legislators.
"Redistricting [as it is here] is an incumbent protection racket," Browning said, noting that bipartisanship actually encourages the two parties to agree to protect their more powerful members. With Republican leadership in Harrisburg, from Gov. Tom Corbett to majorities in the state House and Senate, there is presumed to be greater GOP sway on the Legislative Reappoortionment Commission, described above, Browning said.
"There's an incentive for Republicans to go even further, to squeeze and twist [the 172nd district] to find more of their voters," Browning said, adding that a freshman minority-party legislator like Boyle "is expendable to even his party leaders."
Look at it like the on-going NFL football player lockout over union negotiations, Browning went on.
"The rookie players who were just drafted are in limbo," he said. They don't have leadership to put much pressure on the outcome, "and in a legislator's case, he could have his house drawn out of the district or his district could be merged with a more established competitor or any number of other outcomes. He's just waiting."
"This is a golden opportunity for Republicans to consolidate their hold on power for not just the next election year but for the next 10 years," Browning said. "The story isn't done yet."