Rebels with a cause: 'Outlaw' Pa. businesses make coronavirus masks without state approval
Pa. manufacturers say they want to make coronavirus PPE, but some have been stymied by the state's waiver process during the shutdown.
Listen
3:35
This was supposed to be the best year ever for Eric and Christopher, LLC.
Spring is usually the slow season for the Bucks County-based designer and textile manufacturer, which employees 15 people full-time. But, this year, increased demand meant co-owners Eric Fausnacht and Christopher Kline expected to keep the sewing machines in their 16,000 square foot warehouse humming.
Then came coronavirus.
"It just stopped," Fausnacht said. "It was crickets, just nothing."
In mid-March, Fausnacht and Kline shut down the warehouse and sent their employees home. They had no other option: Pennsylvania Gov. Tom Wolf ordered all businesses not deemed "life-sustaining" to close to slow the spread of the disease.
But now the sewing machines are humming again. The business in Perkasie reopened Monday with four of its employees to sew reusable cloth masks, which in recent days have been recommended for common use by both the Centers for Disease Control and Prevention and Wolf.
"We're figuring it out still, but it feels amazing that we are taking our business and making things people need," Fausnacht said.
The production effort is part of "CoverAid PHL," a coalition of Philadelphia-area manufacturers and designers that, as of this week, are beginning mass production of a reusable cloth mask. The group expects to manufacture up to 15,000 a week, a potentially significant development as health care workers continue to run short on personal protective equipment, and ordinary Americans are told to wear masks outside their home.
Wolf's administration has been publically encouraging this kind of effort: on Monday, it launched a portal to help match manufacturers with supply chain needs so businesses can retool to make COVID-19 supplies.
But the process hasn't been easy for Fausnacht and Kline. On March 23, their company applied for a waiver from state officials, saying it wanted to switch to production of masks and other pandemic supplies. But it never heard back.
Without an official exemption from the state, their business operations are illegal.
"My decision is we are going to open our doors and work as if we are a life-sustaining business," Kline said. "Yeah, we're kind of breaking the law. We're outlaws."
'Wishful thinking'
Across the region, manufacturers, businesses and ordinary people with sewing machines have been scrambling to start making masks and other personal protective equipment in recent weeks. At Drexel University, a team lead by professor Genevieve Dion has developed a reusable fabric mask that they are now manufacturing at a rate of 200 per day; in the Lehigh Valley, PROTOCAM, a 3D printing company, hopes to soon manufacture a protective mask at a rate of about 500 per week. On sites like Etsy, crafters have retooled living-room operations to aid in the effort.
But these attempts pale in comparison to the larger need. As of late March, Pennsylvania had requested 582,188 face masks from federal authorities. The state has received only about half of that. The Temple University Health System alone utilizes approximately 12,000 surgical masks per day, according to a spokesperson.
Pa. manufacturers say they want to chip in on a larger scale as well. But the inability to receive waivers to re-open is hindering the industry's ability to pivot to making COVID-19 supplies en masse, said Pennsylvania Manufacturing Association President and CEO David Taylor.
"People are stuck with the choice of continuing to operate, knowing they risk penalties, or just having them shutdown," Taylor said. "That hesitation is blunting Pennsylvania's ability to respond to the pandemic."
Taylor added that some manufacturers who have obtained permission to continue operating are struggling to retool to make COVID-19 supplies because their suppliers — like textile manufacturers — have been ordered closed.
"For making protective masks and hospital gowns … you can't make that out of wishful thinking, you have to have actual fabric," he said.
Pennsylvania Department of Community & Economic Development spokesperson Casey Smith wrote in an email that the state was committed to working with any company" that applies through its manufacturing portal and can produce supplies for Pennsylvania's health care system.
"We have received more than 500 requests and are currently working through the vetting process to identify projects that can provide a critical service," Smith wrote.
But Smith said that businesses that have been ordered closed and not received a waiver should not be operating, no matter what they're making.
On Tuesday, Eric and Christopher LLC submitted an application to the state's manufacturing portal as well. They've yet to receive a response. And DCED said it did not know if a business' lack of a waiver will prohibit them from taking part in projects launched through the portal.
On Wednesday, Wolf signed a new executive order allowing the Pennsylvania Emergency Management Agency to seize and redistribute important medical equipment, like ventilators and N95 masks, across the commonwealth if shortages arise in hospitals hard-hit by coronavirus.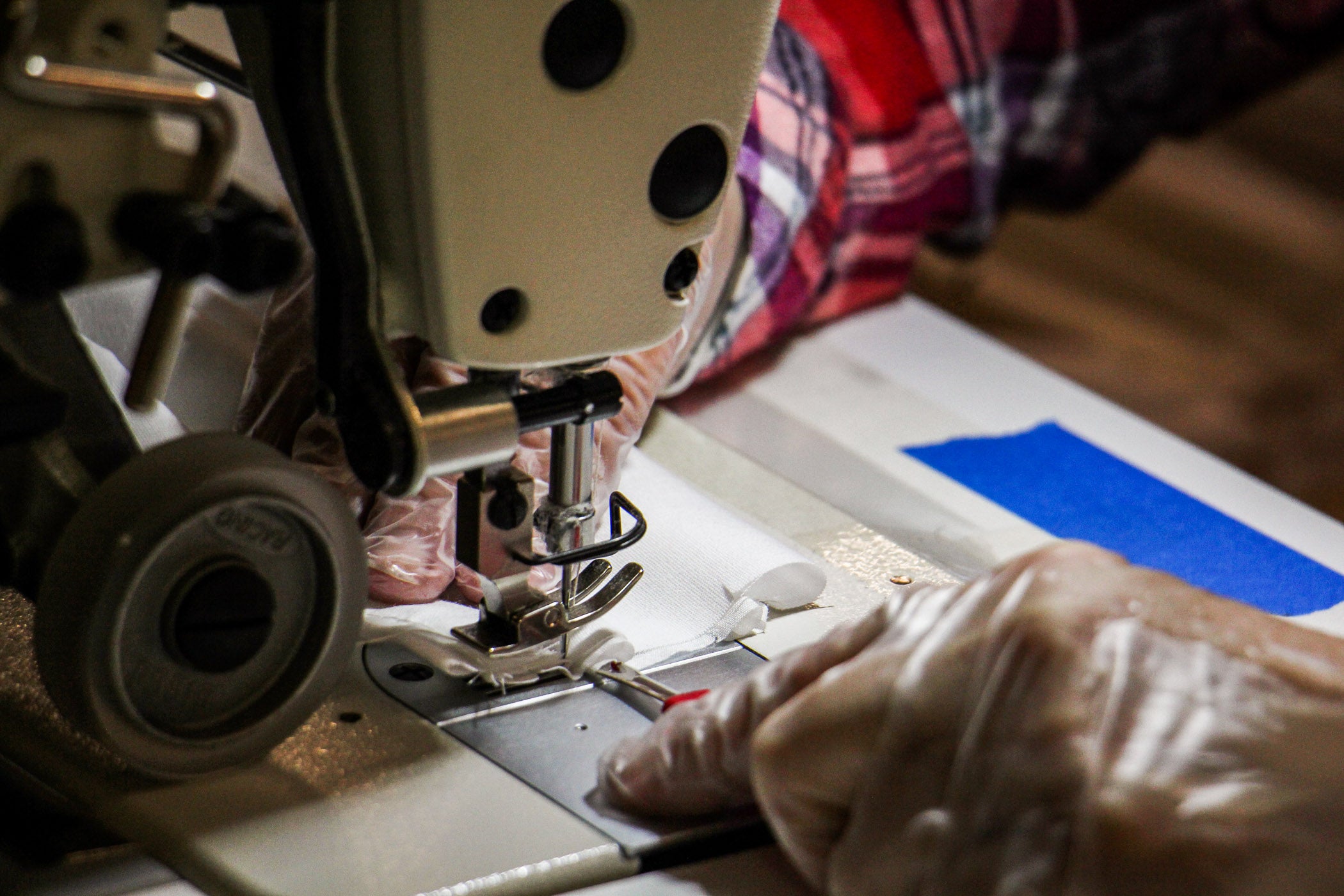 'We can help'
Eric and Christopher LLC is one of five Philadelphia-area fabric manufacturers working to make cloth masks through CoverAid PHL.
The loose collaboration of designers and manufacturers came together a few weeks ago to "[protect] our healthcare workers during the overwhelming threat (and lack of supplies) from the Corona Virus Pandemic," according to CoverAid PHL's website.
CoverAid's cloth mask is not certified by a medical agency and is not meant to replace the N95 masks desperately needed by hospitals. Instead organizers say they are targeting hospital visitors, administration, and other people working in health care outside the frontline.
The group started small, creating and distributing a DIY design for people to make cloth masks at home.
But, recently, CoverAid PHL got its first major order: Bayada Home Healthcare, a Philadelphia-based company active in 23 states, ordered 20,000 cloth masks.
The order was facilitated by Mel Baiada, a Bayada board member (and brother of the founder) who is also part of CoverAid PHL.
"Bayada made the original purchase because they had an interest in reusable masks for non-clinical purposes," Baiada said. "Fabric masks with high-quality material that had good filtration and were washable."
CoverAid charges Bayada about $3 dollars per mask — a number the initiative hopes to bring down as production ramps up and supply increases.
The Bayada order, which is being spread across the collaborative, is making a big difference for T&T Sowing, a Philadelphia-based company that is currently producing 11,000 masks to help fulfill the purchase.
"We're making money, and we are employing people who would otherwise be idle," said owner Thao To.
To applied for a business exemption waiver last Friday, but has not heard back. She said she wasn't concerned about pressing on anyway.
"I only bring in one or two people in the factory [at a time]," To said. "I can't imagine having a lot of issues with this."
When Fausnacht and Kline approached employee Kelly Mitchell about returning to work to sew masks, she didn't hesitate. She has two young-adult children working in grocery stores, and she worries about them being exposed.
The legal risks don't seem that important compared to what she can do with her sewing machine.
"We are filling a need," Mitchell said. "We are here, we are able, and we can help."
WHYY is your source for fact-based, in-depth journalism and information. As a nonprofit organization, we rely on financial support from readers like you. Please give today.