Q&A with SEPTA Police Chief Thomas Nestel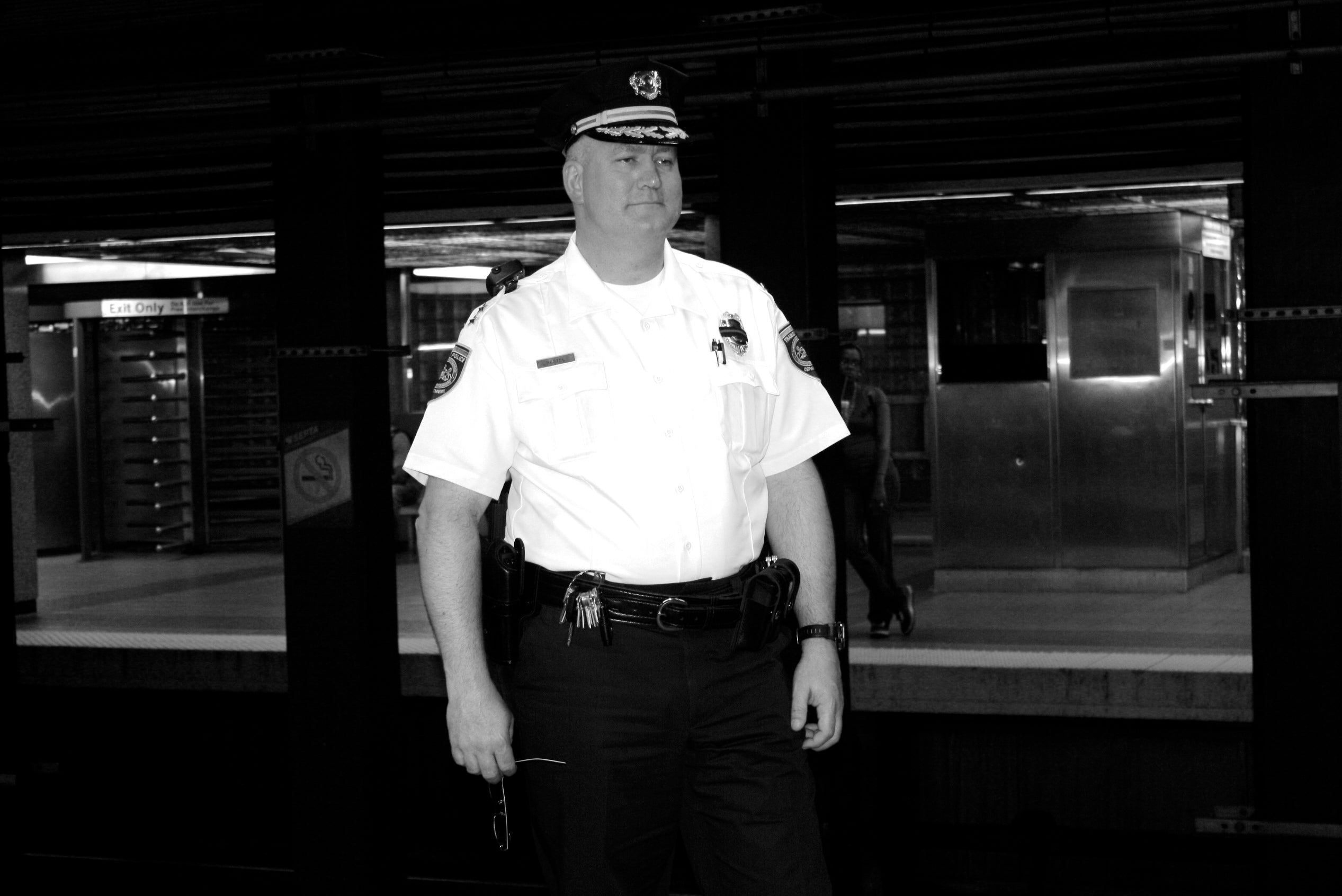 Thomas Nestel III remembers the days when SEPTA police didn't have radios because they couldn't pick up a signal underground, when officers were assigned to a single train and would ride that back and forth for an entire shift, when he would wait until his assigned train emerged from below ground at Fern Rock Transportation Center to find out if it had snowed, and when the act of asking someone to put out a cigarette often resulted in a fight.
Nestel, now chief of SEPTA police, became one of SEPTA's first police officers in 1982. Though he went on to work for the Philadelphia Police Department and later served as Upper Moreland Township police chief, Nestel returned to SEPTA after almost 30 years when he became chief of SEPTA police this past August.
Nestel was born into a family of law enforcement officers, and he jokingly calls the Philadelphia Police Department the family business. For a man who says, "I think once I was out of a diaper I knew what I wanted to do," this recent career move has been decades in the making.
He says his experience as a SEPTA, Philadelphia and suburban police officer helped him get the job. His three master's degrees and the Ph.D. in Criminology that he is pursuing at the University of Pennsylvania may have helped. After all, those degrees are a big part of his law enforcement approach – evidence-based policing and crime analysis.
PlanPhilly sat down with Chief Nestel to see what he has done in his first few months as SEPTA police chief and to ask what we can expect to see from SEPTA police in the coming year.
In September I was at a meeting where SEPTA General Manager Joe Casey said he was impressed that during the Made in America Festival you were right there patrolling the streets with the rest of the police force. How important is it to you to be out there on the streets with the people you're leading?
Everybody has a different management style. Mine isn't behind that desk. I am most successful out on the field and I like to know the men and women that I work with. I like to know the problems they're facing because it helps me make decisions to make their jobs easier and equip them better both with training and equipment, so I think that it's really important for the chief executive to actually get out on the field on a regular basis and see what's going on.
Everyday I spend time on the system. Every single day. Friday nights I'm here until the system shuts down. It's important to me, and I think that the men and women of the transit police respect that and now almost expect it. They expect to see me out there in the afternoon around school dismal time. They expect to see me on a Friday night, and if they don't they're wondering where I am. So on every major event. – I'll be out New Years' Eve – I'm leading from the front and not from my desk.
What changes have you made since you came back to SEPTA?
One big project that we tackled was [the intersection of] Kensington and Somerset [streets]… Kensington and Somerset is a corner in the city that is like no other place I've ever been. It truly is a set out of a movie. The residents call it "zombie land." I didn't tag it that. They call it zombie land because of the people that are high on drugs and the people selling drugs and the prostitution all at this intersection, like it's an outdoor market for nefarious activity. I visited there at least twice a week for the first couple weeks, and every time I went down the steps there were open hypodermic needles on the steps. That's just sort of the picture I can paint of this location.
The lights didn't work. It was dirty because SEPTA couldn't keep it clean because the people that hang there aren't too impressed with using trashcans or just being clean. So we launched operation Somerset, and we worked with the community group the Kensington CDC and the 24th district in the Philadelphia Police Department, and we've committed to keeping people there, cleaning it up. Councilwoman Quinones-Sanchez got Sanitation to come out and L&I, and we've completely cleaned up and transformed that intersection so people can get to the El safely. They can ride the bus safely. They can go to the stores and get to the bank safely. We have officers out there pretty much on a 24-7 basis.

Are there any other big challenges that have stood out in your time so far?
Yeah, one really big challenge is that when something really big happens on the system, there's an automatic rush to judgment that the entire system is unsafe. We had an incident a week and a half ago, 46th and Market, where somebody shot someone.
If you were to look at the reported crime on the SEPTA system you would ride it everyday because it really is safe, but when an incident like that occurs, people and the media automatically [build] it up and say how unsafe the system is.
We had a police officer on that train when the shooting occurred. You can't do a much better job of deployment than to actually have a police officer – I take that back, I guess we could have actually been on the right car on the train, but it's whenever there's a major incident, which is an anomaly, we're immediately responding with requests for information on how violent it is, how dangerous it is. That's the biggest challenge to let people know that the system is safe even though we have few and far apart major incidents.
… The number of reported crimes on a daily basis is very low. It's a safe system. When people say the subway they think dark and dingy and ne'er-do-wellers. The SEPTA system is bright, clean and decent people are riding the subway – they go to and from work. The number of people right now using the system is at its highest peak, and those are good people using the system, not bad guys. But the bad guys that come on, we're pretty focused on them.
With that incident, you released the video footage. How do cameras help in your job of catching or preventing crime?
It's not a great prevention tool because we're not actively monitoring. We're trying that as a pilot program. It's something we've started in the past month, and we'll see how successful that is.
Investigatively [sic] it is a tremendous tool. After something happens we pull that video and start putting pictures out, and our police officers they all have their own smart phones, and we're sending out pictures in minutes so they can be looking for suspects. Technology is a tremendous tool.
As the new payment technology – the smart cards – roll out in the next year or so, is that going to change how you operate?
Sure, it's going to change how the entire authority operates. We're going to have extra eyes and ears in the stations because our cashiers will be customer service agents. We're going to be seizing that opportunity to be deputizing some people [to] watch out and stay in communication, let us know when they start to see problems.
We also expect that people will try to defeat the new payment technology, so we're already looking into how people will try to do that. We're projecting what the response will be and obviously we're going to have a deployment plan in place to apprehend people who try to defeat the new payment technology.
SEPTA operates on pretty significant budget restraints. How does that affect the work that you do?
Well, I'd like to meet the employer that doesn't. SEPTA is like any other big employer. There are different divisions within the authority and everybody is competing for available dollars. We are under the same restraints as anyone else to work smarter. We count on grant funding. We use a lot of federal grant funding to try to get technology and training for our officers, so we're always looking for more creative ways to try to save money but yet still maintain that same level of service that people expect.
Are there any big changes we can expect from the SEPTA police in 2013?
I hope that the visibility of the officers will continue to increase. I've heard lots of positive comments about how many more officers people are seeing. We haven't hired anybody else. We're just being a little smarter maybe in how we deploy them and have them in stations where they're most needed. I think that that will continue. I think the analysis of crime and deployment based on that analysis will be the future for us.
Can you tell me more about the analysis component?
We're looking at all complaints or calls for service. Anything that a rider would call in to the police and we would respond to – we're taking a look at where those incidents are occurring, who's involved and what we can do to reduce those incidents and to really focus on that very small segment of society that wants to make things bad for everyone else.
We are using the court system to prevent some repeat offenders on our system [from] even entering. Some folks that use our system to try to commit crime are now no longer permitted to use our system, so as soon as we see them we can [charge] them with defying tresspassing and send them on their way. If you act inappropriately on the system, you're not going to have the privilege of riding it. I expect we'll see that number of people grow as we try to get a real handle on the folks that are making it bad for everyone.
What kind of changes have you made since '85?
They're nightmare stories is what they are. First of all, the deployment for SEPTA police in '82 to '85, you were assigned to a train. You rode that train all night long, and you didn't get off at platforms or check stairwells or any of that. You just rode the train.
The '80s weren't that far behind, but SEPTA in the subway, you really couldn't get a radio to work. SEPTA spent millions of dollars to enable communication underground…
It was different. It was very different. The challenges that transit cops had in those first couple of years were challenges of authority. Even when you stopped somebody for smoking a cigarette, it often resulted in a fight because they didn't respect the transit police. We've come a long way, a long way.
What does your family think of you being the SEPTA police chief since they have a long history in law enforcement?
They're so used to me throwing 110% into my job that they're entertained by it. It's a constant event at the dinner table to make fun of me for my eagerness for my work, but they're used to it and they're proud of the work I do.
I bet you bring home interesting stories about all the things you see.
Everyday. I remember walking through the subway car on a Friday night, and a man and probably his wife were sitting on the train and he looks at her – he was probably a veteran because those are really the only people who notice the insignia on the shoulders – and he says to her, 'Man, even the generals are riding!" It's great stuff, funny stuff.
Contact the reporter at cfisher@planphilly.com