Public deserves to know what's in demolition safety plans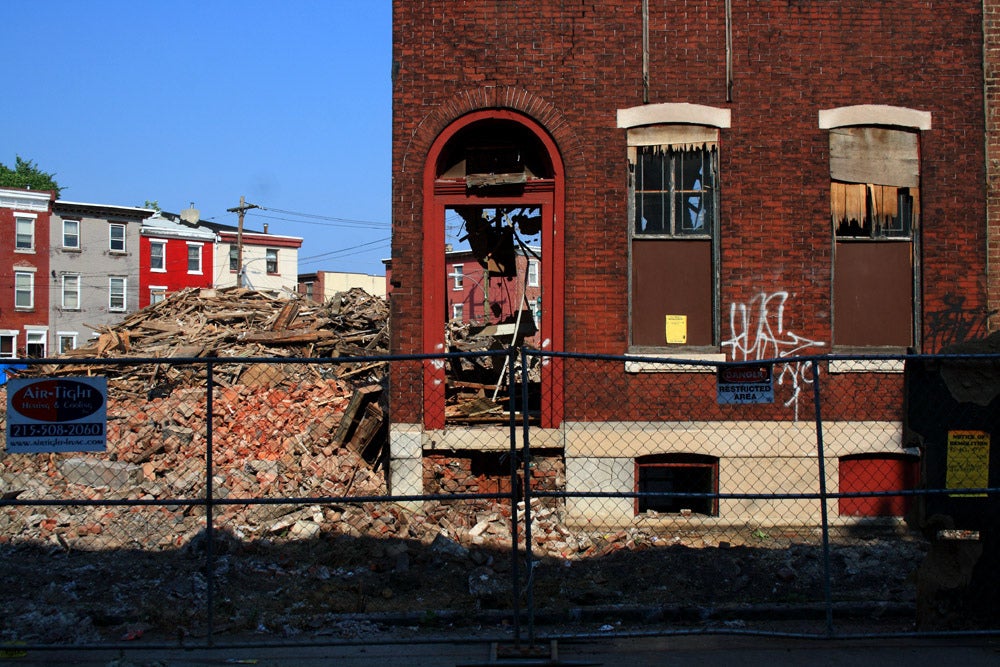 The recent trial about the fatal demolition-related disaster at 22nd and Market streets revealed stark details about negligence, risky demolition decisions, and the human costs of putting speed over safety.
In the immediate aftermath of that 2013 collapse, the city vowed to do better, to strengthen the Department of Licenses & Inspections with resources and oversight, to tighten scrutiny over construction site safety—especially demolitions—and to change practices. Despite new laws and expert recommendations, we continue to see reports of a department that allows unpermitted demolitions and ignores inspection guidelines.
Among the new requirements implemented after the collapse were site safety plans for demolitions, which must be approved by the L&I. And because the city only has so many inspectors, they've urged the public to help be its eyes and ears—if you see something at a job site that doesn't seem safe, you're asked to call 311 or 911.
Well, in the case of demolition, just how do you know if something is proceeding according to plan? How can residents understand what to expect or what risks may occur during demolition? And what's in those plans anyway?
PlanPhilly wanted to see all of the demolition site safety plans filed by contractors since June 2013, when L&I updated its requirements. We filed a Right To Know request, prepared in conjunction with the Public Interest Law Center. The request was denied, and so were two appeals.
The Department of Licenses and Inspections, and the state's Office of Open Records, determined that the city is not required to make these applications public.
Why? The Uniform Construction Code (UCC), the statewide building code, permits the city to exempt certain building permit, plan, and application documents from public disclosure. Demolition site safety plans are considered part of permit applications, which are withheld entirely at the city's discretion.
It's worth noting that this approach seems to vary from state to state. Other states—including New York, Illinois, Texas, California, and Massachusetts—do not appear to give government unfettered discretion over the release of such plans. Instead, these states offer more specific, substantive reasons for withholding building or demolition plans, such as revealing trade secrets or compromising public safety. In its refusal, the city cited the concern that some plans could include means and methods that are proprietary or plans could contain copyrighted material.
In this case, the city is withholding records that pertain to public safety without citing safety as a rationale, instead leaning on possible copyright concerns. Since the city wouldn't be the copyright holder for any proprietary information in these documents, it argues that securing the rights and reproducing those records would be too great an administrative burden.
In its response to our appeal, the state's Office of Open Records wrote: "The UCC states that the City 'may prohibit the release of applications received, building plans and specifications, inspection reports and similar documents' for permit applications covered by the UCC. 34 Pa. Code § 403.85(e)… Therefore, the City may prohibit the release of these items for demolition permit." (Emphasis mine.)
It's the city's choice to release demolition plans—or not.
"The Department has statutory discretion to release demolition permit applications, site safety demolition plans and asbestos reports prepared in conjunction with a demolition permit application," affirmed Beth Grossman, an attorney and chief of staff at L&I. "The UCC does not recommend such practice."
But the UCC does not actually make a specific recommendation beyond giving latitude to municipalities to decide for themselves.
Grossman pointed to a section on the Pennsylvania Department of Labor and Industry website regarding the release of approved construction plans, which states, "Due to building security issues, copies of building plans are not considered public documents," and their release will be limited to design professionals of record on the project, building owners, or designees thereof. Yet nothing in the city's response to the Right-to-Know appeal or the subsequent determination from the Office of Open Records cites building security. And the UCC itself makes the release of records including demolition site safety plans entirely discretionary without reference to safety.
The city's response to our Right-to-Know appeal states, "The UCC establishes the nonpublic nature of these records by permitting a municipality to prohibit their release."
Even if the UCC allows for a municipality to exempt these documents from public disclosure, it is up to L&I to make that determination. Grossman did not offer other particular reasons for denying the release of demolition site safety plans on behalf of the department.
But wouldn't more knowledge about what work is planned enhance the public's ability to be the department's first line of defense?
"Public safety is of paramount importance," Grossman said over email.
Taking that charge seriously should give L&I pause. How does choosing to keep these records in the dark serve the department's larger mandate of public safety, particularly on an issue as charged as demolition has become in this city?
L&I does require some public information at each demolition site, Grossman noted, including signage with the name and contact information for the property owner, developer, and demolition contractor. It also must display the project permit and this statement in English and Spanish: To anonymously report unsafe conditions at this work site, call 311 or 911.
But even here, the city should do better by requiring construction-site signage to share more specific information about the work, including a plain-English summary describing how a demolition will take place: Four-story masonry wall at east, to be demolished by hand, with temporary protections for neighboring buildings and sidewalk. How else is anyone to know what's unsafe versus what's expected and what's approved practice? Just trust our guts? How are we to know if asbestos or lead abatement is expected?
Shouldn't neighbors be able to at least see plans for demolitions slated next door?
Grossman did leave the door a crack open: "If a request is made and a valid reason exists to inspect such documents for a specific property, the Department would be willing to share the information with the individual or community group. Such a determination would be made on a case by case basis."
But for that evaluation there is no public rationale given for what requests would or would not be granted. That is a policy of selective transparency, apparently rooted in concerns about potential copyright issues. Is that a good enough reason to refuse opening these plans to public access?
In an era when other city departments are becoming more able and accustomed to opening up their data, too many records are still withheld at the city's discretion. In the case of demolition site safety plans, L&I should reconsider its approach. It would help rebuild trust in L&I to be clear and public with these plans and enable neighbors to be well informed.
How are we safer knowing less?
WHYY is your source for fact-based, in-depth journalism and information. As a nonprofit organization, we rely on financial support from readers like you. Please give today.