Preservation crises and solutions: Five takeaways from Penn's Preservation Law and Policy symposium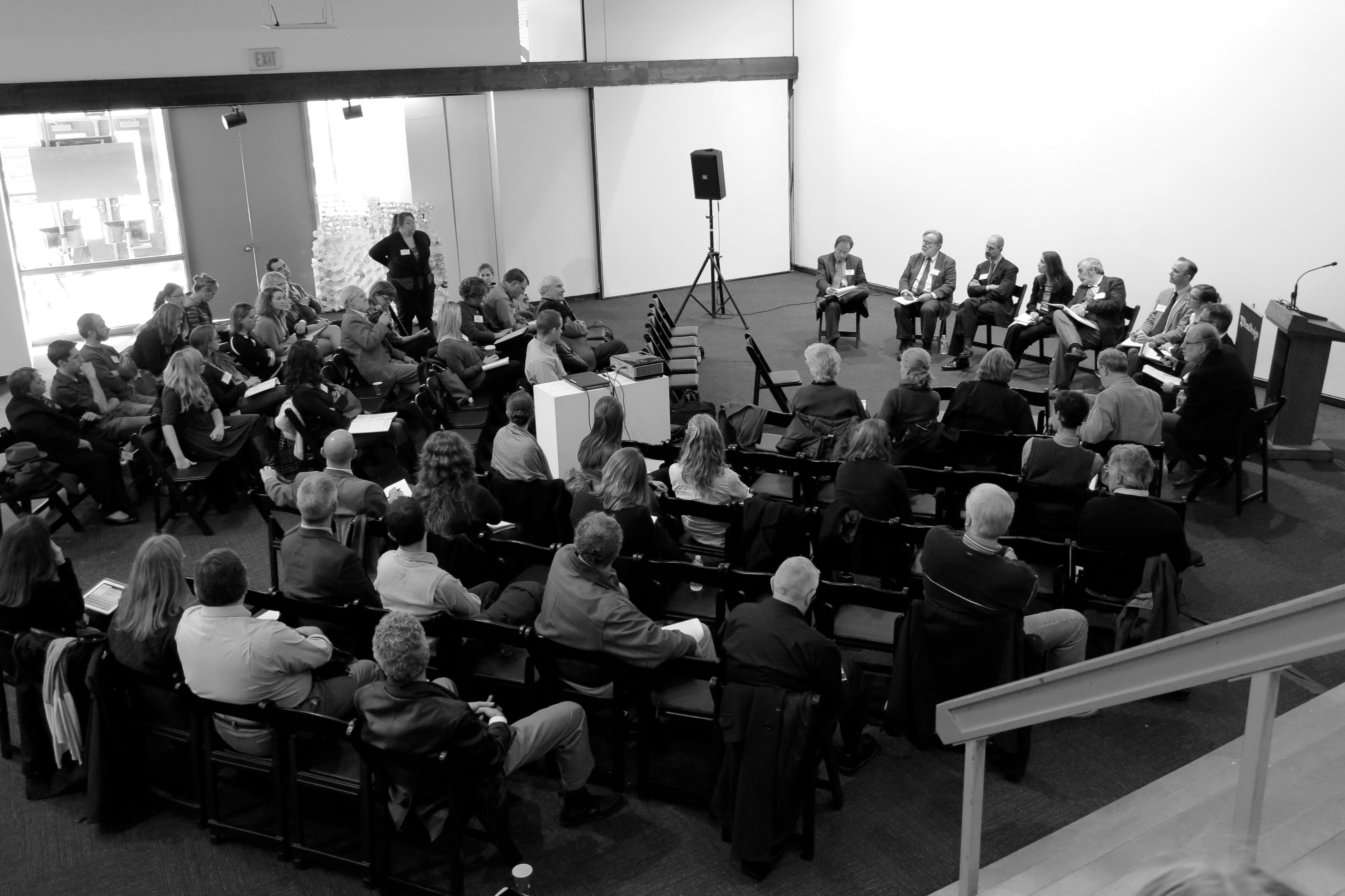 Philly preservationists, you are not alone in your frustrations.
Preservationists drawn to PennDesign last week from across the country for a preservation policy symposium hosted by the Graduate Program in Historic Preservation* confirmed the event's premise was real: Preservation law and public policy are facing crises of legitimacy at the local and national level:
Designation doesn't always mean protection, especially when political and development interests align. Local zoning can be woefully or willfully out of step with preservation goals. Financial incentives for historic preservation projects are scant, evaporating, and threatened. Many cities don't know what important buildings are hiding in plain sight, which can result in a catch-as-catch-can approach to historic preservation. Plus as preservation has matured, traditional tools might not work as well anymore.
Though a lot of ground was covered, these were the five trends, questions, and ideas that left me thinking:
Hard(ship) Times
Philadelphia has seen a lot of hardship cases in recent years and they keep on cropping up: the latest will be two theaters – the Royal on South Street and the Boyd on Chestnut Street. But Philly is hardly alone in its hardship appeals, legal challenges, and demolitions.
Chicago and New York have both seen legal challenges to the existence of their local preservation ordinances. And Chicago preservationists just spent 10 years in a high-profile fight to prevent the demolition of Prentice Hospital, a distinctive modernist building designed by Bertrand Goldberg, deploying every advocacy and legal tool at their disposal. In the end politics ruled the day.
The consensus among symposium presenters seemed to be that the more mature the preservation field becomes, the more it will be scrutinized. The more a city's buildings are designated and the hotter the development environment, the more challenges will arise. (In Philly only 4% of the city is locally designated.) So get used to it, preservationists.
Process matters
Historic preservation has been well-established public policy for decades, and yet preservation concerns routinely take a back seat to other public values.
Mark Silberman, General Counsel for the New York City Landmarks Preservation Commission (LPC), said that every city agency hates the commission. Hates. In New York, a robust city for preservation as well as development, preservation goals are viewed automatically as low-priority.
In Philly, as in Chicago and New York, it seems that preservationists all too often don't have a seat at the table, and they enter decision-making conversations too late. In some cities "sticky" local politics are also to blame, as Landmarks Illinois' Lisa DiChiera politely described Chicago.
For preservationists – both advocates and officials – to claim their rightful place in public considerations, public agencies need to show a little respect for the law and preservationists must learn to compromise preservation goals by balancing those against broad public benefits.
Powers of persuasion
Is preservation dismissed politically because it's undervalued?
Some people still need convincing that historic preservation work has real economic value and it has been an incredible engine for revitalization. So it's time preservationists arm themselves with hard data about their work, be rigorous about documenting the positive benefits of preservation, and broadcasting those successes.
The federal Rehabilitation Tax Credit has been the single most powerful urban redevelopment tool in many cities across the nation, as preservation economist Donovan Rypkema reminded the crowd Friday. It creates jobs, helps put old buildings back on the tax rolls, and enables developers to breathe new life into old buildings by closing gaps in project budgets.
And without facts it's easy to criticize preservationists for making emotional, as opposed to rational, pleas. Serious documentation and statistics about preservation projects–jobs created and taxes generated to indicators of neighborhood stability and ancillary development – are essential.
Without proof preservationists will continually struggle making the case for the value of preservation, and in these days of lean public funding the money will continue to dry up. Without financial incentives, preservation becomes all stick and no carrot.
Transparency
Making a case for preservation involves more than economics. Preservationists also need to be armed with good information about our building stock and be transparent about decision-making.
"We don't know what we have," lamented John Gallery, former director of the Preservation Alliance for Greater Philadelphia. " We're not it a position to know what we've missed… We simply don't have that base of knowledge."
You wouldn't expect the planning commission to rezone the city without looking at each block. And in the case of Philly, how can the Historical Commission know what is or is not worth preserving when it doesn't know the total stock of a what they're working with. It's hard to make respectable value judgments about one building or district over another with incomplete knowledge.
But will Philadelphia ever complete a citywide survey of historic architecture? Other cities like Los Angeles are trying. We should too.
Transparency is also about keeping a clear public record. The Philadelphia Historical Commission doesn't have a stenographer to transcribe meetings, so when legal challenges arise or the commission is asked to look back at previous decisions, the record is incomplete. That lack of accountability can make designated property more vulnerable and makes the city's preservation system seem reactionary or arbitrary.
New Tools
In some cities, preservationists are fighting over the problems of success. Cruise ships are invading Charleston, Manhattan's human scale historic buildings are being swallowed up by towering development. But Philly is different.
Despite the incredible richness of Philadelphia's built heritage, we're at a loss to even protect, research, or document our historic places. There may be a lack of will to designate whole swaths of our city because that could burden areas populated by poor homeowners, because the commission doesn't have the capacity for more monitoring and permitting, and/or because some of our historic neighborhoods have been so thoroughly altered that there isn't enough original material there.
Philly has many historic – but not designated – neighborhoods on their knees begging for creative solutions that can be tools for stabilization and revitalization. It's time for new preservation tools and fresh thinking.
Several of last Friday's presenters advocated for "preservation lite" alternatives to outright designation and regulation. What if we started ranking or classifying buildings according to significance, as other countries do? Changes to your typical rowhouse don't need to be regulated the same way that Independence Hall does.
Philly has a "preservation lite" tool already: conservation districts, a special zoning overlay for historic neighborhoods. Conservation districts are a set of regulations that don't stipulate museum-quality restoration but set well-tailored design restrictions aimed at maintaining neighborhood character, form, and scale. So far Queen Village is the only one.
Good preservation isn't about locking places in amber: It's about giving new futures to older places. And maybe that means preservation's tools need to change with the times.
* Disclosure: PlanPhilly is a project of PennPraxis, the applied research arm of PennDesign. The author is a graduate of Penn's historic preservation program.
Preservation Law and Policy: Crises of Legitimacy Symposium
Session Videos

Loading Viddler Videos
WHYY is your source for fact-based, in-depth journalism and information. As a nonprofit organization, we rely on financial support from readers like you. Please give today.