Q&A: PennDesign's Frank Matero on preservation in Philly and around the world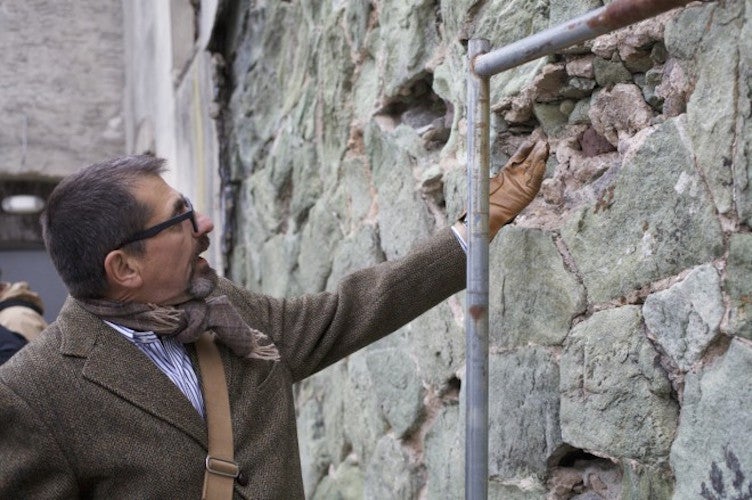 Frank Matero has worked on the conservation of the Neolithic city of Çatalhöyük in Turkey, on the fortifications of Cairo, and the Native American ancestral grounds of Mesa Verde. He has helped in the preservation of the Lincoln and Jefferson Memorials in Washington, Ellis Island, the Guggenheim Museum and Trinity Church. And that's just scratching the surface.
For a lifetime of achievements, the Preservation Alliance for Greater Philadelphia presented its James Biddle Award this year to the University of Pennsylvania professor of architecture and director of Penn's Architecture Conservation Laboratory.
"Frank was honored because of his long career as a practitioner of preservation throughout the U.S. and abroad, and as a beloved instructor who has had tremendous influence on an entire generation of preservationists," Paul Steinke, executive director of the Preservation Alliance, said.
In a conversation with PlanPhilly on the morning of the awards ceremony, Matero talked about his early attraction to history and archaeology, his work around the world, his current projects, and the state of preservation in Philadelphia.
The following Q&A has been edited and condensed for clarity. You can read a longer version of the conversation here.
PlanPhilly: What are the favorite projects that you've led over the years?
Matero: There is not a project that I do that I do not embrace. I don't do them if it doesn't provide a challenge. I love projects for which there are no good solutions.
I would have to say that the classic sites that changed my life really were the Native American indigenous sites, like Mesa Verde (Colorado), like Chaco Canyon (New Mexico).
At the Native American sites, the tribes have sovereignty and have retained their worldview, which is different from ours. When one is asked to assist in the preservation of their cultural heritage, what happened to me is, I realized in consultation with tribal elders that we are talking about a very different worldview in terms of how to approach what everything means, and how it is to be preserved.
When we were working at Mesa Verde [in the 1990s], we spent almost two years devising all the things considered good contemporary conservation practice. We took samples of the materials, we analyzed them, we discovered their physical chemical properties, and then we identified their damage and deterioration. Then we set ourselves to finding the best solution to their repair.
In the presentation [to the tribes], the treatments were rejected. Not because they didn't satisfy contemporary conservation standards of performance, but because they were synthetic materials and had no place in their worldview.
This put us on a path to question the very essence of what we were trying to do. Not stop time, but accommodate it in a way that would still allow the natural weathering of the materials, but slow them down.
We ended up going back to the drawing board, and to our chagrin, we ended up looking at a very old material that has traditionally been used since antiquity for conservation, which was gelatin, animal glues. Because animal glues were a natural product. This stuff was really easy to use, safe to use, safe for the environment. And, basically, it disappears when its lifecycle is done, and you just reapply it. It was a good solution that was staring at us in the face, and we never considered it because we were modern.

PlanPhilly: What are the current projects that you're overseeing?
Matero: I'm working at Vizcaya Museum and Gardens. We're looking at the work of a little-known American master, Robert Winthrop Chandler. He was quite prolific, but very little of his work is in the public realm. At Vizcaya, the estate of James Deering, a Mediterranean villa in Miami, and Chandler produced one of the greatest works he ever did in the pool grotto at the site.
But the pool environment was hostile; the materials he used were unstable; and the whole thing is at risk. Vizcaya, which is a beloved and very important site, asked us to help them decide the best course of action. …What really brought me there was this unsolvable problem of how do you interpret a work like this in its natural environment? How do you preserve something like this? What do you do with something that is in such a wrecked condition?
Here we are calling to our aid some very current, innovative, and I think exciting ways in which conservation professionals are now thinking of interpretation. We are proposing to them to think about digital reconstruction — to project the entire reconstruction of Chandler's much-damaged work, not literally with paint and plaster and gilding, but by digitally projecting it onto the surface.
Why not take that technology, use it for conservation, but also allow that work to live on reinterpreted by contemporary artists, where they show their work inspired by and in conjunction with this work?
To me, this is where conservation has to go. It has to break out of this seemingly anti-contemporary notion of being old fashioned and rigid, and it needs to think more about how it can build bridges between the past and the present through contemporary interpretation.

PlanPhilly: Are we turning a corner here in Philadelphia in our approach to preservation?
Matero: I'm not a historian of the city, but my sense is that when I arrived here in 1990, there was a certain notion that things would always be the way they are. And there was an embarrassment of riches. Suddenly, when the rest of the world was appreciating the 20th century and the late 19th century, we were still tearing down Frank Furness buildings. We led the charge in the 1970s for preserving the 19th century. But it's been slow to pick up steam.
I think what's happening now is development – which is a healthy necessity for the city – has taken the city by surprise. We have simply not kept up with the ways and means to guarantee that existing buildings have their day in court and be judged to be contributing economically, socially, culturally.
Now this is changing. Just think about the highlights. We have a very early demonstration of preserving Colonial fabric, which is largely the historical significance of the city. Fast forward: We have one of the first and only expressions of the preservation within urban renewal with the creation of Society Hill and Ed Bacon's vision. If that's not modern, I don't know what is. And then to embrace modern design in-fill within Society Hill in the late 1960s and '70s, that's pretty amazing. That was not happening anywhere else in the country.
I don't want to get into the politics. I don't really know them. But I do think the corner's been turned. There's no going back now, and I think it's just taken a critical mass of people in the city agencies, starting at the top, to view preservation not as a hindrance but as a tool of development, without compromising its basic principles.
WHYY is your source for fact-based, in-depth journalism and information. As a nonprofit organization, we rely on financial support from readers like you. Please give today.