Praxis Dialogues: Historic Preservation for a Changing City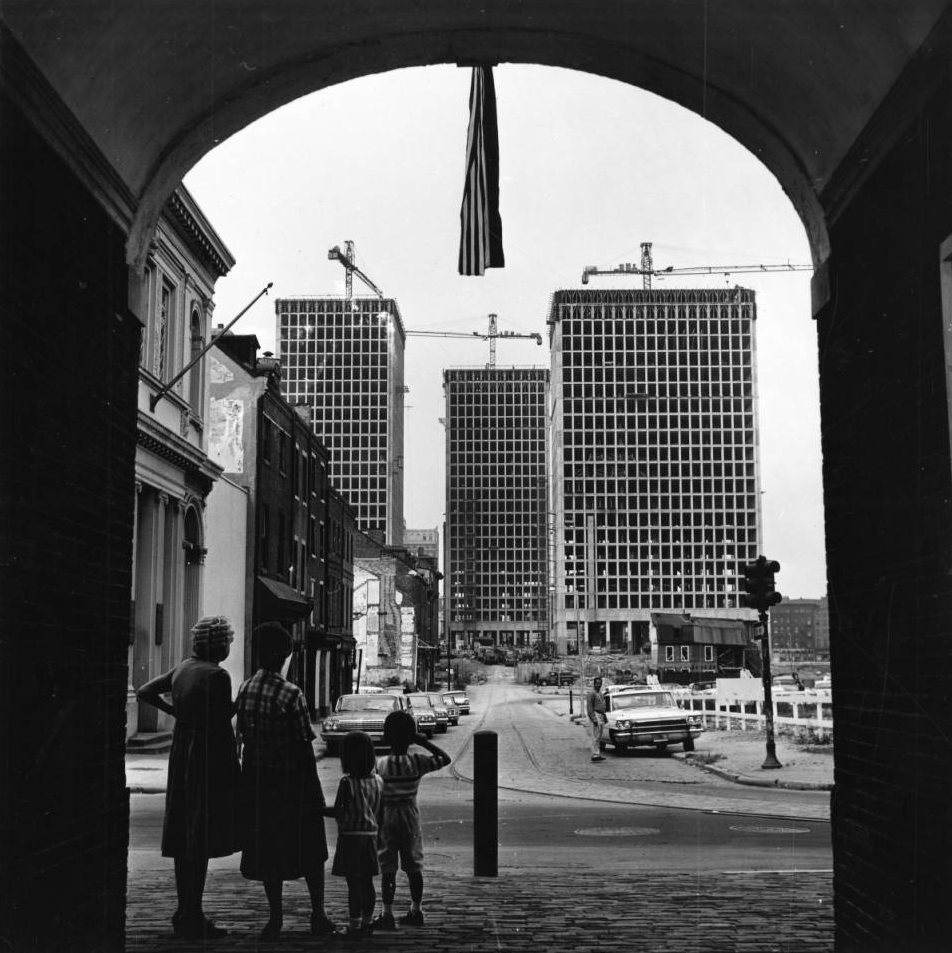 On February 28, PennPraxis and PlanPhilly will host another Praxis Dialogues, the third in a series of public conversations about the notion of "the public good" in design practice. This time we're focused on historic preservation. First we heard from PennPraxis' Executive Director Randy Mason and today Penn Law professor and urban scholar Wendell Pritchett shares his perspective, formed growing up in Society Hill during its preservation and urban renewal era. And, by way of disclosure, Pritchett is a WHYY board member.
I grew up in Society Hill. My family moved there in 1967 when we bought a house at 5th and Pine. Three years later we moved to a house at 2nd and Locust Street where my parents still live.
So, in addition to being a public responsibility, historic preservation is personal to me. It has shaped who I am. Every day I walked through a historic district, past Independence Hall and past history. There is no doubt in my mind that this daily exposure is the reason for my interest in history, and law and government. My interaction with this country's past was visceral and immersive. One of my strongest memories is the Bicentennial, when my mother and I designed our own historic tour for the many friends who wanted to experience the country's birthday.
I also grew up in an experiment called Urban Renewal. The Society Hill redevelopment plan included significant preservation of historic buildings and also significant demolition of buildings, some of which were also considered historic. Our house was designed by Lewis Sauer and was new when we moved in. Across the street from us are the iconic I.M. Pei townhouses and down the street are the even more iconic Society Hill Towers. We were part of a large experiment in historic preservation AND urban renewal, which, in my view, has been largely successful. (As a preservation plan, my views on the gentrification of the area are more complex.) Over the past four decades, Society Hill has become so expensive that a large majority of Philadelphians cannot afford to live there. The loss of diversity detracts from the neighborhood, though, as it is fully built-out now and designated as a local historic district. I don't know that there is much we can do about this challenge. But, with this significant exception, the project has been successful. In many cities (and sometimes in our own), urban renewal represented a failure of imagination; an inability to recognize the public values of preservation and the need to incorporate newcomers into our fabric. In Philadelphia, we have long understood the public purposes of preservation, and our community is the better for it.
Historic preservation is a public good, and as such, it is appropriate for society, acting through government, to implement preservation activities. Preservationists frequently cite the 1954 United States Supreme Court Opinion in Berman v Parker, where the court upheld the use of eminent domain for urban redevelopment. While focused on urban renewal, Justice Douglas' explanation for why that initiative is legally appropriate is useful for thinking about the public purposes of preservation. He wrote: "The concept of the public welfare is broad and inclusive. The values it represents are spiritual as well as physical, aesthetic as well as monetary. It is within the power of the legislature to determine that the community should be beautiful as well as healthy, spacious as well as clean, well-balanced as well as carefully patrolled." This is what planners like Ed Bacon and preservationists like Charles Peterson were trying to create in remaking Society Hill. While these values are sometimes difficult to define, often, as in the case of Independence Hall, they are not. And when the public purposes behind specific preservation activities are more uncertain, it is incumbent upon those of us who support preservation to be as explicit as possible.
Take the Society Hill example, which reveals the complexity of historic preservation. The experience of the neighborhood is a study of the interaction between old and new, as many decades of development shaped Society Hill, not just the colonial era. The experience is shaped by the Georgian Revival Curtis Building, the Modernist, Oscar Stonorov-designed Hopkinson House, and the cast iron Penn Mutual Building, enveloped by a 1970s tower. My favorite place in this wonderful city is Independence Park, the part behind Independence Hall, where you can experience all of these beautiful styles reflecting the long history of our home.
Conversely, one of my least favorite places (until it was revived in recent decades) was the front of Independence Mall. There, the windswept plaza reminded us of all the beautiful Victorian and other era buildings that were demolished because they did not fit the colonial "feel" of the historic district. I mourn the loss of other buildings demolished for the same reasons.
I take several lessons from this. Preservation of historic buildings is vital, but change is equally vital. Meaning is built over time, and this requires the ability to grow and mutate. That often requires the demolition of existing buildings. Historic preservation is not putting time in a bottle.
By definition, managing change while preserving history is contentious. Our processes for debating these issues, because we hold strong opinions about what is valuable and what is not, will always be fraught. Yet through inclusive discussion and a common focus on the search for the public good we can continue to help our city flourish. We may not agree on individual proposals, but we can agree on the broader goals.
Praxis Dialogues: Preservation and the Public Good will be held at the Philadelphia History Museum on February 28 at 6:30pm. Register here.
WHYY is your source for fact-based, in-depth journalism and information. As a nonprofit organization, we rely on financial support from readers like you. Please give today.