Pottstown home explodes, leaving 5 dead. Neighbors say the area smelled of gas
Neighbors say they used to smell gas near the home that was destroyed. They say PECO crews and firefighters also had visited home before the explosion.
Around 8 p.m. on Thursday, near Butler Ave and Hale Street in Pottstown, a house exploded with a family inside. Pottstown Borough Manager Justin Keller said five people were killed and two others hospitalized.
Friday morning, neighbors told WHYY News they used to smell gas near the home that was destroyed.
Dorothy Auman lives on Butler Ave, a few houses away from the explosion.
"Some days it would smell worse than others," Auman said. "Some days it was strong, especially when you were driving up, towards that way."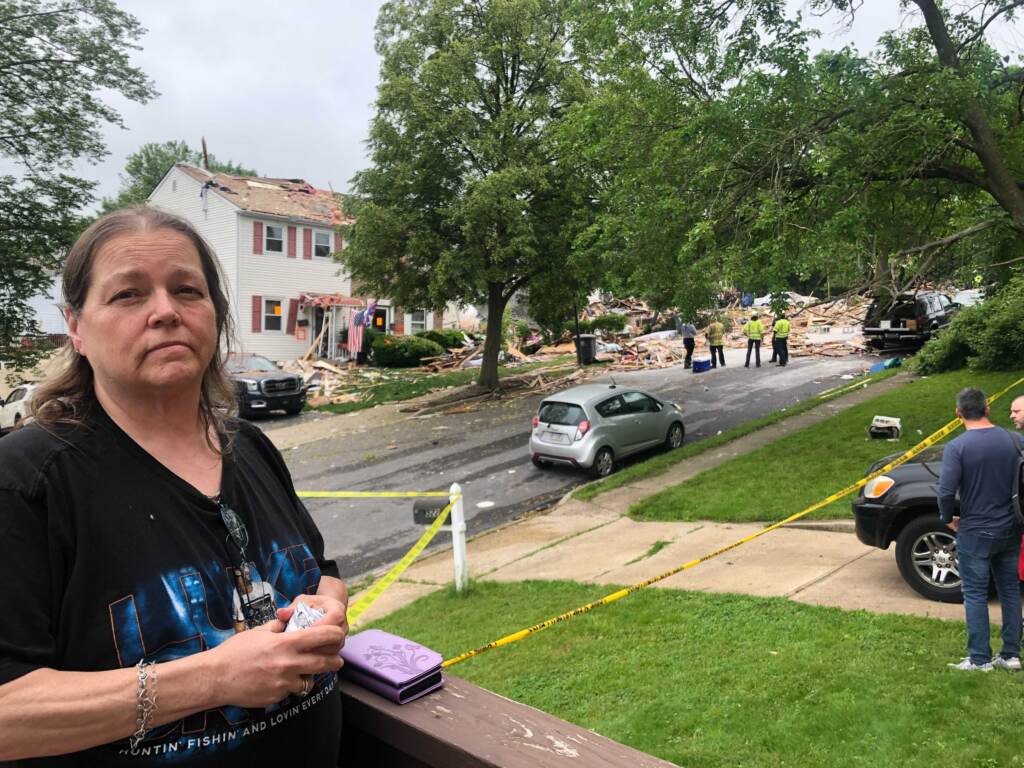 She said she witnessed PECO visit the house a "couple times," as well as Pottstown firefighters a few times.
"You can always smell gas, and it built up, built up, built up," said Tanya Johnson, who lives a few houses away on Butler Ave. She said she also witnessed PECO visit the area multiple times.
"They'd come out and they would brush it off," said Auman.
The explosion was heard and felt across the Montgomery County town. Some thought it was thunder or an earthquake.
Tay Hall lives about 10 blocks away. "I heard a big boom, and the house shook," Hall said.
Some neighbors near Butler Ave. ran to the home after they heard the boom.
Around 8 p.m. Canda-cee Borders, 24, her boyfriend, and a group of others saw a mushroom of smoke, and the house collapse. The home's insulation rained down.
"We ran up there. The cops were telling us to stay away but we wanted to see if we could help anyone," said Borders. "We're not going to wait. You know how long cops and ambulances take. If we could save someone, that's what we were trying to do."
They found family members underneath pieces of their destroyed home.
Borders said they found the mother, who was saying, "Where's my kids? Where's my kids?"
"She was completely covered, we were throwing the wood and bricks off of her, but we couldn't get to the bottom of her," Borders said. "We found one of the kids but we couldn't get to him … I wish I could've done more."
Borders said then the police told them to get away from the scene.
"It's just tragic. They're kids," said Borders.  "And it's just a shame that PECO was contacted and no one did anything. And, and now look at the end result, lives were taken. And I really hope that whoever was contacted, they're held accountable. Because this is ridiculous. This is horrible."
The children who lived in the home used to play with Border's younger siblings.
"I know that they were happy. They were very family oriented. The mom was always supportive. They were always home and playing outside," Borders said.
Britona Holman lives in the neighborhood. One of the children would play in her backyard all the time with her son.
"He's riding his bike around … and he's the sweetest little boy. It's really sad. It's a tragedy," said Holman.
The Pottstown School District canceled school on Friday.
Borough Manager Keller said additional information on the family will be provided by the police department and the coroner's office as soon as it becomes available.
Keller said the Pottstown Police Department, Pottstown Fire Department, and EMS as well as Philadelphia arson and explosives team, Pennsylvania State Police, and the fire marshal's office "have been working throughout the night to determine the cause and origin of the explosion."
"The investigation is ongoing, we do not have additional details to provide at this time. The lead agency for this investigation is Pottstown Police Department and they will provide updates when available," Keller said.
Engineers for the Pennsylvania Public Utility Commission Safety Division have been on the scene of the explosion working with local officials since last night.
PECO said they are also investigating the situation.
A PECO representative said they are currently "looking into [their] natural gas odor calls."
"The cause of this incident is currently under investigation. PECO crews responded and worked to shut off gas and electric service to secure the area and ensure the safety of first responders and residents. The affected address and adjacent property are not PECO natural gas customers," they said. In a clarifying email to WHYY, PECO said the affected address and adjacent property were not attached to gas service lines.
It is still unclear where the smell of gas in the area was coming from.
WHYY is your source for fact-based, in-depth journalism and information. As a nonprofit organization, we rely on financial support from readers like you. Please give today.