Updated: Police search for parents of toddler found alone in Frankford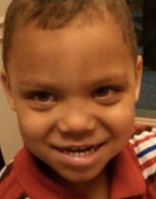 UPDATE — Family members have come forward to claim the toddler 15th District officers found wandering in Frankford Monday.
Police found Mark on Bridge Street near Darrah Street and brought him into custody when an adult did not appear.
Last night, Mark's aunt saw his photo on the news. Mark was reportedly dropped off at his grandmother's home on Bridge Street by his mother early Monday morning. The grandmother told Mark to go to sleep, and when she awoke from a nap to find him gone, she'd assumed his mother had picked him up.
The District Attorney's office will review the case to determine if the boy can return home.
ORIGINAL REPORT — Police are asking for help to find the parents or guardian of the 3-year-old boy found wandering Frankford alone this morning. The was discovered by himself around 9 a.m. on Bridge Street near Darrah Street.
Police in the 15th District are calling the boy Mark. He is 3 years old, weighs 48 lbs. and is 42 inches tall. He's got brown hair and a medium brown complexion. He was found wearing a polo shirt with red, white and blue stripes, dark gray shorts and white and black sneakers. Mark will remain with the Special Victims Unit. No one has reported him missing.