Play Streets, the Parks and Rec program that tells Philly kids: "Go run around in the middle of the road"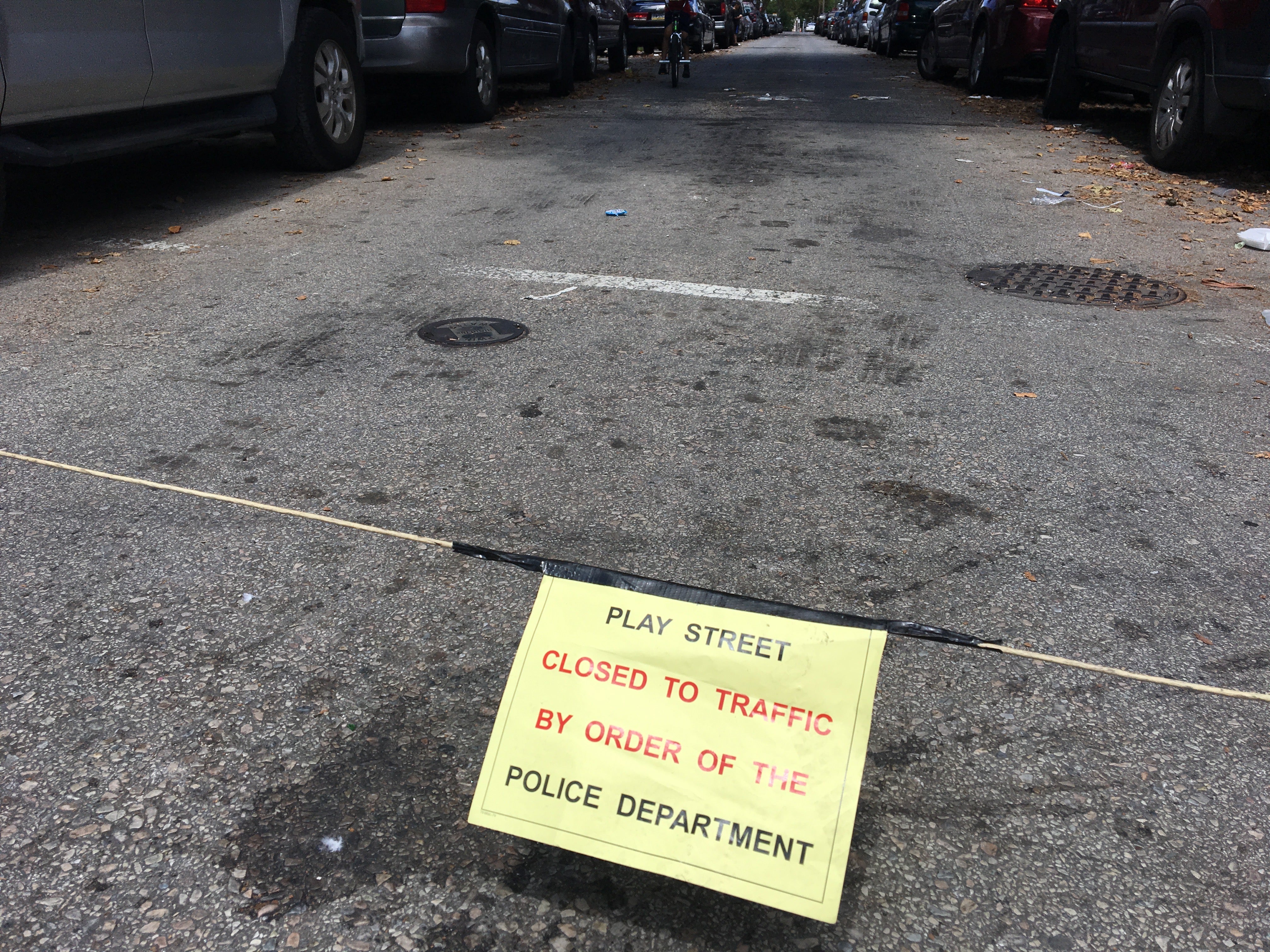 When the sign is up, children can cross the street without looking both ways. The usual sounds of rumbling engines and car tires treading over pavement are gone, because there are no cars. Tucked away on over 500 residential one-way streets across Philadelphia are Play Streets, blocks that cordon off traffic to reserve the road for children at play. From 10 am to 4 pm, a sign placed at the foot of the street turns a working road into a Play Street during the summer months.
Each Play Street has a resident supervisor, and on the block of 4300 Franklin Street that's Yalenska Rosario. She moved to her house a year ago, and this is her first summer coordinating Franklin Street's program. As she watches from her front porch, children ride bicycles and younger kids kick in their plastic wheelie cars. Someone must have unearthed a few unused canes, because kids fake-hobble down the street with them.
Rosario's latest project is a bouncy castle she would like to blow up in the street. Right now, there are too many parked cars, but she's trying to persuade her neighbors to move them. Each day, Rosario ropes off the street in the morning and reopens it to traffic in the evening. At noon, she passes out 35 city-provided lunches to kids on her street. For children in hungrier households, the meal can replace a free school lunch.
A cornerstone of Play Streets is the meal program, which provides lunch and a snack to all children. In lower-income neighborhoods, the free lunch helps lift the onus of providing food from struggling guardians.
Brenda Henry, in her seventh year as West Palmer Street's supervisor, handles food distribution, from the bottom of her stoop in Kensington. The red coolers rest on the sidewalk, and two of her kids slurp yogurt while sitting on folding chairs.
"There are some kids around here that don't have nothing to eat," Henry said. "If I see them walking by, I'll yell down there, 'excuse me' and I call them, give them a lunch, and then they leave."
On days like this one, with an excessive heat warning, kids generally claimed their lunches and broke for the pool. The street was almost deserted save for Henry's family and their Chihuahua, Precious, whose rainbow-painted toenails clattered on the pavement. When the temperature doesn't drive everyone away, Henry said kids play Frisbee, jump rope, and chalk on the road.
Lunch that day was yogurt, Nutri-Grain bars, celery, and milk, with a fruit cup for a snack.
The Parks and Recreation established the Play Streets program over 50 years ago. Since its inception, Play Streets has spread to almost every corner of Philadelphia.
"It's pretty unique to Philadelphia, as far as the Play Streets program," Terri Kerwawich, program director at Philadelphia Parks and Recreation said. "Other cities have a meal program, but we're probably one of the only ones that has Play Streets."
Although Play Streets stretch across all socioeconomic neighborhoods, they can be most helpful in areas with fewer resources for families during the summer months.
"The Play Streets are also there to provide a safe place for the kids to play," Kerwawich said, "especially if the street may not be near a rec center or a park."
Play Streets is a city-run program, but there is no public directory of participating streets. Although the lack of information on Play Streets can ensure a designated street remains a locals-only secret, it also lowers the program's profile and can make finding a Play Street a little like an Easter egg hunt.
Word of mouth fuels Play Streets, and the position of street supervisor is often passed down from one neighbor to another. To formalize the handshake-exchange of leadership, a resident applies through the Parks and Recreation department. Once an applicant is approved and complete a training session, they become their street's supervisor, and receive toys, lunches, and a recycling bin from the city. If a block is transitioning to Play Street, 75 percent of the block's residents must sign a petition first.
Without the Play Streets program, Rosario suspects that kids would still hang around the road, but it would be less safe because of traffic. The program also helps keep neighbors accountable for each other's children.
"We still have other neighbors that are good and understandable and they have kids, it actually brings us together," Rosario said. "It's actually something that's good for the community, especially for kids that don't have no food."
(Julia Bell)

(Julia Bell)

(Julia Bell)

(Julia Bell)
WHYY is your source for fact-based, in-depth journalism and information. As a nonprofit organization, we rely on financial support from readers like you. Please give today.