Planning Commission supports 36 changes to zoning code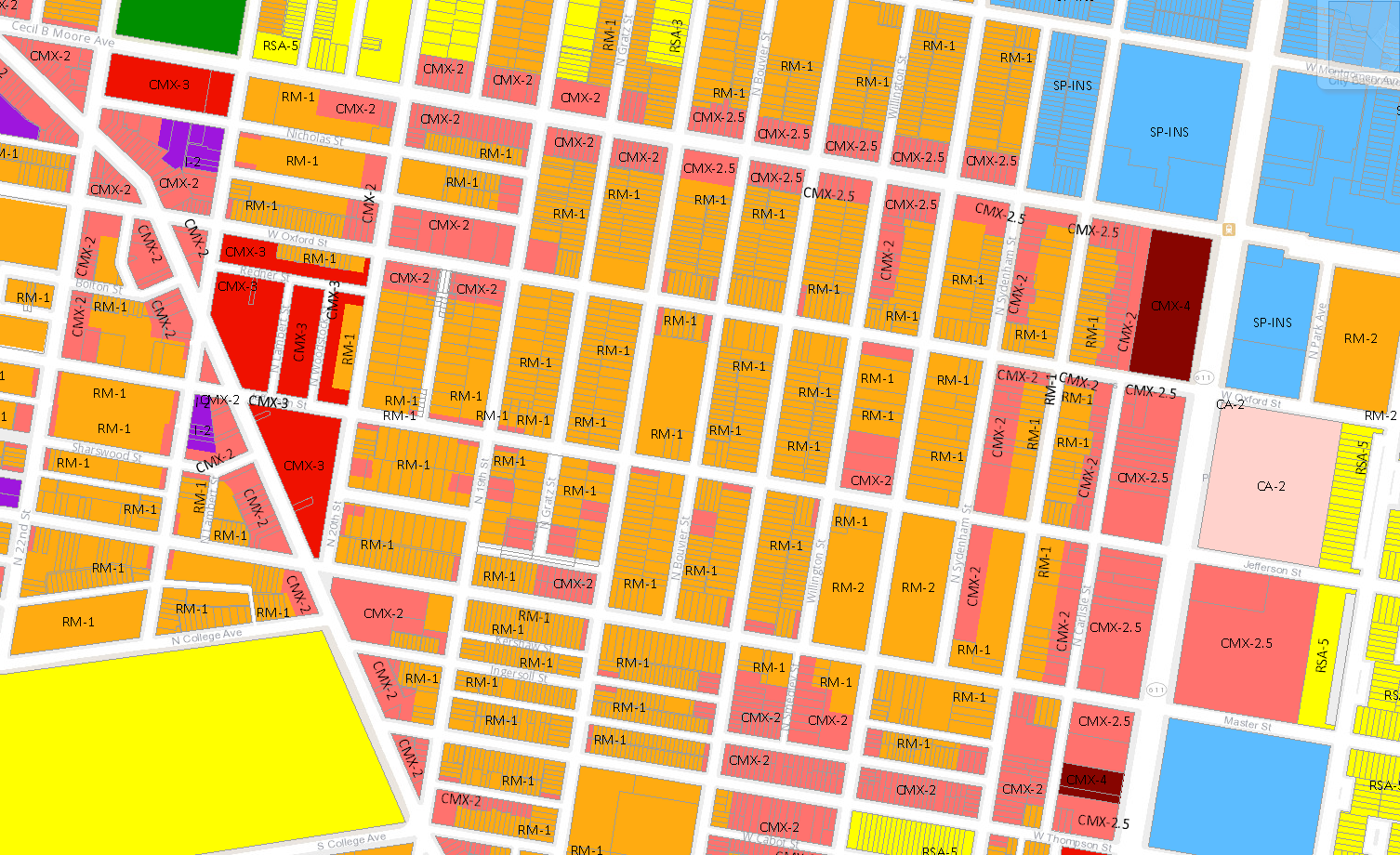 2016's final meeting of the Planning Commission centered on a year end zoning reform omnibus bill introduced by Councilman William Greenlee on behalf of City Council President Darrell Clarke.
The bill is the result of a year's worth of meetings of the Zoning Technical Committee, which is comprised of representatives of the Planning Commission's, the Commerce Department, Licenses and Inspections, and the Law Department. If passed and signed into law, the bill would change 36 different subsections of the code. Changes would be made to everything from the most minor spelling errors to substantive alterations to whole categories of the code.
The planner who presented the bill to the commission, Andrew Meloney, offered what he called the bill's greatest hits. These were broken into five categories.
RM-4 dimensional changes: RM-4 is a residential zoning category that covers much of Center City, from Rittenhouse Square to Logan Square (which is currently being remapped in part to eliminate it).
The problem is that RM-4 requires a minimum 50-foot wide lot, 5,000 square foot lot area, and a 20-foot setback, conditions that don't exist in Center City. And rightly so in the estimation of the Planning Commission and anyone else who prefers maximal density downtown.
"RM-4's significant setbacks and lot size requirements never match where it is zoned," said Meloney. "We were looking to actually create a guidebook for usage in the code and we couldn't find a picture of a conforming RM-4 property in Philadelphia. We knew at that point that something had to change."
The omnibus bill will reform these dimensional requirements, removing the front setback and rear yard requirements.
Deed restrictions in exchange for bonuses: Deed restrictions will be added to three different types of bonuses developers can use to win themselves more height. The city feels that it has too often been burned in tradeoffs.
Now to win extra height through bonus structures in CMX-4 and CMX-5 high-density zones, the retail or public space provided will be written into the deed. The same goes for those promising to provide fresh food markets along a neighborhood commercial corridor. This is how the city hopes to make sure it gets what is asked for.
These proposed deed restrictions proved the biggest sticking point.
"I understand you are trying to lock in and make sure they actually construct what they say, and do what they say, in return for the bonuses," said Cheryl Gaston, a zoning lawyer with Spruce Law who sits on the Planning Commission. "But perhaps there are other instruments you can use to do this. I don't have a problem with people being held to keeping their agreements. … But people just don't want to do this."
Meloney responded that the deed restrictions have been flagged as a concern by the Law Department and that the city is open to alternative proposals. He promised to keep looking for alternatives before the bill reaches City Council's Rules Committee in 2017.
"We haven't found a better tool yet that will work through the framework as simply as a deed restriction does," said Meloney. "For a property owner or developer, this is a pretty noxious thing to do. But it seems to have the teeth to hold what we are trying to do."
CMX 2.5 unit calculation: CMX 2 and CMX 2.5 have had the same unit calculation since the re-drafting of the code in 2012, although the two designations allow for radically different heights.
CMX-2 has a 38-foot height limit whereas CMX-2.5 allows for 55-foot heights, which essentially means that the units in the latter can be larger but they can't be more numerous. Under the new calculation, CMX-2.5 would have a slightly larger amount of units (and, therefore, denser buildings).
This accords nicely with CMX-2.5's purpose, which is to promote a mix of commercial and residential uses along heavily trafficked neighborhoods corridors like Passyunk or Cecil B. Moore. While CMX-2 is the most common commercial designation in the city, covering many neighborhood main drags, CMX-2.5 is more specifically meant to encourage the super successful corridors with high foot traffic. In such places more density makes a lot of sense.
Primary Frontage: This alteration is meant to clarify which frontage is the principal one in situations where a building has numerous sides that could potentially be designated as the front.
"There are a lot of these situations with a corner lot or a lot that has three sides," says Meloney. "The code thinks those are all frontages. And they are all fronting on streets, but there are some frontages that are more equal than others."
The revision would create a process through the Planning Commission that would help determine what a primary frontage is. L&I is an agency better suited to black and white situations, whereas Planning is better situated to go to these individual properties and help figure out what makes the most sense in the context of as particular streetscape. This change will give them the flexibility to do that.
Loading space adjustment: This would alter the code to allow the Planning Commission's staff to lower the size of the loading space required for buildings in Center City and other high density districts. Basically this fix would allow developers to meet a lesser loading-zone standard in high-density areas where their buildings simply don't require the space to dock a tractor-trailer. The width could go as low as ten feet, the length as low as 30.
As with the frontage tweak, this change would allow the Planning Commission to assess each change in its context.
Planning Commission staff recommended approval of the bill, which they got after a few rounds of light debate.
Mostly, Gaston of Spruce Law peppered Meloney with questions about the bill's ramifications.
In one case not highlighted in his greatest hits compilation, the standards for roof decks in commercial areas will be brought under the same conditions as those for residential areas—which just means that they won't be counted towards the overall height of the structure. Gaston asked if that meant roof decks would not be allowed in commercial districts—they are currently restricted from commercial buildings—but Meloney assured her that it simply meant they were being brought into line with residential standards, not that they would be more broadly allowed than before.
Gaston then questioned the menaing of the bill's revisions to existing affordable housing restrictive covenants. The city's Director of Planning and Development, Anne Fadullon, explained the proposed alteration would mean that a developer must enter into a restrictive covenant to pay into the affordable housing trust fund or build more housing in exchange for greater height. This would help prevent another One Water Street-type situation, where a developer changed the terms of their deal after constriction was already under way.
Currently under the code, the restrictive covenant must be in effect in order to get the certificate of occupancy. This reform would move up the timeframe. If this legislation were to become law the developer would have to enter into the restrictive covenant before they even get the building permits and put shovels in the ground.
"My last comment will be that we have too many revisions to the code," said Gaston. "If we are going to see revisions like this I think there needs to be a review just to make sure that we are not back where we were when we had a code packed with inconsistent provisions."
Fadullon parried by arguing that the omnibus zoning reform bill is meant to make the code clearer and avoid the kinds of variances and spot-zoning that dominated the development process before the Mayor Nutter's zoning reform.
"To clarify, that's exactly what this is," said Fadullon. "L&I, the Planning Commission, the administration meet periodically throughout the year and at the end of the year they say, okay, these are the issues that come up over and over and over. We need to clarify these. So every one of two years we get something like this."
At the end of the meeting, David Feldman of the Developer's Workshop asked that the commission not vote to recommend the bill. After attending his membership meeting earlier that day, he'd come away alarmed by how many of the city's developers and architects remained unaware of the legislation that Greenlee introduced on the 17th of November.
In short, Feldman said, the development community needed more time to consider the changes proposed and potential ramifications. His members would like to provide the Planning Commission staff feedback before the bill made its way to the Rules Committee.
"The rules committee is not made up of people with the skills and understanding that this commission and the staff have," said Feldman. "Even if you love everyone on city council, they aren't trained planners. They are generalists who deal with all sorts of issues. They aren't equipped in the detail of this. So it's a hard place to have the discussion."
But the commission decided that there would be no way to amend the bill before the Rules Committee meets in any case. It was agreed the Rules Committee would not be likely to meet on this issue for another two months at least while the committee only had another few days to act before its approval would be simply assumed. (If the planning commission doesn't decide to comment, its approval is presumed 30 days after a bill that falls under its purview is introduced.)
The commission voted to support this bill along with every other question before it at the December 13th meeting, which otherwise were largely comprised of projects approved by the Civic Design Review Board or minor streets and code changes.
WHYY is your source for fact-based, in-depth journalism and information. As a nonprofit organization, we rely on financial support from readers like you. Please give today.