Pivotal Bucks County congressional race draws national attention
Listen
5:29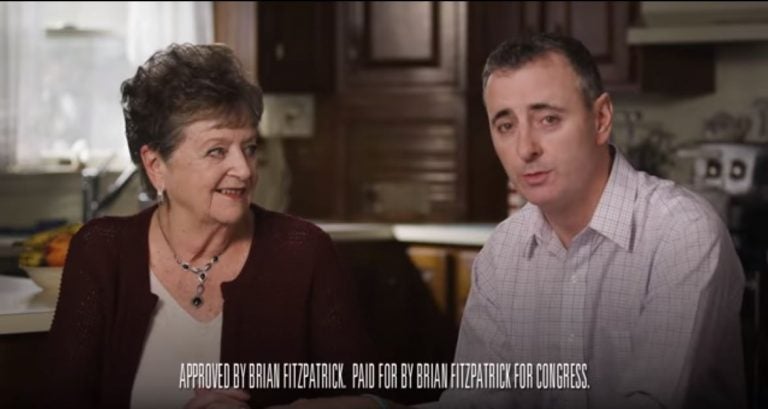 With midterm elections in just over two weeks, the Delaware Valley is home to some critical battles for control of Congress.
Peering across the battlefields are Morning Edition host Jennifer Lynn and WHYY senior reporter Dave Davies.
—
Dave, it seems the marquee battle every two years is the congressional race in that swing district in Bucks County. Is that where the action is again?
Yes, this is an interesting race. You have two candidates with long ties to the district who spent a lot of their careers elsewhere. The incumbent is Republican Brian Fitzpatrick, who was an FBI agent in California who came back two years ago to win the seat his brother Mike was giving up. The Democrat is Scott Wallace, a man with a lot of family wealth and some political fame. We might note, his grandfather was Henry Wallace, a vice president to FDR who ran an independent campaign for president as a socialist in 1948. Wallace has spent years running a family foundation. He moved back to the area to run for Congress.
There are plenty of ads in this race. What issues are being raised?
It's interesting you know the Republicans are not running on the economy or the tax cut package. That's a trend we've seen nationally. They are spending a lot of effort attacking Wallace as a dangerous leftist radical. They've pored over the grants that his family foundation made for 20 years and have found some that are controversial. A lot of these allegations are exaggerated. In one case, it's not true.
Who's talking about things that affect voters, like health care?
The Democrats are. Here's an ad from the national Democratic Party attacking the incumbent Republican Fitzpatrick:
"If you have a pre-existing condition, Brain Fitzpatrick sold you out. Brian Fitzpatrick sided with Donald Trump and the insurance industry. He voted against protecting people with pre-existing conditions three separate times."
Now the Republicans know this issue of pre-existing conditions matters. So, Fitzpatrick comes back with this ad, featuring his mother:
"During my battle with breast cancer, Brian never left my side. Brian understands what health care means to families. He protected people with pre-existing conditions and stood up to his own party. Right, Brian?
Right, Mom. I'm Brian Fitzpatrick, and I approve this message because we all should be listening to our moms."
This gets confusing. One ad says he voted against protecting people with pre-existing conditions, the other says he protected those people. Who's right?
Welcome to the world of political advertising. There are thousands of votes in Congress. The Washington Post looked at this and said the votes the Democratic ads cite were minor procedural votes that didn't matter much. But on the roll call that really counted, Fitzpatrick voted against the Republican bill to repeal Obamacare, citing the need to protect patients, and showing some independence from President Trump. He did vote for the Trump tax plan, which Democrats say is a giveaway to the wealthy.
Given the partisan divide in the country and strong feelings about President Trump, will party identification matter more than the merit of a given candidate in this election?
There's some evidence it will. The most recent Franklin & Marshall poll found a large number of voters prepared to pull party-line ballots, saying they'll be motivated by their anger at or support for President Trump. You know, Brian Fitzpatrick can make a case that he's a moderate who considers issues on their merits, but I hear Democrats say it really doesn't matter if this Republican would support reasonable gun control or expanded health care — because, once in Washington, he'll support a Republican for speaker of the House, who will keep those measures from coming to a vote, who'll leave Devon Nunes in charge of the House Intelligence Committee attacking the FBI and undermining the Mueller probe, so maybe in this climate, party matters more. I think what you'll see is millions of ad dollars targeted at a band of moderate and independent voters, who might be persuaded to abandon party and vote for someone they like or against someone they fear.
Dave, what about other races? Isn't this still the "Year of the Woman"?
Yes, this will likely be the story of the year. In Montgomery, Delaware and Chester counties, three progressive Democratic women — Madeleine Dean, Mary Gay Scanlon and Chrissy Houlahan — are running in redrawn districts that seem headed for victory. Republican candidates there are running hard in a couple cases, but they are underfunded because local and national donors don't think those races are winnable.
And what about the Allentown district that was the home to Charlie Dent, the nationally known moderate Republican?
It seems another Democratic woman, Susan Wild, has the edge there. The Republican is a county commissioner and a former Olympic cyclist who won a gold medal named Marty Nothstein. He was hit in August with a newspaper story about an unspecified allegation of past sexual misconduct. That seems to have gone nowhere, but it froze his fundraising, and he's running uphill. Just those races involving the Democratic women would give the Democrats three previously Republican seats in Pennsylvania, not counting Fitzpatrick's race, which is a battle. And there are districts in play elsewhere in the state.
You can hear senior reporter Dave Davies on the radio and online at WHYY.org. And now you can subscribe to his weekly email newsletter "Campaign Countdown."