PHS adds holiday cheer, calls attention to public landscape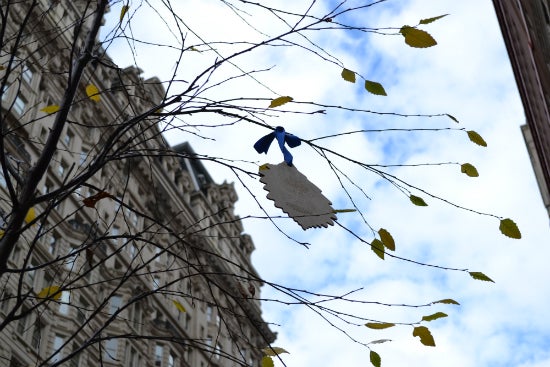 During the holiday hustle on busy streets like the Avenue of the Arts, it can be easy to overlook everyday details in the built environment around you. This year the Pennsylvania Horticultural Society (PHS) wants to change that.
The PHS Public Landscapes Design & Management team has partnered with PennDesign students, and together they have produced 600 ornamental wooden leaves that will hang from some of the 79 trees PHS maintains along south Broad Street from Market Street to Lombard Street. The goal is to spread holiday cheer while offering a subtle reminder that the public landscape takes careful planning and constant maintenance.
"I think the average person walking down the street doesn't think about sometimes who's maintaining the public landscape," said Nancy Goldenberg, senior vice president of programs & planning at PHS.
"We wanted to do something this year that raises the visibility and profile of the projects PHS has done."
The leaves are a simple design, laser etched into birch bark and cut in the shape of maple, sweet gum and aspen leaves.
PHS chose Avenue of the Arts because the leaves will be seen by local residents commuting to work as well as out-of-towners, who may be in the area for holiday shopping, and because the area is a focus of many stakeholders right now.
The group did talk about hanging the ornaments along the Parkway but Goldenberg said they were restricted by time and money. In the years to come PHS would like to expand this project to more streets around the city.
"I think they're going to be a really attractive addition to the trees," Goldenberg said.
Each of the 79 PHS maintained trees will have five or six ornaments hung from it through mid to late January.