PHS Pop-Up Garden proposed in Fishtown stopped by neighbor concerns, displaced compost co-op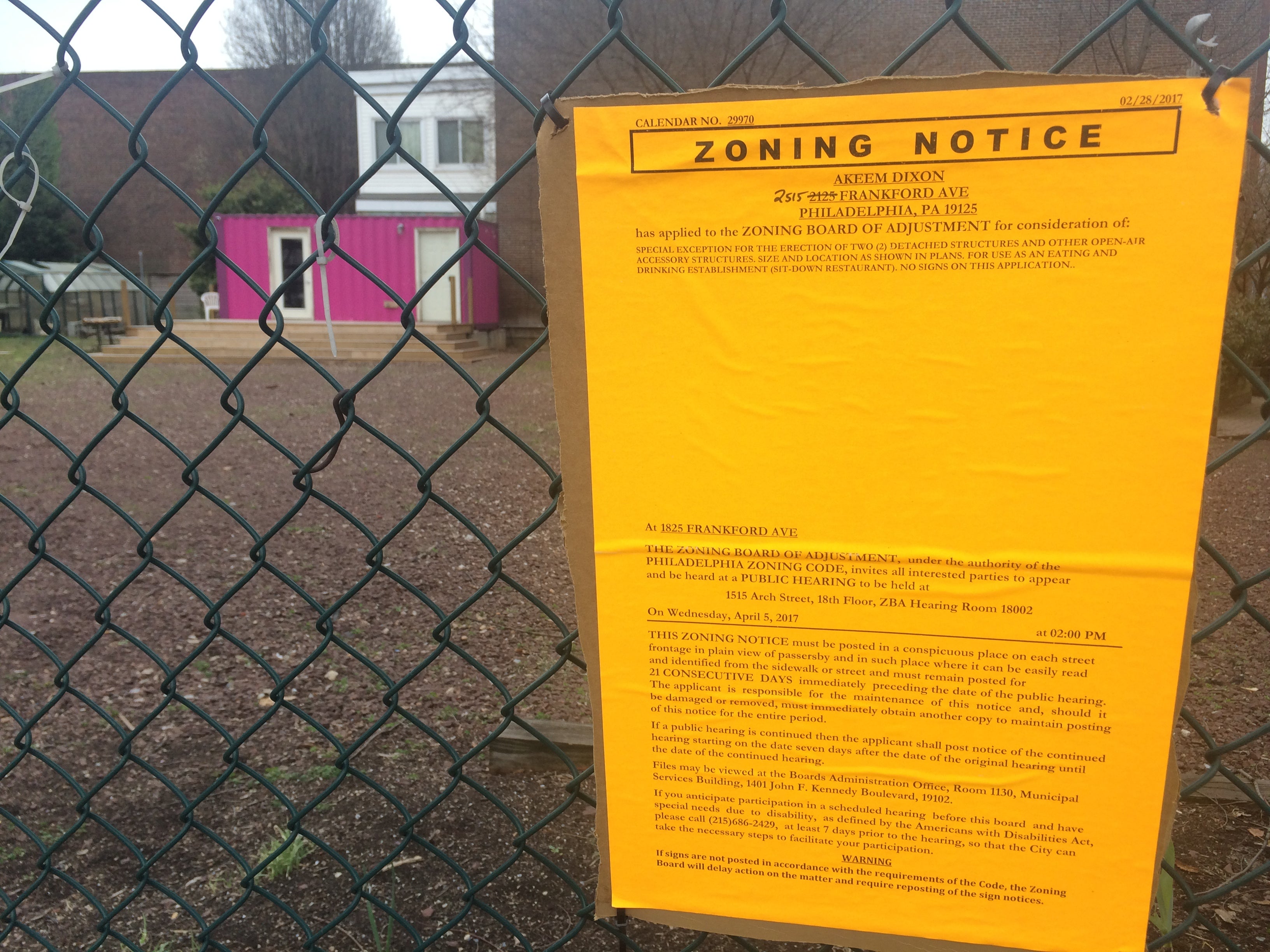 Some Fishtown neighbors didn't like the idea of having a seasonal Pennsylvania Horticultural Society (PHS) Pop Up Garden open in their backyard. Or at least that's what they said on Facebook, as the public meeting to vote on the proposal, scheduled for April 4th by Fishtown Neighbors Association (FNA), was cancelled by PHS this week.
"Personally, I would have liked to know what the vote would have been," said Matt Karp, chair of FNA's zoning committee.
The Pop Up Garden would have been located at a 10,498-square-foot property located at the corner of Frankford Avenue and Berks Street, owned by New Kensington Community Development Corporation (NKCDC) and used as a garden center. And as with every other PHS pop up garden (last year's Pop-ups were located on South Street West and at the Reading Viaduct Rail Park) the Fishtown Pop-Up Garden would have included programing such as gardening presentations, family activities, and food and beverage service.
"Lots of neighbors were not ready to support it," Karp said. "Most of the concerns we heard were about noise, hours, duration… and also having intoxicated people coming out."
PHS's Lisa Stephano and Jeffrey Barg told PlanPhilly they heard about the Facebook comments, posted on the public group Fishtown Is Awesome, and decided to stop the process.
"We felt we probably needed to do more to engage with the community," Stephano said. "We'd much rather take out time to make people feel comfortable with the project and excited about it."
According to Stephano, PHS has been collaborating with NKCDC for a couple of decades and they started conversations about a pop-up garden last year. In September, PHS sent a letter to the people in their database living in the area (19125) inviting their input on the plan, and knocked on every door in the 2-block radius around the garden. If there was no one home to speak with, they left a package explaining the project, Stephano said.
In October, PHS spoke about the project at the FNA's general member meeting. Stephano said the response was positive and FNA gave PHS a letter of support, and sent letters to about 100 addresses given by the Planning Commission. Barg said NKCDC did their own outreach with local business owners and neighbors.
In February, the Department of Licenses and Inspections informed NKCDC they would need to apply for zoning/use permit with ZBA. This meant additional meetings, including a public meeting, which NKCDC sent notice for in a letter dated March 14th.
On March 22, a member of the Fishtown Facebook group posted the letter saying "I don't feel too good about having this literally in my backyard." Other comments showed confusion about the hours and duration of the project, concerns about it being in a residential neighborhood, and complaints about potential noise, traffic, parking, trash, destruction of property, public intoxication and urination. But also some excitement. "It was really amazing, drew a really awesome and respectful group of people," another member said about the Pop-Up Garden at the Reading Viaduct last summer.
On Wednesday, in a letter to FNA, Barg cancelled the project.
"We just didn't have the time now to adequately and sufficiently address the concerns that were raised," Stephano told PlanPhilly. "We wouldn't be able to do it well."
Akeem Dixon, NKCDC's economic development director, could not talk with PlanPhilly on Friday, but executive director Felix Torres-Colon said in a statement that NKCDC hopes to continue working with PHS on a pop-up garden.
"NKCDC was disappointed to learn that the Pennsylvania Horticultural Society has withdrawn its proposal to create a pop-up beer garden at the NKCDC Garden Center on Frankford Avenue this year. We have appreciated PHS's longtime partnership and successful beer gardens in other communities, and we're looking forward to an improved and accessible Garden Center that the whole community could enjoy," Torres-Colon said in a statement.
PHS said the Pop Up Garden was intended to operate seven days a week from mid-May to September, with a 1-year lease (with option to renew). The garden hours would be Monday to Thursday, 5 p.m. to 10 p.m.; Friday and Saturday, 2 p.m. to midnight; Sunday, noon to 10 p.m. The plan of the garden included bathrooms and security. PHS has never had a problem with neighbors around any of their other garden sites, according to Stephano. She stressed that they are "so much more than beer gardens."
No other pop-up location is planned for Fishtown, and PHS said it is willing to keep in conversation with NKCDC about opening one in 2018. Last year's pop-ups were located on South Street West and at the Reading Viaduct Rail Park. The locations for this summer's pop-up gardens have not been publicly announced yet.
WHAT WILL HAPPEN WITH COMPOST CO-OP?
In an ironic twist, the PHS Pop-Up Garden proposal affected PhillyCompost and the compost co-op, operating at NKCDC's site since 2011, the most.
The compost co-op, which started paying rent for one-sixth of the site in 2003, was asked by NKCDC to leave by March. Jen Mastalerz, who ran the compost program, told PlanPhilly she was not involved in any of the previous conversations.
"It was a surprise," Masteller said. "I had to significantly downsize and change the way I do my composting".
Mastalerz moved the compost co-op and teamed up with Emerald Street Community Farm, rented a space from Fishtown Bikes-n-Beans on Front Street as a transfer space, and partnered PhillyCompost with Bennett Compost. She said although she appreciates NKCDC's flexibility (she still has part of her operation on the site) and PHS' financial support to move out, she wishes they could have worked it together since "there was an obvious link to composting."
"We love compositing and we want people composting, please quote me on that" said PHS Stephano. "But we couldn't accommodate it."
(Catalina Jaramillo)

(Catalina Jaramillo)

(Catalina Jaramillo)

(Catalina Jaramillo)
WHYY is your source for fact-based, in-depth journalism and information. As a nonprofit organization, we rely on financial support from readers like you. Please give today.