Neighbors weigh in on Fishtown Rec redesign, 'Swimmo' up for 2017 renovation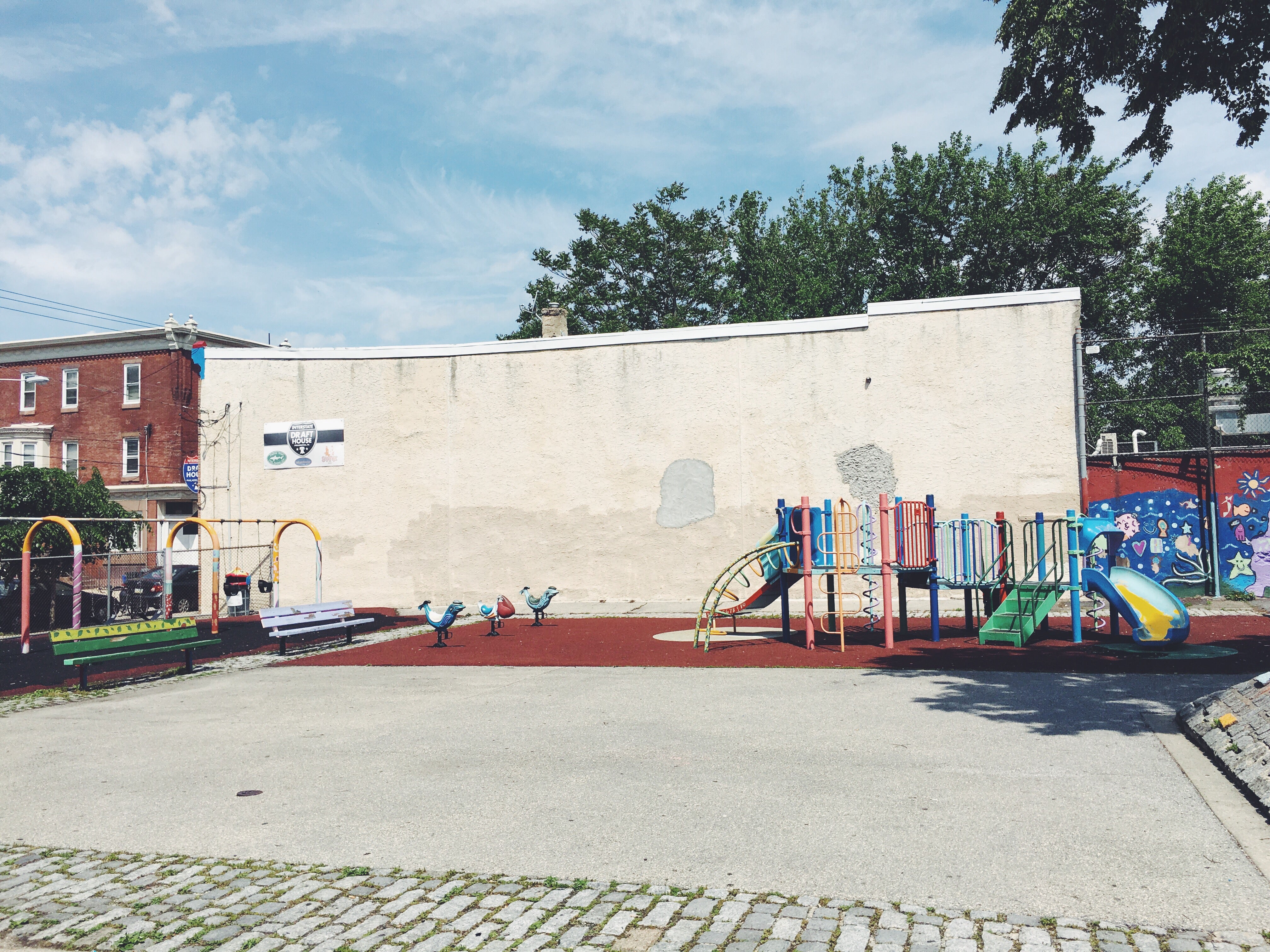 Fishtown is in store for more major public space improvements over the next few years, with redesigns slated for the Adaire Elementary schoolyard, the Fishtown Recreation Center, and the Lederer Pool, better known to Fishtowners as the 'Swimmo'.
Neighbors spent last Saturday morning sharing their visions for public space improvements at Fishtown Rec with representatives from the Trust for Public Land, who are overseeing the schoolyard and Rec Center projects, in partnership with Philadelphia Water and Parks and Recreation.
The Adaire project, in the works since 2013, will upgrade the drab asphalt schoolyard with green stormwater features, modern playground equipment, and a new site layout. And that work has been bundled with a rec center redesign.
Friends of Adaire secured a funding commitment from Council President Darrell Clarke for that initiative, their communications chair Denis Devine said, but getting City Council dollars spent on capital projects for state-owned School District properties proved more difficult than they imagined.
That's because Council can't just allocate money to any school district property of their choosing; any city appropriations need to be spread across all schools. This past November, following a period of institutional negotiations, Clarke announced an agreement between his office, Parks and Recreation, the Water Department, and the School District where the Trust for Public Land would be hired to complete the Adaire schoolyard project. Clarke's funding would be diverted to the Fishtown Recreation Center instead, and the City Council piece of the Adaire schoolyard project budget would be replaced with School District capital dollars. So the neighborhood will see two large public property upgrades, instead of one.
The Rec Center belongs to a tight cluster of other publicly-owned facilities right around E. Montgomery Ave and Thompson Street, including the Swimmo, an outdoor covered hockey rink, Fishtown Community Library, the police station, Penn Treaty Middle School, and Adaire Elementary a block away.
None of the other public properties, including the actual Rec Center building, are part of the scope of Trust for Public Land's mission—-a decision that doesn't sit well with some neighbors.
"How we do avoid ending up with a beautiful spray ground next to a dark building full of missing tiles, drips and broken things?" asked community activist and former Fishtown Neighbors Association president Jill Betters in an email, "The Swimmo, Penn Treaty Middle School, Fishtown Library, and the Fishtown Rec are co-located; not considering a master plan seems like a tremendous missed opportunity."
One of those properties is currently undergoing a separate redesign. At the meeting Saturday, Mary Anne Tempone, president of the local Recreation Advisory Council, also announced that the Swimmo, across the street from the Rec Center, is in line for major renovations next summer.
Jen Crandall, public relations manager at Parks and Recreation, confirms the design process for the pool is now underway, and will be renovated sometime in 2017.
(Jon Geeting)

(Jon Geeting)

(Jon Geeting)

(Jon Geeting)

(Jon Geeting)
The outdoor space at Fishtown Rec is vast and utilitarian. It has playground equipment, swings, a basketball court, and a picnic area—-most of the elements residents want in a community gathering space—-but the layout is not particularly thoughtful, and many residents consider it uninviting and lacking in charm. As is the case with many city Rec Centers, the surface is mostly hardscape with little green space except for a few trees.
Trust for Public Land representatives sent attendees on a walk around the property to discuss the features that worked or didn't.
In my group, the lack of green space and shade were recurring complaints, particularly around the main play areas, along with the lack of night lighting.
A soft surface material that had been installed a few years ago underneath the playground equipment and swings was already peeling away, leading some neighbors to question the wisdom of reinstalling it.
"The kids have mat wars. They rip up pieces of foam and smack each other with them, and that's the game," said Denis Devine, a Friends of Adaire board member, "As soon as you get one little crack in it, they start pulling it up."
The playground equipment at one point received a coat of paint that, by the looks of it, was perhaps not intended to endure the elements, and now contributes to an overall dingy appearance. Participants hoped to see that equipment replaced.
The walls on the side of the Rec Center and some other surfaces around the complex are decorated with amateur murals depicting friendly ocean scenes. They give the space a homespun feel, but aren't anyone's idea of great art. Neighbors had different views on the virtues of leaving them alone, commissioning a new mural, or just going with a flat coat of paint.
The Rec Center's outdoor area also features some physical oddities that sparked conversation: a spray fountain resembling a refrigerator; a raised platform made of granite chunks for kids to climb on (often with injurious results); and multiple elevated concrete pads, rising a foot or more off the ground, for unclear reasons.
The climbing area is a hit with kids, who use it to play 'King of the Hill' and similar games. Some neighbors thought it could be preserved, maybe with softer materials, or a fort on top. Replacing the fountain with a new sprayground for hot days was a popular suggestion.
(Jon Geeting)

(Jon Geeting)

(Jon Geeting)
A few large spaces are left undefined without any obvious uses, like the area behind the basketball court, the space next to the raised platform, and the center of the picnic area near the E. Montgomery entrance. Some neighbors thought having some open spaces was important, but that these could stand to be better defined.
Other popular suggestions included replacing the chain link fences near the entrances and installing better signage; changing the picnic area layout, and making room for more adult activities; making the basketball court a flexible space for additional types of sports like soccer and whiffleball; and bringing in a food vendor.
One point of agreement was clear: All attendees seemed to value the Rec Center as a community gathering space, a neutral zone for long-time residents and new arrivals, and a kid-friendly place for the growing number of families with small children in the area.
Public outreach about the project will continue over the next several months, and the Trust for Public Land and Rec Center staff and volunteers are particularly interested in getting kids involved in helping design the playground, since they are some of the heaviest users.
Surveying kids can be tricky, so this summer, Parks and Rec will host a series of Friday movie nights with pre-programming on the basketball court like games and music, and project planners will use that time to engage attendees in the visioning exercise.
(Jon Geeting)

(Jon Geeting)

(Jon Geeting)

(Jon Geeting)

(Jon Geeting)