Pinpoint plateau: Philly's group violence intervention program makes single-digit percentage differences
Working on a solution to gun violence and want to share it? Get in touch with gun violence prevention reporters Sammy Caiola and Sam Searles.
Wednesday's gun violence update comes on the heels of another violent week in Philadelphia. The virtual news conference began with the condemnation of the violence that took the lives of both a parks and rec employee, a SEPTA manager, and a 17-year-old girl walking her dog. The mayor and police officials gave an all too familiar plea to the public, encouraging witnesses to speak up if they have information on the deadly shootings.
During a Philadelphia Police Department presentation, Deputy Commissioner Joel Dales presented statistics from Operation Pinpoint, the city's group violence intervention program, starting with homicides. "The orange bars represent homicides in 2021, and the gray line represents homicides in 2022. Year to date, as of September 11th," said Dales, "the chart shows homicides up by 1 percent: 150 this year versus 148 last year."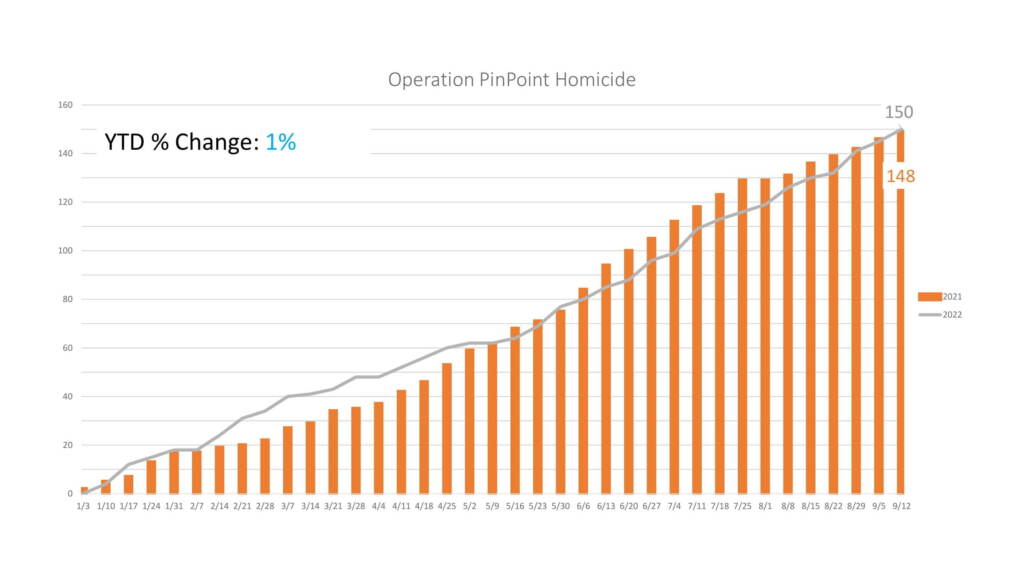 Police leaders also presented shooting statistics for this year as recently as Sept. 11.
"The yellow bars represent shooting victims in 2021 and the blue line represents shooting victims in 2022. The chart shows shooting victims down [by] 4 percent in the Pinpoint grids."
Dales says the downward trends are a positive sign.
"Shootings versus homicides… there's a difference, he said. "Homicides depend on the marksmanship – how many rounds of shooting at that individual. Shooting victims? Just goes to show how many shootings actually occur within those zones, so when we see less shooting, most likely, that's going to affect the homicides in the long run."
When asked why the difference between 2021 and 2022 wasn't much, both Deputy Commissioner Dales and Commissioner Danielle Outlaw agreed that police staffing is critical. Outlaw said that the "authorized strength" of the Philadelphia police department was 6,500 employees when she began her position and it's since been reduced to 6,380.
"There's no magic formula anymore," said Outlaw. " … even getting us back to our authorized strength would give us some wiggle room in being able to be flexible in how we deploy the officers that we do have as opposed to being reactive. During the summer, we put a contingent of officers on our recreation centers, and now that school is back in session, we've had to shift and redeploy some of those officers, some of those assignments, to our schools and our safe passages."
Deputy Commissioner Dales also addressed the recovery of guns used in violent crime. As of Sept. 12, 4,335 crime guns, including 408 ghost guns, were recovered. Police leaders say Philadelphia is on pace to break last year's record of 5,907 guns recovered.
"If we continue at this pace in 2022," Dales said, " … there's no doubt we will surpass the 2021 year in total."
Both Mayor Jim Kenney and Philly police said that hiring more officers will help combat gun violence in the city. Commissioner Outlaw says that over 70 new officers will graduate on Friday, and 40 more will graduate by the end of the year.
If you or someone you know has been affected by gun violence in Philadelphia, you can find grief support and resources here.