Philly looking to 'boost' bike share with controversial new technology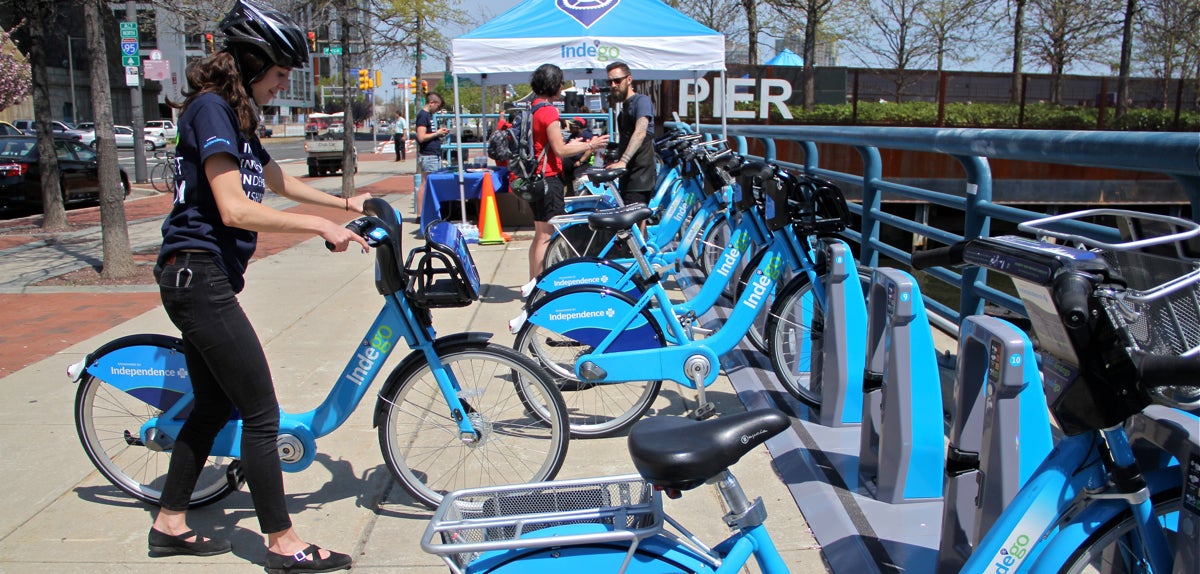 Sharing may go from caring to cutthroat in Philadelphia as the city opens the door to a smattering of venture capital-backed dockless bike share companies that have quickly turned the easy going, two-wheeled amenity into a multi-billion dollar tech startup concept.
On Friday, city officials invited companies to pitches on "advanced bike-sharing technologies" that could "boost" the city's three-year-old Indego Bike Share system. While the request for information made no mention of specific technologies, going dockless is "definitely something we're interested in looking more at," said Aaron Ritz, transportation systems manager at the city's Office of Transportation and Infrastructure Systems, which issued the solicitation. "When you look across the country, there's a number of places where dockless has really come on big and done a really good service for the city."
The information request is the first step in what could become a complete overhaul of the city's bike share system and the potential introduction of a disruptive business model powering a booming international industry that few saw coming even a decade ago.
Unlike dock-based systems like Indego, dockless bike share doesn't require cyclists to pick up or return their rides at specific locations. Instead, users rely on a smartphone app to locate the nearest parked bike and then uses the phone's camera to scan a QR code on the bike to unlock it. The dockless bikes are self-locking, meaning they don't need to be locked up to anything. Instead, a mechanism keeps the back wheel from spinning when they're out of use, rendering them unrideable.
But not unmovable, as many cities have seen.
So many dockless bikes have wound up in Melbourne, Australia's Yarra River that it's inspired a bike "fishing" parody video. In Seattle, they've been piled up like avant-garde sculpture and parked upon actual sculpture. In China, there are now bike share graveyards.
Ritz knows there is no reason to believe that Philadelphians will be able to resist the temptation to see how big a splash a bicycle thrown from the Ben Franklin Bridge will make, given that mischievous amateur physicists have conducted similar experiments everywhere from Adelaide, Australia to Wuhan, China.
"We're not at all interested in something that's a public nuisance," said Ritz. "[A dockless system] is flexible, but in some ways, it might be uncontrollable, and I think that's kind of the real tension that a lot of cities are grappling with.
"Hopefully, we'll use this [request for information] to help us understand what the situation may be like in Philadelphia and to help us plan our way forward using dockless as part of Indego or part of something else."
When the city first looked into bringing bike share to Philadelphia in the spring of 2015, they considered going dockless. But officials passed at the time, deciding that the technology remained untested and the financial model, impractical.
But since then, two dockless bike share companies in China, ofo and Mobike, were founded and raised over a billion dollars each in capital, which they've used to build and deploy tens of millions of bikes across the Middle Kingdom. Last year, the two Chinese companies, along with some American competitors, launched dockless bike share programs in Seattle, Washington D.C., and a dozen other U.S. cities.
The city's contract with Bike Transit Systems, the Philadelphia-based company that's run Indego since day one expires in June of 2019. Ritz says he expects for around ten firms to respond to the RFI. Negotiations over the city's next bike share contract could come as early as the summer, depending on the responses the city gets.
It's likely the deep-pocketed Chinese firms will be among those submitting proposals to the city.
Mobike is backed by Tencent, a Chinese messaging, gaming and payments firm — think Venmo meets WhatsApp meets Niantic. Ofo raised $700 million in a funding round led by Alibaba, China's Amazon. The huge investments have fueled global growth aimed at drowning rival bike share companies by inundating cities with thousands upon thousands of cheap, self-locking bikes.
After Seattle's own dock-based bike share system — the first in the U.S. — shut down in March, the city invited ofo and two U.S. competitors (LimeBike and Spin) to launch a six-month dockless pilot to replace the defunct system's 500 bikes and 54 stations. The three firms collectively parked over 9,000 free-floating bikes across Seattle. For comparison, it took Indego over two years to ramp up to 1,200 bikes and 120 stations.
Price is one of the dockless systems' biggest selling point: Most in the U.S. charge $1 per 30-minute ride or $25-30 for an unlimited monthly pass. Indego charges $4 for a half hour ride; its unlimited pass rate is $15 ($5 for low-income Access card holders) for a month or $144 for a year.
In the three years since its launch, Indego's revenues have matched its expenses, penciling out as budget-neutral for the city. But that's only with sponsorship fees from Independence Blue Cross covering operation and maintenance costs, and local philanthropic foundations and state grants picking up most the seven-figure tab for the initial investment in bikes and docks. JPB Foundation has also supported education efforts geared at increasing usage in low-income neighborhoods. The venture-backed dockless companies would likely paint Philadelphia in thousands of their bright orange and lime-green bikes for free.
"Free is not free," says Alison Cohen, CEO of Bike Transit Systems, which operates bike shares in Los Angeles, Las Vegas and Oklahoma City as well as Philly. Cohen admits she's clearly biased against the well-heeled competitors cycling her way but says the dockless companies would impose a real cost on the city: discarded bikes strewn across town. "As a mom and a citizen of Philadelphia, I get really concerned about the potential of having this dockless litter of unsafe bikes on the street," Cohen says.
Bike Transit Systems commissioned a consultant team to study the dockless pilot programs in DC and Seattle. According to their report, around 12 percent of dockless bikes inspected had a defect like a busted light or poorly-functioning brakes. The study also says that the bikes were inaccurately located on the app's map 20 percent of the time. The greater accessibility and ease of a free-floating dockless system quickly disappears when the bikes can't be found.
Cohen says her company will respond to Philly's RFI with a potential compromise between the dock's rigidity and dockless anarchy: a hybrid system that uses smart U-locks built into the bike itself to let riders latch onto bike racks or street signs, as well as docks.
It's the kind of bike share used in Portland, Oregon, and Cohen says Bike Transit Systems will launch a similar system in L.A. this year. The smattering of docks helps users who rely on bike share for regular commutes, or don't use smartphones, know exactly where they can pick up a nearby bike. The smart U-locks keep the bikes out of rivers: Users that improperly dock or lock their bike are on the hook for the cost of fishing them out.
Cohen argues that a hybrid system could build upon Indego's existing network, rather than compete against or replace it. While an avalanche of new, free dockless bikes may seem like a windfall for the city, Cohen says abandoning Indego completely could blow back in the city's face over the long-term.
The venture-backed companies aren't yet turning a profit, focusing instead on aggressive expansion, but have insisted they can operate in the black just on user fees. Some analysts have suggested that the bike share systems real value will come from monetizing user data. The systems are also seen as an entryway into the U.S. market for Tencent and Alibaba, establishing a beachhead of users for their mobile payment technologies.
Just how exactly the startup bike share operators expect to make money matters to Philadelphia. A fees-only business model increases the risk of price hikes down the line, especially if one operator muscles out the competition. A user data-focused model would mean the bikes are simply a physical means to a cloud-based end of consumer data collection, driving up the chances that the system would be oriented towards the most market-friendly demographics — wealthier, younger consumers in greater Center City while ignoring those without large disposable incomes.
Philadelphia's request for information makes that last concern explicit: "Creating bike share that benefits Philadelphia in a socially, economically, and racially equitable manner," is one of five overarching goals. Philadelphia has arguably done more than any other U.S city to make its bike share program — an amenity designed around the commuting habits of middle-class white folk in most cities — equitable and inclusive. Indego allows riders to pay using cash — important for residents who don't have or don't trust, credit cards — and around ten percent of its users pay the discounted rate for Access card holders. Backed by the JPB Foundation and other philanthropic support, the city has aggressively marketed Indego in low-income and minority neighborhoods. Still, Indego's ridership remains overwhelmingly white and relatively high income.
Some observers have argued that dockless systems may do more than these concerted efforts to make bike share inclusive, noting that one of the biggest barriers to ridership is the lack of docks in less dense, lower-income neighborhoods. With a flood of free-roaming bicycles, they argue, communities that have gone without stations will have access to dockless bikes parked around the neighborhood.
But Philadelphia's struggle to make Indego's users reflect the city's diverse population as a whole suggests that bike access alone won't solve the problem. Even when they live near a bike dock, many residents lack the internet access needed to join the system or the cycling skills necessary for a safe ride.
While the Better Bike Share Partnership created a "Digital Skills and Bicycle Thrills" class with the city's Office of Adult Education to teach the basics of website browsing and bike riding, the program has reached only a tiny segment of the population.
And, to date, dockless bike systems have required users to own a smartphones. But 27 percent of Philadelphians live below the poverty line, and a 2016 Pew Research Center survey showed that lower-income Americans lag behind in technology adoption: Just 64 percent of U.S. adults earning under $30,000-a-year own a smartphone.
Cohen notes that there's nothing particularly innovative about self-locking bikes — the technology's been around for decades. The real transformation underway right now in bike share, she says, is simply who provides the bikes.
"A privatized system, that's not owned by the government, that's not overseen by the government — that's really the innovation," says Cohen.
As the responses to Philly's request for information trickle in, city officials will need to assess whether that's an innovation worth embracing, even if it means abandoning the system they've spent the last few years shaping into one of the most equitable in the nation.
WHYY is your source for fact-based, in-depth journalism and information. As a nonprofit organization, we rely on financial support from readers like you. Please give today.