How a Kensington school is responding to neighborhood gun violence
With shootings at recent highs in many American cities, some educators are reconsidering the role schools play in preventing and responding to neighborhood gun violence.
Listen
6:52
Gun violence in Philadelphia takes a toll on students and their ability to learn and succeed. WHYY News' gun violence, education, and health reporters look at the intersection of schools and violence in their new six-part series, "Safe Place."
Working on a solution to gun violence and want to share it? Get in touch with gun violence prevention reporters Sammy Caiola and Sam Searles.
---
Bridget Ferry is like a hawk over her kids, especially her youngest, 7-year-old Luciani, who she walks to Gloria Casarez Elementary School each morning.
"I don't let my kids out of the house without me because I feel like it's not safe to allow them out of your sight," Ferry said.
On a cold rainy day, the two made multiple detours through their Kensington neighborhood to avoid sidewalks blocked by soiled mattresses. Luciani, who goes by Lu, clutched a Dora the Explorer umbrella and had a bright blue bow at the end of her braid.
Shy, but curious, she whispered to her mom a question Ferry said she asks frequently.
"Why are there needles everywhere?"
When they got to school, Ferry walked Lu to the door and watched her go inside. She doesn't have much faith in the city's public school system, she said, but she trusts the teachers at Casarez.
Lu, who is in the second grade, is learning and making friends, Ferry said. Most days she's excited. But when the school locks down due to nearby gun violence, sometimes she doesn't want to go back.
"She'll say, 'Is it safe to go to school?'" Ferry said. "What am I supposed to tell her? 'No, it's not safe?' Obviously, I'm trying to stay positive and I'm like, 'Yes, school is safe,' because in my heart, I'm hoping that it is."
For many children in Philadelphia, school is the safest place to be. It's a chance to play outside without the threat of a drive-by shooting. Breakfast and lunch are guaranteed. There are adults who care deeply about how they're doing.
But as neighborhood gun violence has increased, and with it the trauma students are experiencing, so has the burden on schools.
Children come to Casarez scared, sleep-deprived, and in some cases grieving.
Fifth-grader Zuri said she sometimes arrives at school out of breath, her heart hammering.
On a recent morning, she passed a man and woman fighting in the street. Afraid of what might happen next, she started running. She was relieved when she made it to school.
"I was happy because I was safe," she said.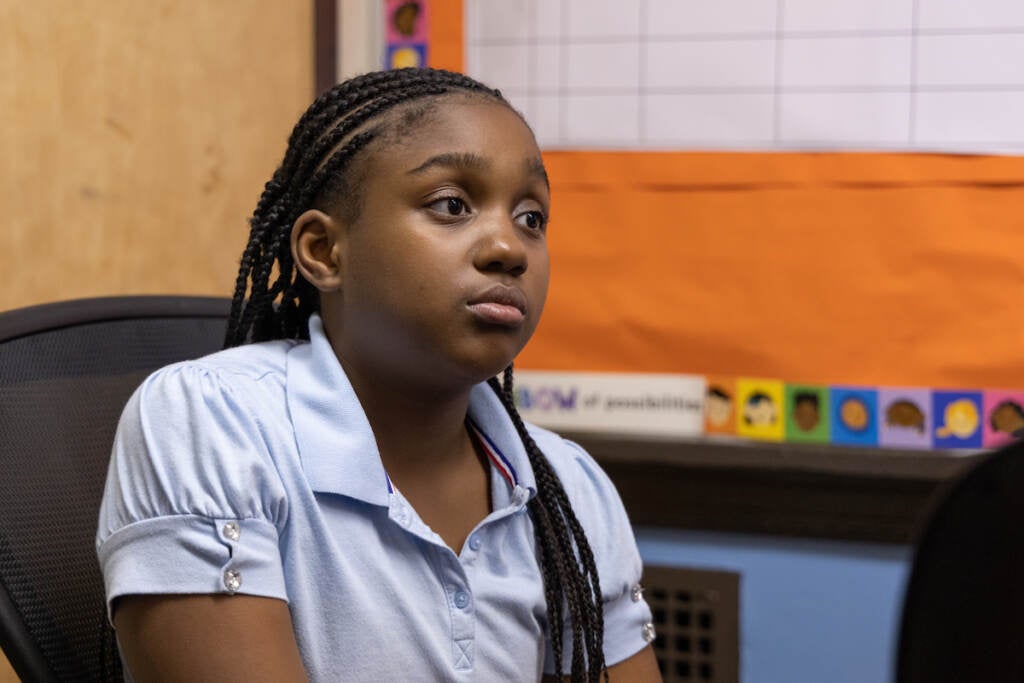 What can a school do about neighborhood gun violence?
With shootings at recent highs in many American cities, some educators are reconsidering the role schools play in preventing and responding to neighborhood gun violence.
Casarez Principal Awilda Balbuena said a school like hers has no choice but to take action.
"It's our problem," she said. "If we're not doing right by our children and families, then we're not doing our jobs and we're complicit. We may as well be the oppressor."
At Casarez, Balbuena said, that means having conversations with children as young as kindergarten about the impact gun violence is having on them. The K-5 school enrolls roughly 500 children, the majority of whom identify as Hispanic or Black and live in households considered low-income.
For the school's leaders, it means thinking long-term about how the experiences children have in the classroom and on the playground can determine their trajectory and doing more to keep them on track.
And it means making the building, which is sometimes the only safe place in a community, more accessible to students and families through after-school and summer programming.
Talking about feelings at the morning meeting
Each day at Casarez starts with a 30-minute morning meeting. It's a chance for students to share how they're feeling and for teachers to get a temperature check before turning to instruction.
Other Philadelphia schools hold similar meetings, said Abigail Gray, the district's head of school climate and safety. The meetings were required as part of a district-wide initiative during the pandemic, but are now optional since there are other ways schools can build community, Gray said.
In Rosa Arnold's fourth-grade class, her 9- and 10-year-old students form a circle. Sometimes they dance or play a game. The children talk about their pets — a little boy's cat has gone missing — and what they did over the weekend.
Then assistant principal Julio Nuñez tells them the big prompt of the day.
"When was the last time you saw or witnessed something that was violent in the community and how did it make you feel?" he asked.
Are you in our circle?

Ms. Lane's 5th Graders are not shy about sharing during Morning Meeting–excellent models of Vulnerability (Uncertainty + Risk + Emotional Exposure).@BreneBrown @PHLschools @responsiveclass @watlington_sr pic.twitter.com/6eST7gaT0t

— Gloria Casarez Elementary (@CasarezTigers) February 1, 2023
Almost all of the students have something to say — most about gun violence.
One student said a 15-year-old recently got shot near his grandma's house. It made him feel sad. Why? "Because the last time I heard gunshots, I didn't want to hear them again."
Across the room, another boy nods in recognition. There was a shootout at the park when he went to play basketball with his mom. "We started running."
The adults in the room, including multiple counselors, ask questions, offer support, and take note of students to check-in with after the circle wraps. As the children share, Nuñez repeats two things over and over: Violence "isn't normal," and school is the safest place to be.
"We have to let them know that it's not normal so that it's not conditioning for them," he said. "If they grow up around violence, we know that they'll see that as a normal way of solving problems because they may not know what the alternative is."
Nuñez tells the children they are "courageous" for sharing. Ultimately, the conversation is about making them feel powerful, not powerless.
"When you think about, 'What can I do?' What is the most powerful thing you have?" Nuñez asked. "You just used it. Your voice."
Laura Vega, who co-directs community violence and trauma support programs for Children's Hospital of Philadelphia, said Casarez's morning meetings check all the right boxes.
Sometimes schools shy away from talking about difficult topics like gun violence or drug use with students, but Vega said it's better to directly address these issues.
"I think it's important to talk about it and make sure we're using age-appropriate language — especially in elementary school," she said.
That way, schools can get in front of the issue, anticipate student and family needs, provide support, and help children manage their emotions.
Vega said she hopes more schools take steps similar to Casarez.
"I think it's an ongoing process for schools to get better at and I think they probably need a lot more resources and support," she said.
Keeping the school building secure
Safety is Principal Balbuena's number one concern.
She maintains constant contact with local police, who let her know when the school needs to lock down, usually due to nearby gun violence. Lockdowns have been more frequent this year, she said.
Second to building security is making sure students actually feel safe, Assistant Principal Nuñez said.
"They don't understand that we're locking the door, that stays outside. Inside, you're safe," he said. "That's why we remind them every chance we get. You are the safest when you are with us."
Nuñez and Balbuena said if they had unlimited resources they would extend the school day and even the year. But that isn't the case.
"I get teary-eyed because I know I can go for a walk with my son around the block. We could both get on our bikes and go for a bike ride and stay very healthy," Balbuena said, her voice wavering. "It really pains me that my students don't get that."
After-school programming varies widely from school to school. Many schools apply for outside grants and partner with nonprofits to supplement funding from the district. Nearly 50 schools, not including charters, do not offer after-school activities through the district or the city — making it unclear whether they offer any programming.
Casarez received $95,000 from the district for extracurriculars this school year. Through outside partners, a maximum of 100 students can stay at Casarez until 6 p.m. for homework help and activities like soccer and martial arts.
Nuñez said many more students would participate if the school opened more seats.
He said families also want Casarez to offer summer school. The number of schools with summer programs varies each year based on need and capacity, according to district spokesperson Monique Braxton. Last summer, just 31 of the district's 216 schools had programs.
"In an ideal world, we would be able to offer summer programming at all schools throughout the city," Braxton said in an email. "However, there isn't a need based on student participation or the capacity to offer summer programming at every school site."
Students from Casarez were eligible to attend summer school at three nearby schools last year, but Nuñez said the options were too far away for many families, posing safety and transportation concerns.
Casarez, like most aging district facilities, doesn't have air conditioning, making it a poor summer school candidate. The more than 100-year-old building lacks the electrical capacity needed to install central AC.
"The school is on the list of schools being evaluated for electrical power upgrades necessary to support air conditioning throughout the building," Braxton said.
Not enough resources to meet students' needs
This school year, Casarez lost a teacher to leveling, the district's process of reassigning staff based on student enrollment. Normally, the district shifts educators a month into the school year because of money, but this year, officials said they did it to cover teacher vacancies.
Approximately 200 teaching positions were unfilled at the beginning of the school year. So when Casarez reported nine fewer students than expected, the district reassigned one of its fifth-grade teachers to another school.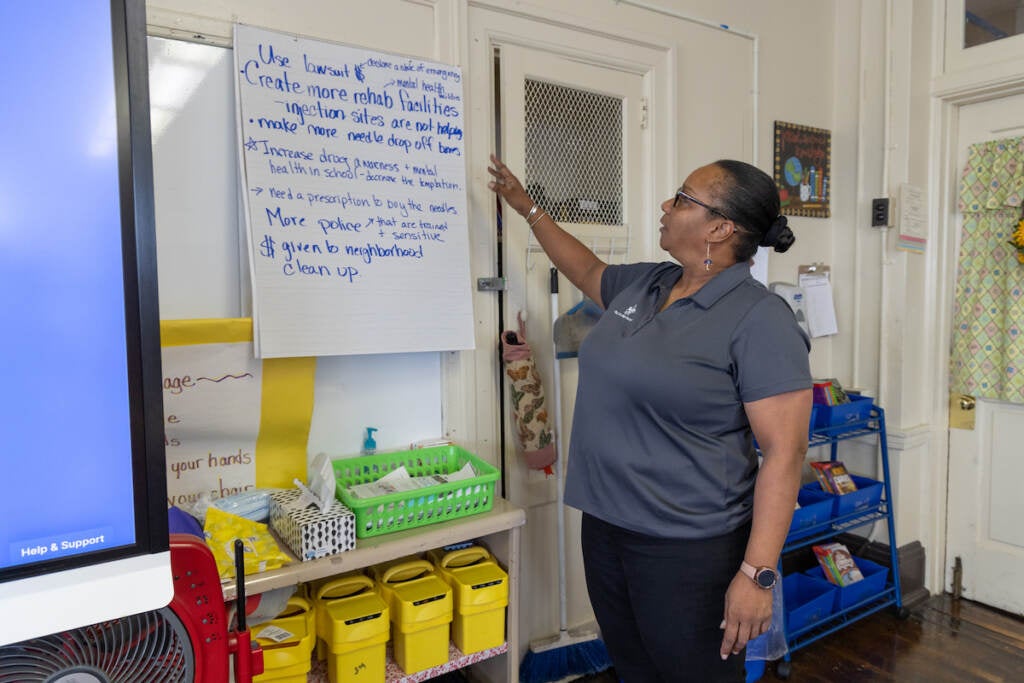 Fifth grade is new at Casarez this year. It's something parents petitioned for and school leaders agreed to add.
Larger class sizes would have meant less one-on-one attention for students, Balbuena said, which is something students at Casarez need.
To preserve all three classes, Balbuena did some reconfiguring. She moved an enrichment teacher to take over a fifth-grade classroom and assigned the school's three counselors to cover the teacher's original classes.
The arrangement means the counselors have less time to work with small groups and individual students, which is supposed to be their focus.
"It just takes away from our children," Balbuena said. "That's what leveling did for us this year."
Assistant Principal Nuñez said he wants district officials to think about the impact policies like leveling have on children and the role that ultimately plays in preventing gun violence.
"Before they were shooters, they were students," Nuñez said.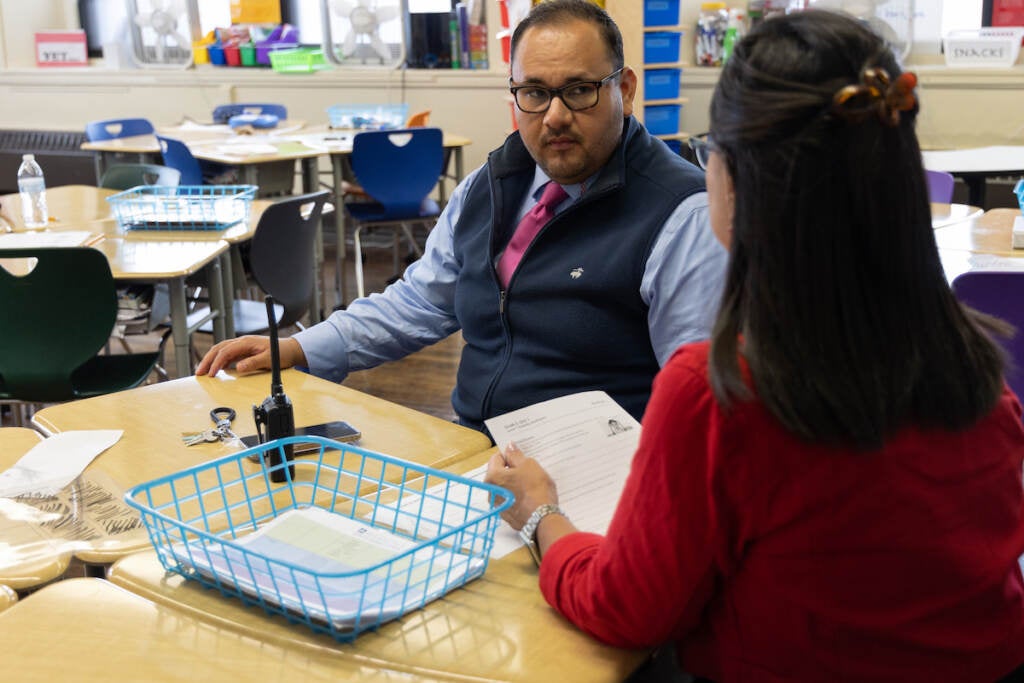 He said the more negative experiences a child has, like overcrowded classrooms, or the absence of specials or extracurriculars, the more likely they are to "get turned off" from school.
"By the time they get to a place where it is their choice to walk to school, they're choosing to opt out," Nuñez said. "It is because of the quality of services that we provided or failed to provide."
Philadelphia Superintendent Tony Watlington said he plans to tackle attendance and dropout rates as part of his response to gun violence.
So far his efforts have largely focussed on increased security in and around the city's high schools. Less attention has been paid to the impact of frequent community gun violence on middle and elementary schools.
"It's an unfortunate choice that we have to make, but we're making the right decisions," he said in an interview.
Watlington recently announced access to new online mental health services for students in grades 6-12. He said he'd like to increase the number of counselors younger students have access to, but that isn't possible right now.
"We don't have the resources to do it, unfortunately."
Kensington holds on to hope
Casarez teacher Charlotte Furcron-Lane knows she can't change the realities her fifth-grade students are facing. Instead, she focuses on giving them the tools to face them.
"I try to teach my kids to be empowered, that they are important and they don't have to just accept what comes their way," she said.
She tells her students they're ahead of the game compared to a lot of adults. They can identify and manage their feelings — something a lot of grownups don't know how to do as evidenced by the gun violence in the city.
Watching her students solve problems and choose not to act on their anger makes her hopeful for the future, she said, but it doesn't change the present.
"I wish I could give them all a hug and fix it," she said, tearing up.
She feels like Kensington is the city's "forgotten armpit."
Casarez is fighting for its students, she said, and the whole city needs to fight for them, too.
"Hopefully, things will get better and we'll be here for a long time," said Ferry, whose daughter Lu, attends Casarez.
She wants her children to build lives of their own in Kensington, but if things stay the same, she hopes they'll go elsewhere.
"I teach them not to be afraid," she said. "If you live in fear, you're not living."
If you or someone you know has been affected by gun violence in Philadelphia, you can find grief support and resources online.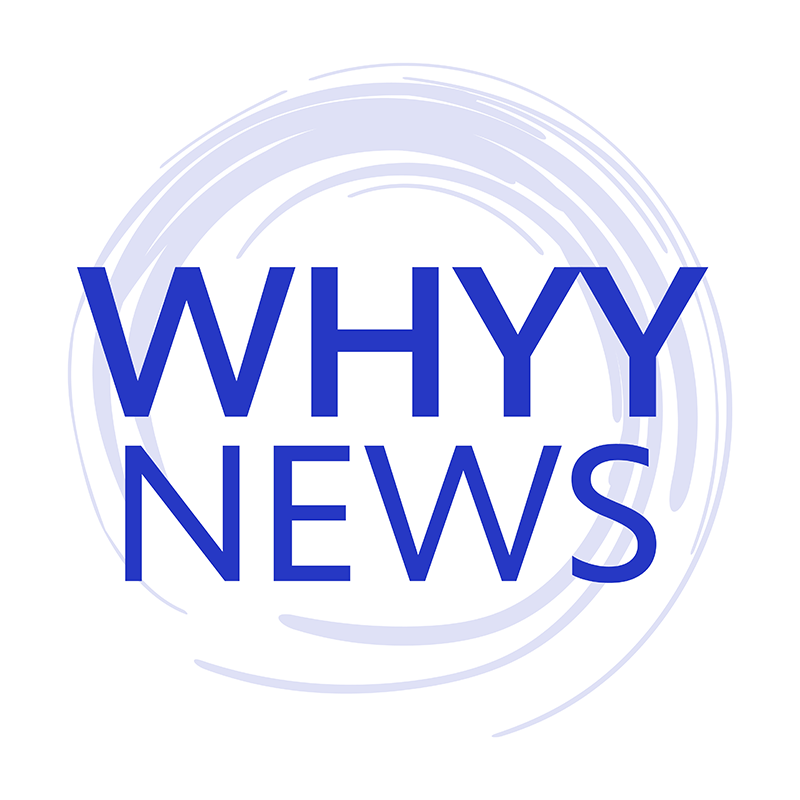 Get daily updates from WHYY News!
WHYY is your source for fact-based, in-depth journalism and information. As a nonprofit organization, we rely on financial support from readers like you. Please give today.