'Our children are in crisis': Safe Path monitors fan out over Philadelphia high schools to deter violence
The School District of Philadelphia is expanding its Safe Path program to 12 more schools in an effort to reduce fights and gun violence.
Listen
3:52
Gun violence in Philadelphia takes a toll on students and their ability to learn and succeed. WHYY News' gun violence, education, and health reporters look at the intersection of schools and violence in their new six-part series, "Safe Place."
Working on a solution to gun violence and want to share it? Get in touch with gun violence prevention reporters Sammy Caiola and Sam Searles.
---
Students pour out of West Philadelphia High School's back entrance and onto 49th Street on a weekday afternoon, scattering in several directions. It's an early dismissal day, clear and sunny, and their chatter is audible over the Market–Frankford Line.
Within minutes, a few teens start to scuffle on the sidewalk and a group circles around them, phones out and clamoring for a view.
Malik Smith, standing nearby in a blue school monitor vest, watches for a moment and then steps in. He places his broad body between the rough housers, and tells them, calmly, to "show [their] best." The kids clear out.
This happens once a twice or week, Smith said, usually with no serious injuries.
"Just a bunch of arguing and shoving and pulling on clothes," he said. "Just angriness."
Smith is a monitor with the School District of Philadelphia's Safe Path School and Community Safety Corridor program. It began in the fall at six high schools with the goal of making sure conflicts between students don't escalate to anything more serious.
The school board recently approved plans to expand the program to 12 more schools over the next two years, and increase the funding for the program by $250,000, to a total of nearly $756,000.
The Penn Injury Science Center also recently received more than $2 million in state funding, which they plan to use to expand Safe Path in partnership with the district, according to a district spokesperson.
The Safe Path initiative is part of the district's overall strategy to prevent gun violence on or near school campuses. According to a January multi-agency city report, about half of shootings in Philadelphia are caused by arguments. And more shootings are involving children, according to city data.
On the West Philadelphia High School campus this September, gunshots were fired after a football game. No one was hit. And at Roxborough High School that same month, an ambush shooting left 14-year-old student Nicolas Elizalde dead and four others injured, allegedly at the hands of multiple teenagers.
In late January, a 9th grader at Overbrook High School in West Philadelphia was shot and injured as he walked to school, around 8:30 a.m.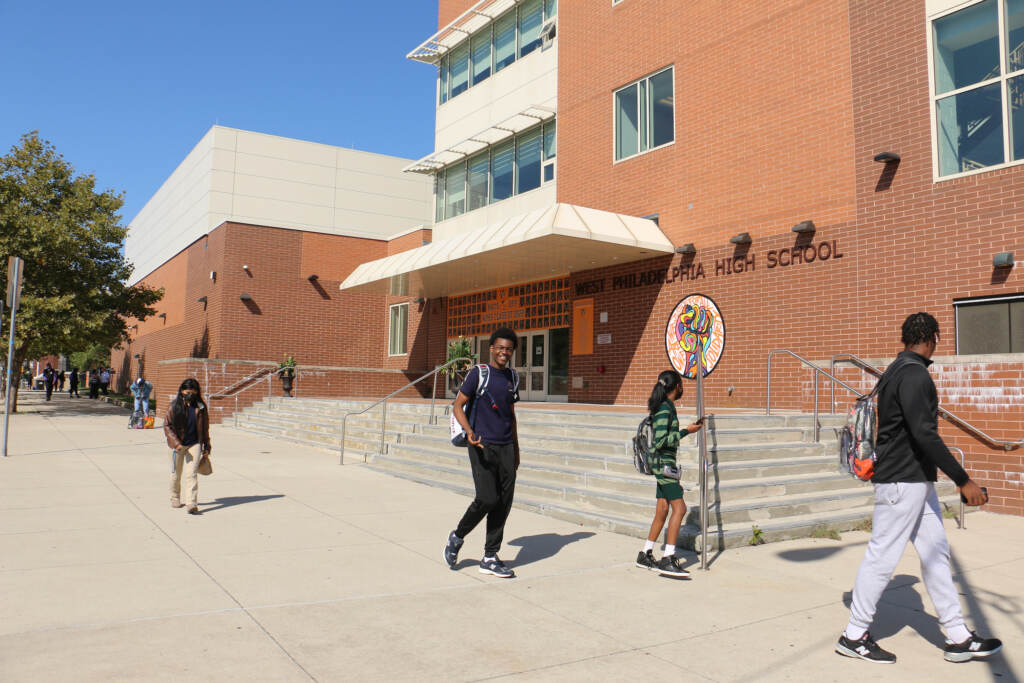 Overbrook is not currently a Safe Path campus, but it's designated to become one when the program expands. It's already one of 27 Philadelphia middle and high schools with a Safety Zone, which is an area the Philadelphia Police Department designates as being at high-risk for violence and in need of additional patrol officers in the surrounding area.
The district says it does not have the funding to expand the Safe Path monitor program to before-school hours.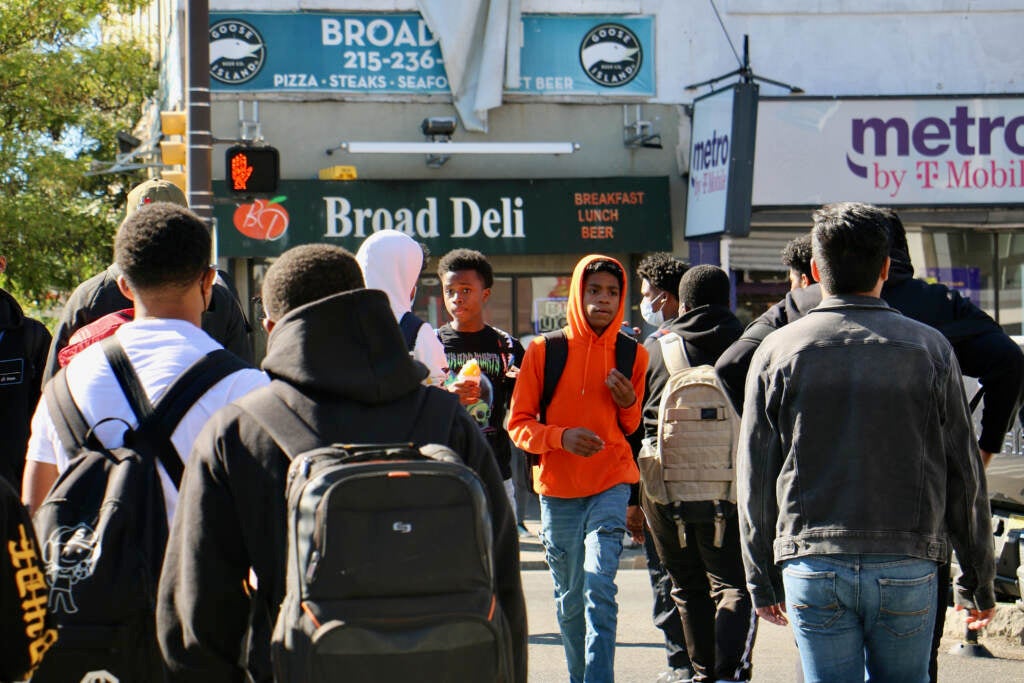 Finding people to keep paths safe
Safe Path monitors are supposed to supplement non-uniformed school resource officers and actual police officers who can be either on campus or on-call in the district. Their duties include intervening in fights and helping students get safely from campus to a transit stop, their vehicle, or toward their home.
"We can't stop what's happening in the neighborhood," Smith said. "We're just making sure that stuff doesn't happen on school grounds."
The district partnered with the nonprofit Institute for the Development of African American Youth (IDAAY) to hire and train 45 adults to serve as school monitors. District representatives said they ultimately want to have 50 monitors in place, but some adults have dropped out, and their total staff number is currently 40.
Monitors make $16 an hour, and site leads make $18, according to the district.
IDAAY is responsible for hiring monitors. IDAAY Executive Director Archeye Leacock said it increased the pay it could offer in hopes of incentivizing more candidates.
"In the very beginning it was difficult hiring people because people were saying, 'Look, I can go to McDonald's and make $15 an hour,'" he said.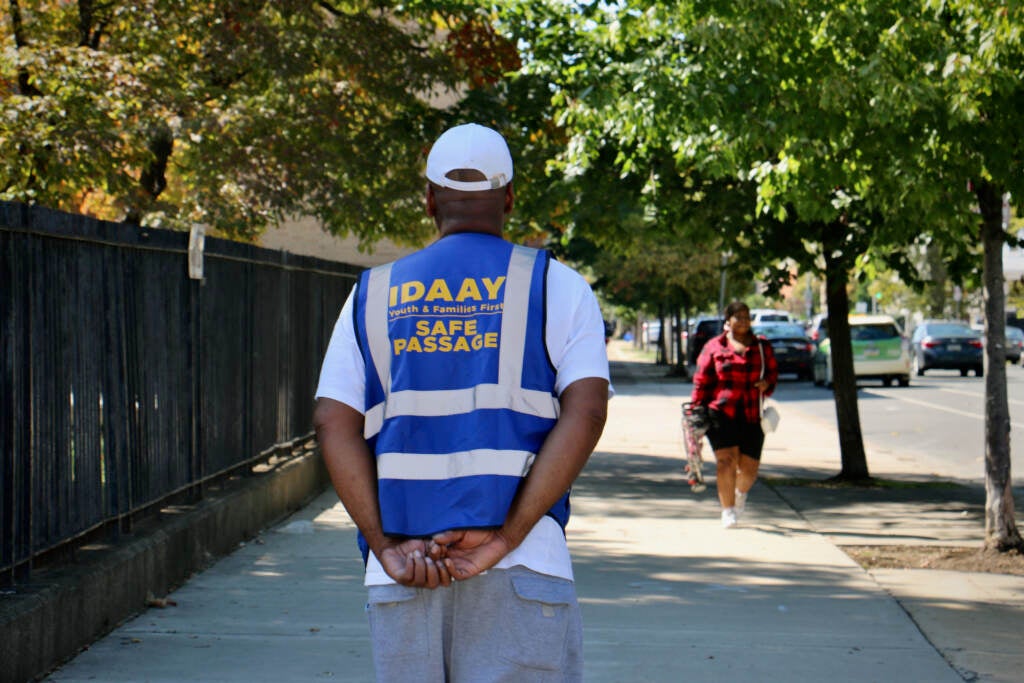 At a December school board meeting, Chief Safety Officer Kevin Bethel spoke to that challenge.
"We were oftentimes looking for adults to come into our corridors and getting no success," he said.
Leacock said recruitment efforts have been hampered by the fact that candidates with certain offenses in their criminal records are not eligible under state law. He also said they're searching for more Latino monitors, so the team will be more reflective of the students they serve.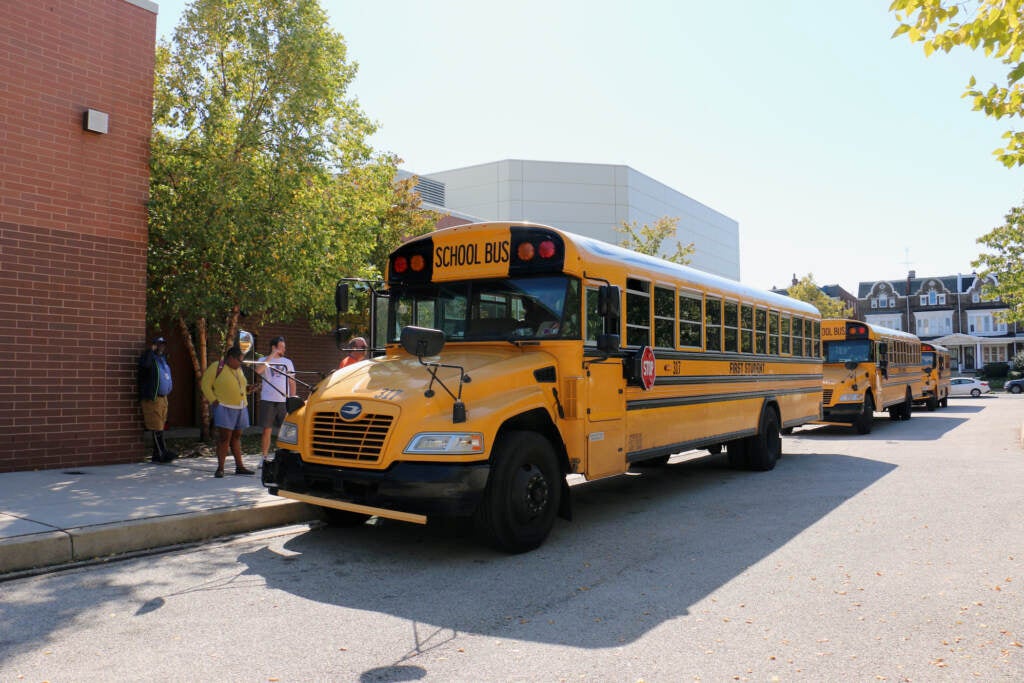 "We have to make a commitment to how seriously we take this," Leacock said. "I think it's real that we can fix this. We need to get the right group of people to talk about it."
He said they'll need to hire seven people for each new school for the upcoming Safe Path expansion.
'Our children are in crisis'
Safe Path is modeled after the Chicago Public Schools Safe Passage program, which began in 2010. That program serves 172 schools with 1,200 monitors.
A 2019 study in the Journal of Urban Economics found that crime around the Safe Passage routes dropped 14% after Chicago schools implemented the program. The School District of Philadelphia hasn't performed an analysis of its own program, but district officials said they decided to expand it based on the findings from Chicago.
In addition to being eyes and ears, the monitors also serve as mentors. The district strives to involve adults who have lived experience with violence, so they can talk to kids about conflicts they're having with other students, academic challenges, trouble at home, or any other needs.
Smith said some of the students don't have an adult at home to go to.
"Some of these parents are overworked … everybody is just in a rat race and children are feeling the brunt of it," he said. "Everybody's upset, everybody's angry, everybody's frustrated. And then it comes out here in a social space, called school, unfortunately."
Eric Rosa, the district's assistant director of restorative programs and services, said school officials saw a need for more mentorship as Philadelphia's homicide rates increased. There were 516 homicides in 2022, and about 6% of victims were children, according to data from the Office of the Controller.
"We understand that our children are in crisis right now," Rosa said. "They're living through things I can only imagine."
Rosa said the district chose the pilot campuses based on where violence is the largest concern, and has hired a data analyst to track whether the number of "serious incidents" decreased on campuses where Safe Path monitors are in place.
The program is currently in the following schools:
West Philadelphia High School
Sayre High School
Roxborough High School
Lincoln High School
Edison High School
Bartram High School
It will expand to the following schools, plus four schools that have yet to be announced:
Ben Franklin High School
Conwell Middle School
Dobbins High School
Mastbaum High School
Overbrook High School
Philadelphia Military Academy
Vaux Big Picture High School
Wagner Middle School
There's some flexibility though — monitors can be redeployed to other campuses as needs arise, Rosa said.
"And at the end of the year, we're going to sit down as a team and we're going to look at the data," he said. "And then we're going to make an assessment to see where we have to change."
After the scuffle at West Philadelphia High that Friday, Smith went to talk to a group of students who were lingering near the train. Some of them had clear book bags, which were provided by the district this school year as a violence prevention measure. They munched on chips and discussed their weekend plans.
Smith asked them about their dreams — they said they wanted to be basketball players, dermatologists, nurses. He says keeping teens focused on their own futures is part of the gig.
"It's our job to guide them with that," Smith said. "They may not get that at home. They may not get that in the community they live in, but the school has to be — something has to be — a beacon of hope. It can't just be blight."
If you or someone you know has been affected by gun violence in Philadelphia, you can find grief support and resources online.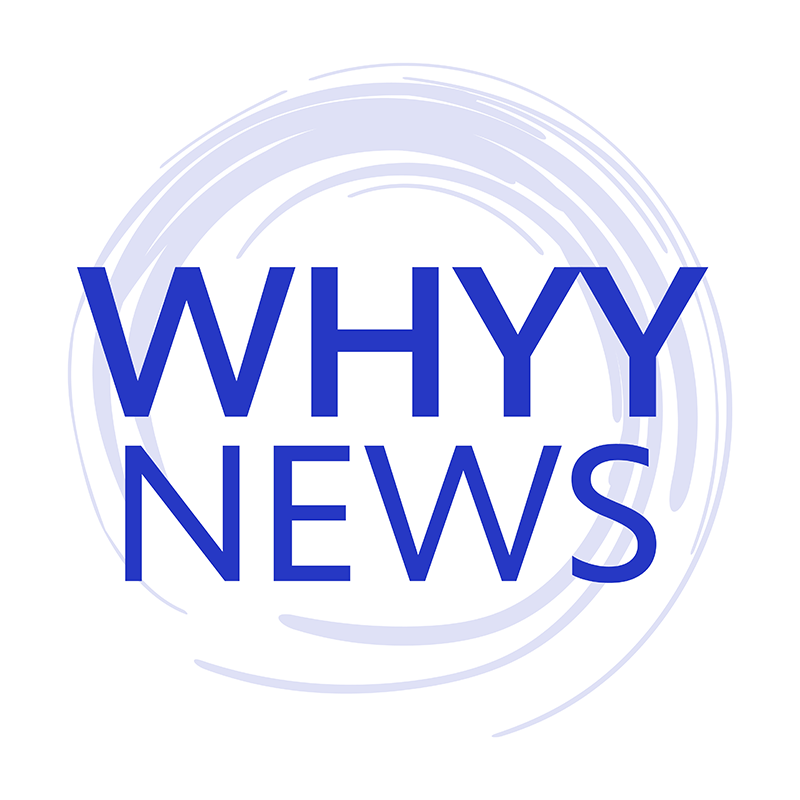 Get daily updates from WHYY News!
WHYY is your source for fact-based, in-depth journalism and information. As a nonprofit organization, we rely on financial support from readers like you. Please give today.