Philadelphia library to present new edition of Franklin 'Junto'
The Library Company of Philadelphia wants to create a monthly forum of civil dialogue around civic and moral questions. It's doing so by taking a page from Benjamin Franklin, who began a self-improvement club almost 300 years ago.
In 1727, when Franklin was just 21, he organized 12 people to come together at a tavern at 3rd and Market streets in Philadelphia to talk openly and respectfully about certain areas of interest — business, science, politics, and philosophy.
Here are some of the questions he wrote down in his notebook — now held at the Library Company of Philadelphia — to be parsed by the "Junto":
"Does the importation of servants increase or advance the wealth of our country?"
"Whence comes the dew on the outside of a tankard that has cold water in it in the summertime?
Discuss.
"The name they first called themselves was the Leather Apron Club, meant to evoke that they were tradesmen — coopers and cabinetmakers and printers," said Library Company director Michael Barsanti, while poring over Franklin's hand-written notes.
"These were middle-class guys, and they wanted to improve themselves," he said. "They wanted to improve their businesses, but they also wanted to understand their place in the world. They had this broader, humanist interest."
The club's intellectual curiosity drove its members to consult books to come to satisfactory answers. But it was difficult to get the right books. They often had to be imported from England at significant cost.
So the members of the Junto started pooling their money to buy books collectively, writing down titles they wanted on slips of paper and putting them into the "Lion's Mouth," a suggestion box painted with the head of a lion.
Thusly, the first lending library was born, the Library Company, which still operates 286 years later. It's no longer a lending institution, but a research archive specializing in 18th-century printed material.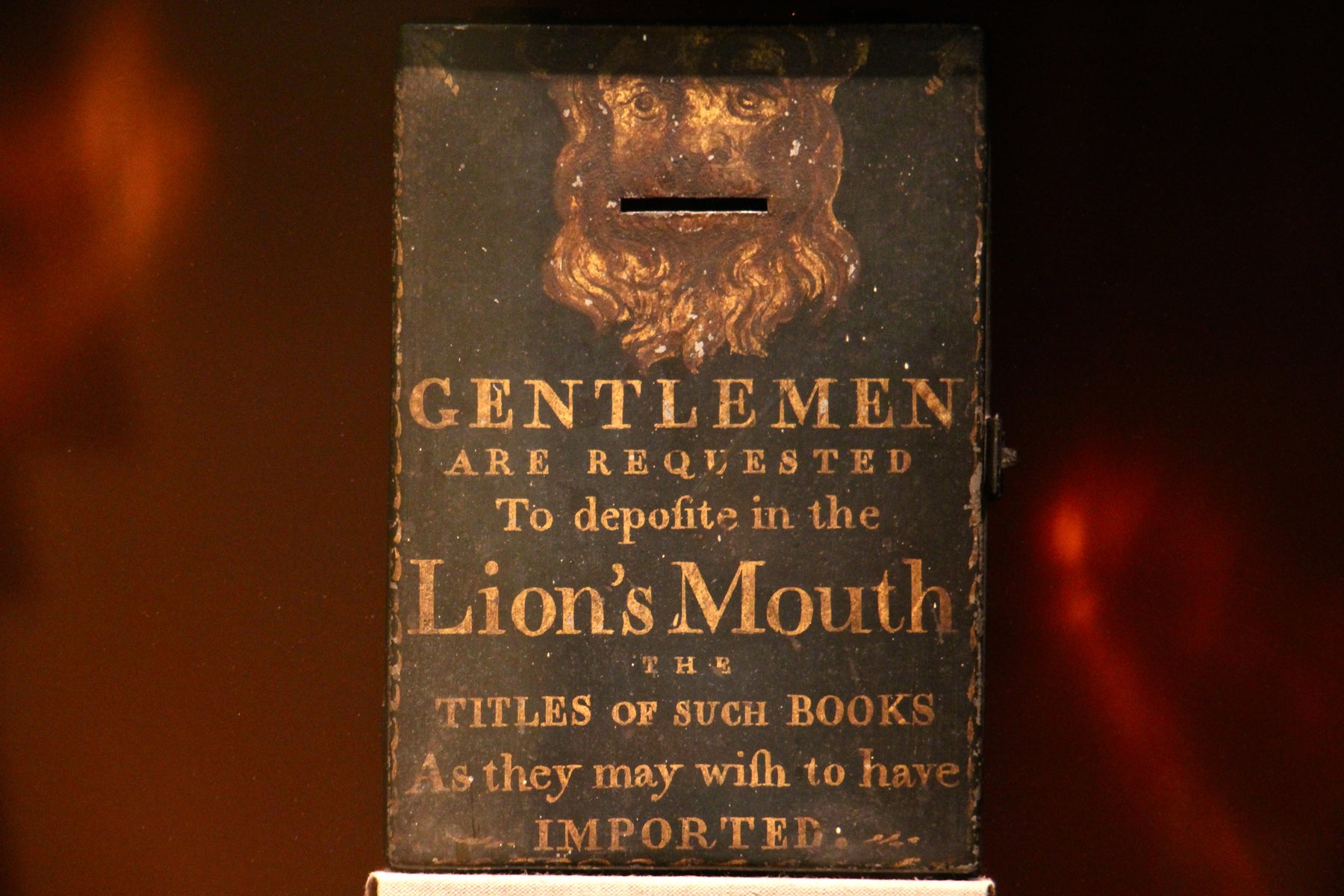 Barsanti, who began as director in February, wants to push the Library Company in a more populist direction, to make the material accessible and relevant to more than just Colonial historians.
"What we do really well is work with scholars," said Barsanti. "We need to stretch that out, so that the learning community encompasses more Philadelphians and more people get to participate in that."
However, the idea to revive Franklin's Junto did not come from the Library Company, but from the 92nd Street Y in Manhattan. Two years ago, it began establishing "Franklin Circles" in cities around the country, to foster community and dialogue around questions of civic responsibilities.
According to the 92nd Street Y's chief innovation officer, Asha Curran, almost 130 Franklin Circles are active in dozens of cities, each organized by its members. The Y provides a simple online toolkit to help people get the ball rolling.
"The first resource we offer comes from Franklin, himself," said Curran. "Franklin listed 13 virtues he felt we should all live by. He was really brilliant. He came up with really amazing, very concise and yet very deep and profound definitions for each virtue."
Here are those virtues:
Temperance
Silence
Order
Resolution
Frugality
Industry
Sincerity
Justice
Moderation
Cleanliness
Tranquility
Chastity
Humility
Each Circle meeting begins with a discussion of one of these virtues. The virtues are not meant to keep the discourse stuck in Frankliniana, but to spark honest, sometimes difficult conversations about how we live our lives today.
"How we can start looking at each other as people first, political affiliations last, is an empathy-building exercise. One that we're not practicing very well at the moment," said Curran. "We tend to stay within our own echo chambers, we tend to demonize the other. Sometimes not without reason, right? But it's not very productive. It's not getting us very far."
Using the 92nd Street Y's resources, the Library Company of Philadelphia has started hosting a monthly Franklin Circle. The Free Library of Philadelphia — the citywide public library system established in 1891, which Franklin had nothing to do with — is offering meeting space in any of its branch locations for residents who want to start their own Circle.