'We're here to help': Local diaper bank begins monthly distribution in Kensington
From diapers and wipes to period and adult incontinence products, the Greater Philadelphia Diaper Bank is providing families with what they need.
Listen
1:53
Diapers are expensive, and babies go through a lot of them — as many as 12 a day.
In the U.S., as many as one-third of families experience diaper insecurity, according to the National Diaper Bank Network.
The Greater Philadelphia Diaper Bank works to provide local families with the items they need — from diapers and wipes to period and adult incontinence products.
Deneen Newland, the nonprofit's operations manager, says, "We're here to help."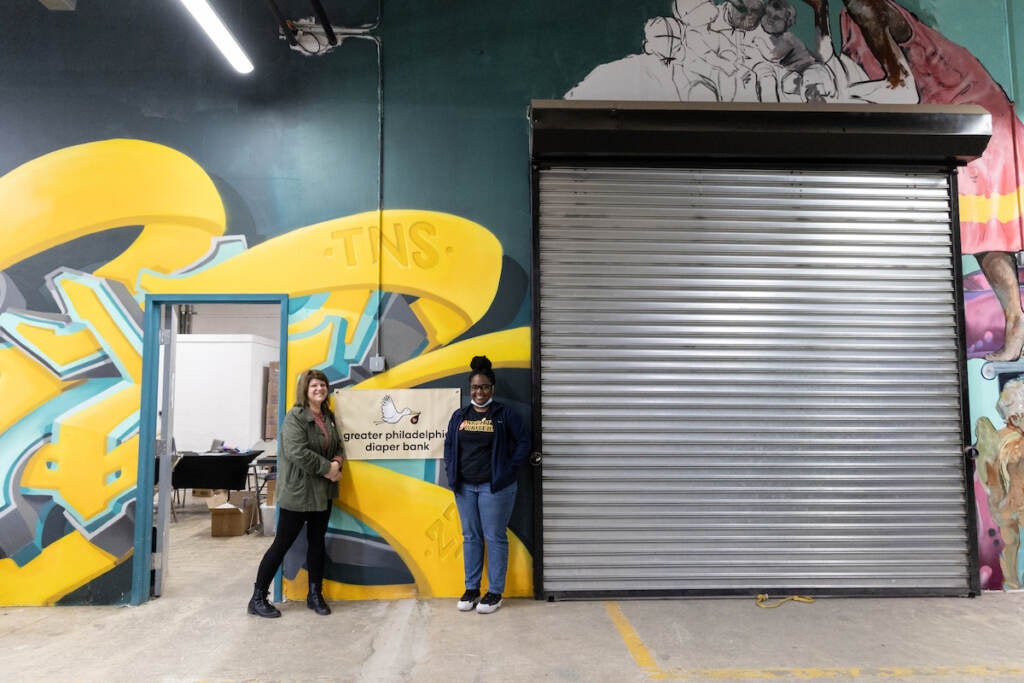 "Sometimes there are families that feel a little bit of shame that they have to ask like, 'Hey, can I have some diapers for my baby?'" said Newland. "But there's no shame in it."
"Diapers are one of the higher costs for people after utilities and food," said Mauri Rapp, the diaper bank's communications and events manager. "For parents around Philadelphia, it's been really tough, especially since the pandemic," she added, particularly because diapers cannot be purchased with federal assistance programs like SNAP benefits or WIC. The only government program that can be used is TANF.
"Research shows most families have a deficit of 25 to 50 diapers per month," said Newland, so that's typically what they give out to families. "We consider ourselves to be filling that gap."
The diaper bank works with almost 60 partners to distribute between 2.3 and 2.5 million diapers annually in the Philadelphia region, including Chester and Schuylkill counties. What is now a large operation originally began over a decade ago, when retired school teacher Pat Kennedy started to distribute diapers out of her own garage.
"She saw firsthand the need for those families," said Newland. Eventually, Kennedy passed along the organization she founded. In April 2022, the diaper bank became a program of the nonprofit Mighty Writers.
In January the diaper bank began a monthly distribution out of its Kensington warehouse as a way to directly serve the community there.
On the third Wednesday of each month, families in need of diapers or other sanitary products can stop by the MaKen Studios North Building at 3525 I Street to get what they need. Families never need to give their name, show I.D. or anything else, they can simply stop by and get supplies for free.
Emely Camilo, who works in the neighborhood as a home health aide, stopped by during the February distribution event to pick up items for her own family, as well as for the woman she works for.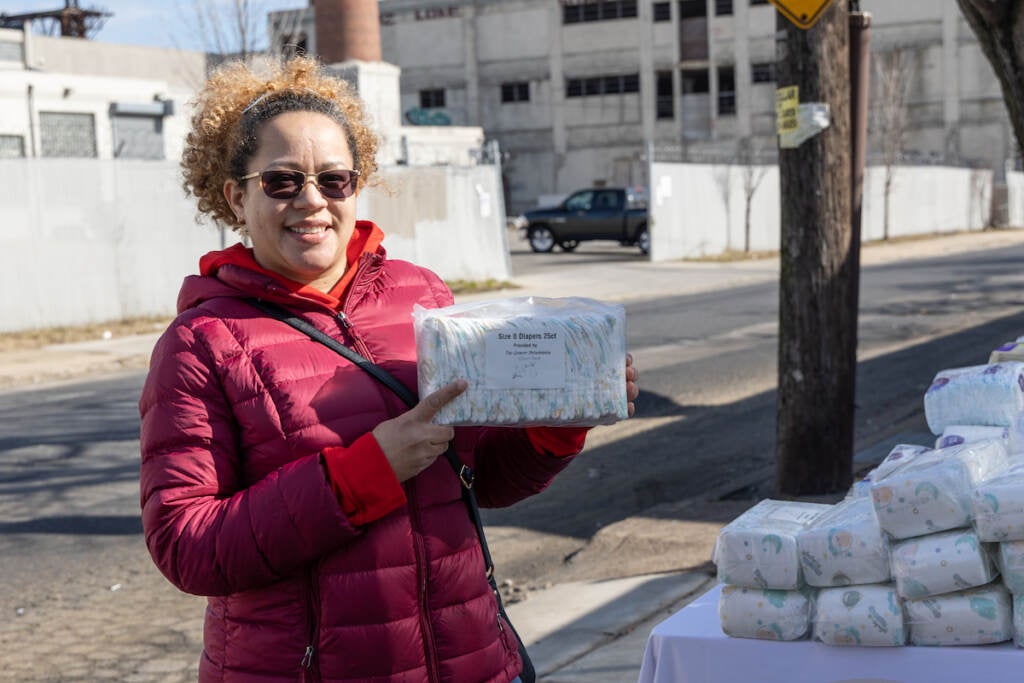 "Uno busca donde están dando ayuda", dijo Camilo. "Estamos ganando poco dinero y todo es muy costoso. Hay que buscar un plan B. Estas ayudas son muy buenas. Gracias a Dios que lo permite".
"You get help where you can find it," said Camilo. "Wages are low and costs are high, so you have to find a Plan B. These programs are so helpful. Thank god they exist."
Camilo, who is originally from the Dominican Republic, learned about the diaper distribution from a nearby food bank. She walked away with diapers, milk, and even some small cardboard baby books for her kids. She was one of about 40 families served by the diaper bank that day.
"We just really want to serve the Kensington community and show the public that good things are happening here and people are helping," said Rapp.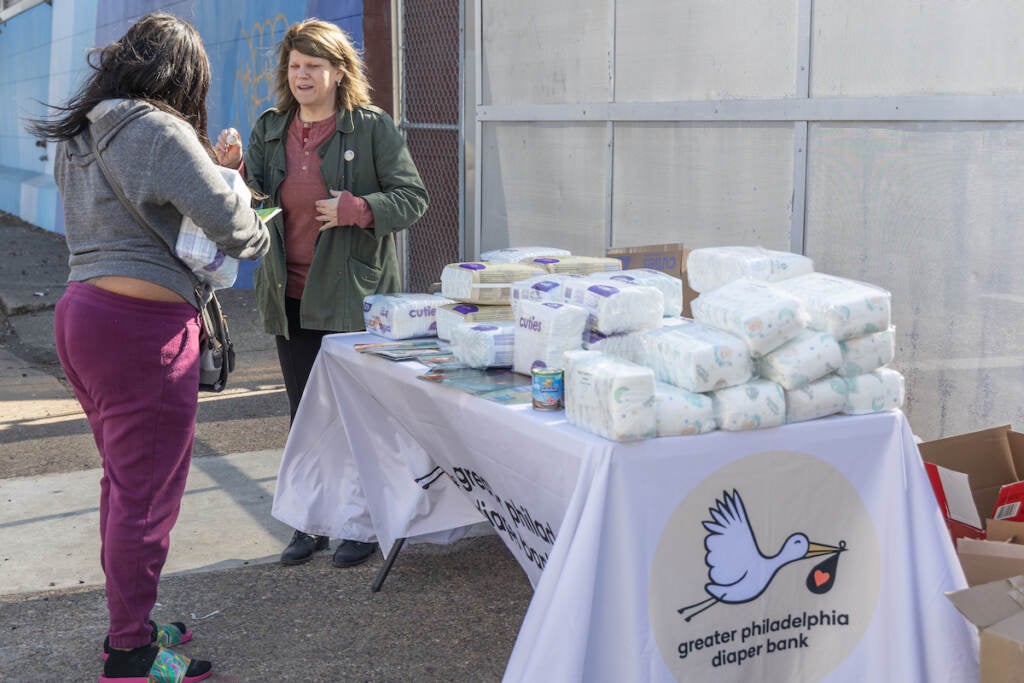 Supply chain issues have left the diaper bank's stock lower than usual. Rapp hopes that more people can donate either monetarily or in-kind. The diaper bank relies heavily on donations from the public, she said, and every little bit counts.
"Also, we love diaper drives," said Newland. "If you have five friends and everyone brings a pack of 25 … we're serving 5 to 10 families just with those diapers. Every baby, every person deserves to be clean, dry, and healthy."
The Greater Philadelphia Diaper Bank's next distribution day in Kensington kicks off at 11 a.m. on Wednesday, March 15.
Those seeking diaper supplies can find more information online or call 215-919-8500.

WHYY is one of over 20 news organizations producing Broke in Philly, a collaborative reporting project on solutions to poverty and the city's push towards economic justice. Follow us at @BrokeInPhilly.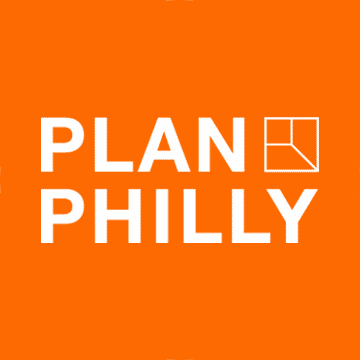 WHYY is your source for fact-based, in-depth journalism and information. As a nonprofit organization, we rely on financial support from readers like you. Please give today.