Philly's Free Library is making space for people to create
A new weekly program invites library-goers to crochet, knit, embroider, and sew, no matter their skill level.
Listen
1:50
Every week, a second-floor corner of the Parkway Central Free Library of Philadelphia transforms from a quiet space for research and writing into a lively crafting workshop.
Books on everything from knitting to mending are brought out. Study cubicles turn into sewing stations and a large community table converts into a work area filled with embroidery hoops, needles, and thread.
The gathering is part of Sew What?!, which invites crafters of all skill levels to crochet, knit, embroider, and quilt. Attendees can bring their own materials or use those supplied by the library.
"It's free. It's fun. It's a great way to meet people and learn something new," said science and wellness librarian Rebecca McCausland, who started the program at the end of last year.
McCausland grew up cross-stitching, a form of embroidery, and was motivated to create the space after seeing another gathering at a different library branch. She didn't want to limit the Free Library program to any one specialty, though. All are welcome to stop by during the "creative, clever, collaborative get-together," she said. It doesn't matter if crafters have a project in mind or want to learn something new.
The weekly workshop draws a diverse group of people, ranging in age, race, and experience level, said Alison Miner, a librarian in the art and literature department who "co-parents" the event with McCausland.
"I have basically taught someone to use a sewing machine every week. It's incredibly heartwarming," said Miner. New sewists walk away knowing how to hem pants, mend worn garments, or create new ones. "People are starting to think bigger each time."
Gretchen Gettes, a Philly resident and professional classical musician, came in for the first time a few weeks ago. She was looking for support on a special quilting project — her first one ever.
"This is a quilt made out of old sweaters that had holes in them that I cut up and then pieced together," said Gettes.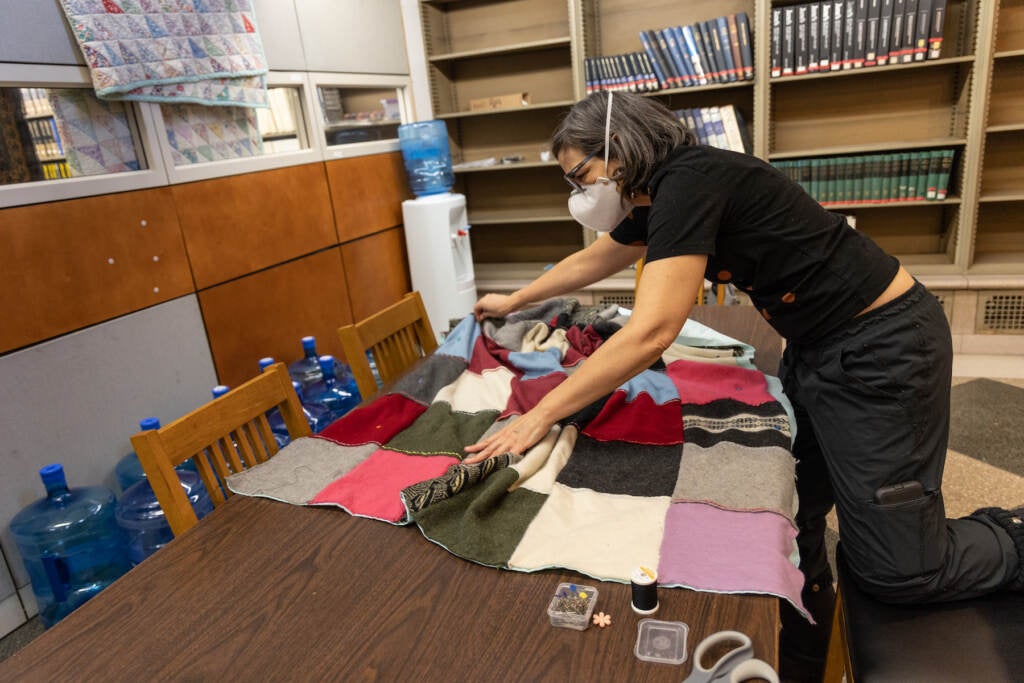 Librarians helped her with the layout, which is made up of squares from sweaters belonging to different people in her life and backed with a bedsheet from her childhood. Gettes has been working on the quilt on and off for 10 years and is slowly stitching it together by hand.
The library space and the crafters, especially McCausland and Miner, have been encouraging.
"They are very helpful, and if they don't know about it, they run and find a book and get it," said Gettes.
Another visitor seeking assistance was Paul Ballard. He had a vision for a garment, one that would make a punk rock statement. Ballard, who has a background in welding and photography, knows how to sew, but needed help creating a pattern for the skirt he was dreaming about.
"This is just a testing of a pattern … it's my first try," said Ballard of the skirt he constructed. For guidance, he had turned to books he borrowed from the library.
"Eventually it's going to be a pleated skirt moment," he said. "I still have to 'Vivienne Westwood' it, so it's going to be cool. I like the idea of just wearing a really tough skirt."
Whether visitors need help creating something from scratch or are simply sewing-curious, the librarians behind Sew What?! are on board.
"It's really inspiring to see people come and get together and unite over something," said McCausland. "You learn from each other."
Sew What?! meets every Wednesday at 2 p.m. and every Thursday at 5:30 p.m.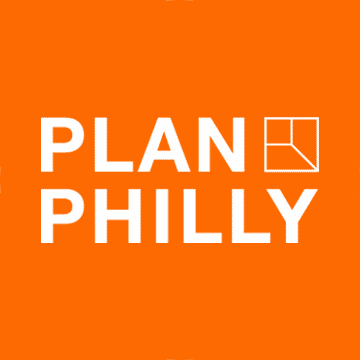 WHYY is your source for fact-based, in-depth journalism and information. As a nonprofit organization, we rely on financial support from readers like you. Please give today.