Don't throw away that broken item. A coalition of Philly volunteers will help you fix it
Every month, the Philly Fixers Guild helps residents salvage broken, damaged, and disassembled items — and keep them out of the landfill.
Listen
1:40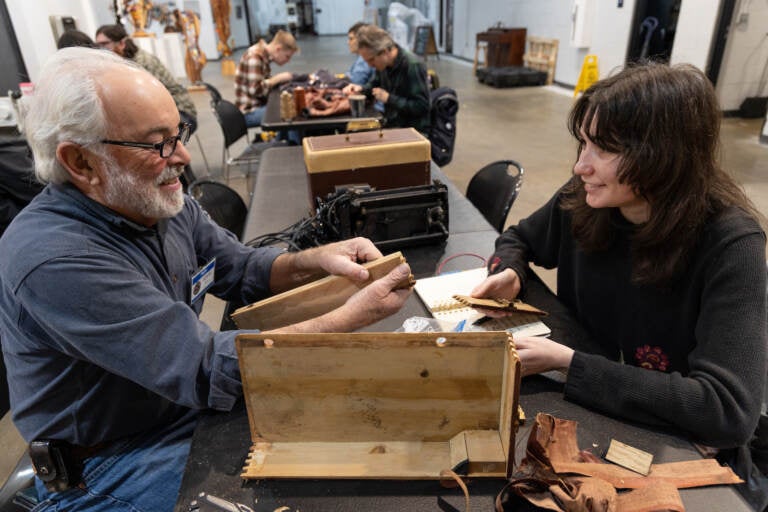 Sometimes, things break. But that shouldn't necessarily mean an automatic trip to the trash can.
Some things — as a Philly-based group seeks to teach residents — can be mended or fixed.
A collective of about 175 volunteers, Philly Fixers Guild stands ready to help you and your (broken) things, by teaching you how to repair instead of replace.
"Our overall goal is to reduce waste and enable people to not have to throw things out so they don't have to buy new stuff all the time when something stops working," said Ben Davis, a co-founder of the Fixers Guild, along with Holly Logan.
The guild partners with NextFab, a network of maker spaces throughout Philadelphia, to host Mini Repair Fairs. On the second Thursday of each month, the guild sets up shop at 1800 North American St. in North Philly, and guests arrive with all sorts of items, ranging from electronics and clothes to family heirlooms.
Visitors can bring any item that's broken, damaged, or disassembled to the Repair Fair, so long as it can be carried through the door, said Davis.
Davis and Logan started the guild back in 2014 as part of a larger neighborhood effort in Fishtown to be more sustainable. Davis was inspired after reading an article about repair organizations — they exist all over the world, from Washington D.C. to India. After taking a pandemic hiatus for the last two years, the collective began hosting events again in September 2022.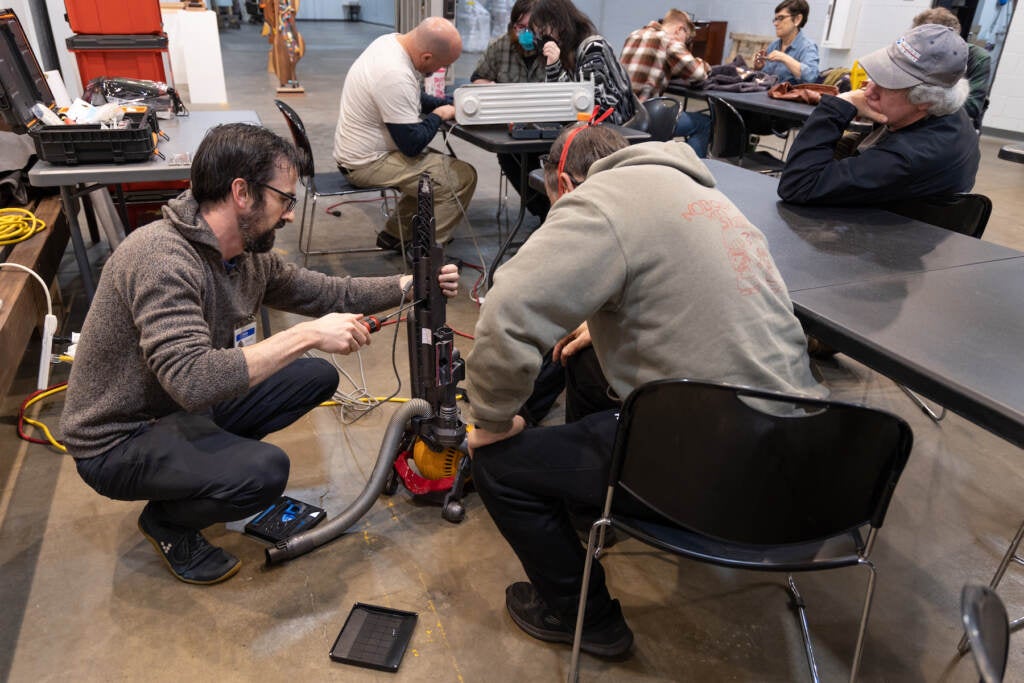 "Our hope is that people will at least take away from our events the fact that something can be repaired," Davis said. "Maybe they have their friend fix it, maybe they take it to a local repair shop or a hardware store." The point is to try, but sometimes, it can be tricky or downright impossible because of how things are manufactured nowadays, Davis admits.
"The problem that we see in our modern manufacturing reality is that a lot of things are designed to fail … and it doesn't necessarily have to be that way," said Davis.
Sometimes parts aren't replaceable because of the way they are built or designed. This is a larger issue due to the way modern devices and appliances are manufactured, and it has inspired a growing Right to Repair movement.
Despite such challenges, volunteers at the Repair Fairs always attempt to find a solution.
From antique sewing machines to modern convection ovens
The guild offers repair guidance and knowledge for free, but they do not fix items themselves. Instead, the fixing journey is a collaboration between volunteers and guests.
When Leigh Hilford moved to Philly from Texas six months ago, she brought with her a special family heirloom: her grandmother's antique Singer sewing machine. Her goal was to learn how to use it, but somewhere along the trip, the wooden base of the sewing machine broke.
She tried to fix it herself with strong glue, but that didn't work. It actually made it worse.
That's how she ended up at the Mini Repair Fair in January, her sewing machine in tow.
"I've mostly learned about the types of tools and the way that you would approach a project like this," said Hilford. "I think you can be a lot less afraid to kind of rip things apart and get in there and start fixing it."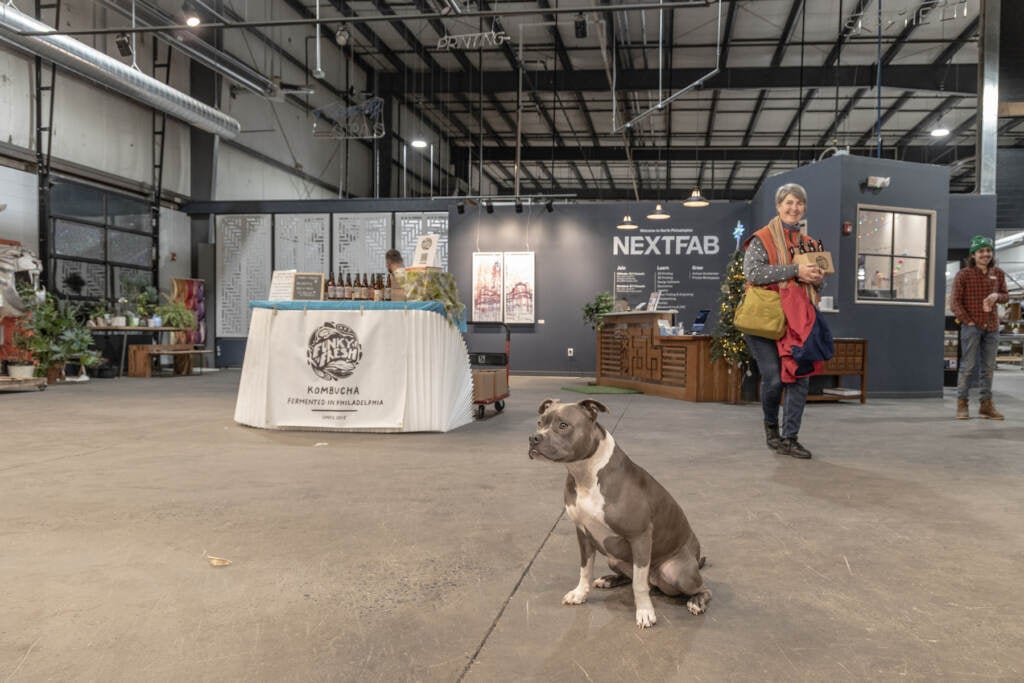 John Everett, a regular repair fair volunteer, helped Hilford course-correct her mistake while Hildord took notes.
"I've just been fixing things my whole life, and it's fun," said Everett, who repairs furniture for work. "I enjoy making things usable again."
Volunteers are at the core of the guild's operations. They donate their time and share their expertise, and sometimes their tools too.
"All of their volunteers are really enthusiastic and dedicated to not only fixing, but also working with you to fix that item so you get to learn and see how they do it as well," said Melissa Guglielmo, the location manager at the North Philly NextFab center. Guglielmo is in the process of fixing her Cuisinart convection oven with the help of a volunteer.
"They found a piece that had burned out and located the part. It was $8 on eBay. I ordered it and I'm really excited about that," she said.
Ethan Rodriguez-Torrent came to the Repair Fair to fix a ripped seam in a vintage leather jacket that once belonged to his uncle.
"I've been wearing it around a little bit and I ripped it. I don't really know how to sew, I don't have leather needles or thread or anything, so I came here," said Rodriguez-Torrent. He received help from co-founder Davis, who showed him how to stitch the seam back up using the holes already in the leather.
"It's rocky, but it's going," he said.
If you find yourself at home and something breaks, but you can't make it to an event, Davis has some advice.
"The best place to start is the manufacturer's website. See if you can find the repair manuals or at least the owner's manual and get some information on there," said Davis.
He also recommends YouTube, where there are plenty of repair channels that navigate users through a given process. The platform can be especially helpful if you have basic tools available at home, like pliers, screwdrivers, tape, and glue.
The Philly Fixers Guild Mini Repair Fair is open to anyone with an item in need of fixing. Slots are limited, and registration is required. The next event is slated for Thursday, Feb. 8.
WHYY is your source for fact-based, in-depth journalism and information. As a nonprofit organization, we rely on financial support from readers like you. Please give today.