Philadelphia awarded $10 million in federal TIGER grants for Grays Ferry Swing Bridge and two Complete Street projects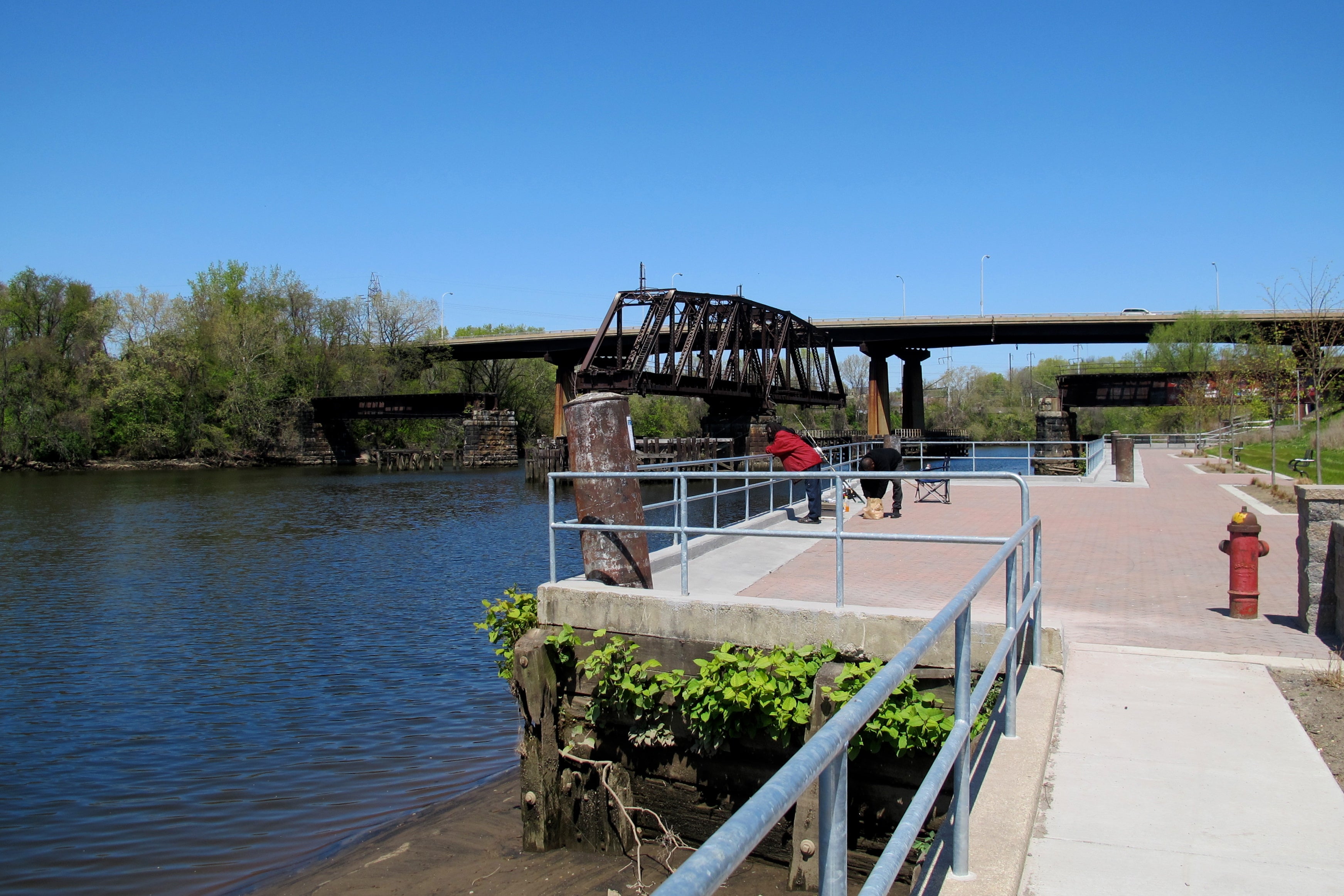 Congressman Chaka Fattah and Senator Bob Casey both announced today, in separate press releases, that Philadelphia had been awarded $10.265 million in U.S. Department of Transportation TIGER grants.
The grant will be split across three projects, with $3.265 million allocated to converting an abandoned swing rail bridge over the Schuylkill River near Grays Ferry into a bridge trail.
Once refurbished, the Schuylkill River Swing Bridge will connect the Grays Ferry Crescent Trail, which runs along the perimeter of the University of Pennsylvania's "Pennovation" campus, to a segment of the Bartram's Mile Trail that's currently under construction. Rehabbing the swing bridge is expected to cost $14 million.
(MOTU TIGER Grant Application)

(MOTU TIGER Grant Application)

(We looked down from the Gray's Ferry Bridge to the old swing bridge below.)

(Will the swing bridge next to the Gray's Ferry bridge be reused to connect Gray's Ferry Crescent with Bartram's Mile?)

(Neal Santos)
The Mayor's Office of Transportation and Utilities (MOTU) put together the grant proposal. When PlanPhilly called MOTU Director Denise Goren for comment Tuesday, Gorne said she had not yet heard about the award grant. After confirming that MOTU did, indeed, submit a $10.265 million proposal covering three projects, Goren cheered and then told PlanPhilly she had to enter a meeting and could not comment further before hanging up.
Another $5 million of the grant will go to pay for improvements to American Street in Kensington. That "complete street" project, estimated at a total cost of $17.4 million, will rebuild a two-mile segment of American Street between Girard and Lehigh Avenues, installing new sidewalks, bike lanes and building a landscaped median to help storm water management.
(MOTU TIGER Grant Application)

(MOTU TIGER Grant Application)
The remaining $2 million in TIGER funds will cover most of the costs of a $3 million bridge to remove an existing gap on West Westmoreland Street. Currently, Westmoreland Street abruptly stops at a below grade railroad crossing next to the Munoz-Marin Luis Elementary School. An elevated pedestrian bridge there will be replaced with a full street bridge, which will also feature sidewalks and bike lanes.
(MOTU TIGER Grant Application)

(Google Maps/Jim Saksa)
TIGER stands for the Transportation Investment Generating Economic Recovery program, part of the American Recovery and Reinvestment Act of 2009. Eligible projects were supposed to be "shovel ready", but that's a meaningless term in the world of transportation infrastructure, where years of planning, design and engineering predates any construction. MOTU's grant application projects construction on the three projects to begin December 31, 2017.
TIGER funding is a matching grant, and funding for each projects will come from a mix of other sources.
Fattah and Casey broke the grant news before U.S. DOT made any formal announcement. Along with Rep. Bob Brady, they wrote letters to U.S. DOT Secretary Anthony Foxx in support of the projects.
For more details on the projects, check out the TIGER grant application supplementary materials below.
WHYY is your source for fact-based, in-depth journalism and information. As a nonprofit organization, we rely on financial support from readers like you. Please give today.