Philly gives up on reopening Hahnemann for COVID-19 patients; Pa.'s unemployment compensation rates soar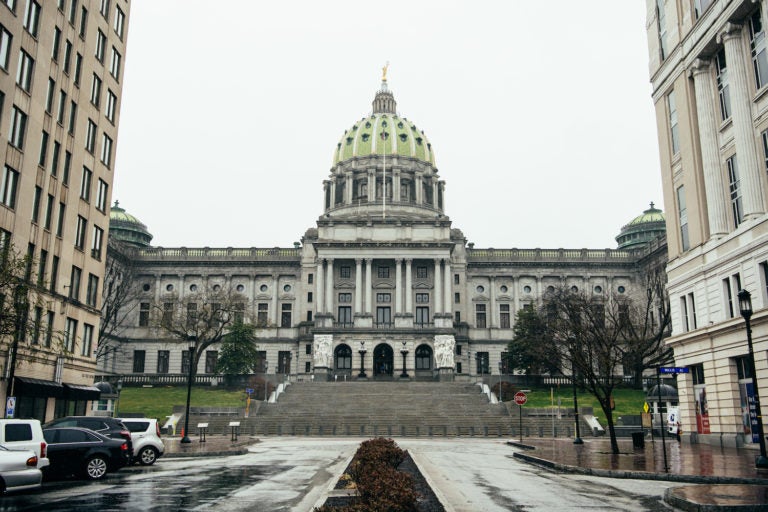 Updated 5:20 p.m.
To date, there are 1,687 confirmed COVID-19 cases in Pennsylvania, 6,876 in New Jersey, and 143 cases in Delaware. Philadelphia has 475 cases.
Pennsylvania's death toll stands at 16, New Jersey's at 81, and Delaware's at 1.
In a statement Thursday, Pennsylvania Health Secretary Rachel Levine called the increase in cases "notable" and said it shows everyone needs to take COVID-19 seriously. She urged people to "stay calm, stay home and stay safe."
Levine and other officials add, they still have no idea how high the surge in cases will go.
Governor Tom Wolf said that he is, however, certain that the situation will get worse before it gets better.
"This virus has a lag, so we're just now seeing people who contracted it as long as two weeks ago," he said at a remote press conference Thursday. "The rapidity at which our case numbers are growing emphasizes the need for all of us to do our part to fight this disease."
This week the state legislature passed a $50 million in new health care funding.
Wolf said it's a step in the right direction, and added that he's trying to get the funding disbursed as fast as possible. But, he noted, it won't be enough if the commonwealth can't slow the rise in new cases.
"We know our hospitals will face capacity issues," he said. "We need more beds, we need more ventilators, more personal protective equipment and so much more. And we need it as soon as possible because the virus is here."
The majority of Pennsylvania's cases are still in Philadelphia and its surrounding suburbs. Along with Philadelphia's 475 cases, the state reports that Bucks County has 107 cases, Chester has 84 and Delaware has 156. Montgomery County, which gave its own update on Thursday, reported 313.
Dr. Valerie Arkoosh, who chairs the Montgomery County Board of Commissioners, said the county briefly had supply issues at its community-based testing site on Wednesday and had to shut down an hour early and turn some people away.
It was back up and running on Thursday. The county is asking that people make appointments for testing if they have symptoms of coronavirus, are first-responders or health care workers worried about exposure, or if they know or suspect they were exposed to COVID-19. Arkoosh noted, people considered to be at higher-risk will be prioritized for testing.
She reiterated state officials' advice that people remain strict in their social isolation.
"I would not be in favor of loosening any restrictions in the southeast at this point," she said. "We're just not there yet. We have not seen our cases level off."
Philadelphia gives up on Hahnemann University Hospital
Mayor Jim Kenney said Thursday that the city is officially done trying to negotiate with the owner of a large, vacant hospital that officials had hoped to use to quarantine victims.
Hahnemann University Hospital has no beds and needs significant improvements, according to Kenney. The city had offered to rent it for a "nominal" monthly fee, plus cover the costs of improvements and expenses.
However, the owner had asked for $400,000 in monthly rent, on top of repair and expense costs, an ask Kenney estimated would cost the city more than $1 million per month. He also noted, the city doesn't have the money or need to buy the hospital outright, and doesn't want to embark on the long process needed to seize it by eminent domain.
"With the numbers of positive [coronavirus] cases increasing daily, we simply do not have the time to continue on a lengthy negotiation," he said. "So we are done, and we are moving on."
Sam Singer of Broad Street Healthcare Properties, which owns the hospital, said in a statement that company officials "appreciate and applaud the City's efforts to address the health crisis quickly."
He added, "We understand that the City doesn't feel that the Hahnemann building currently fits their urgent needs as a quarantine site. Should the situation change, we stand ready to reengage in discussions on how the City or the State can best use the facility."
City Managing Director Brian Abernathy said officials are currently in talks with the owners of several hotels about possibly opening quarantine sites on their premises.
Almost 650,000 have already filed for jobless benefits in Pa.
Pennsylvanians are filing for unemployment compensation at an unprecedented rate, as they lose their jobs en masse thanks to coronavirus-related shutdowns.
The state Department of Labor and Industry says since that Sunday, March 15,  649,967 people have filed for unemployment. The number began rising sharply last week, going from a little over 4,227 on Sunday, to more than 51,320 on Monday.
That spike is far beyond anything the commonwealth's unemployment compensation system has seen before. Theresa Elliott, a spokeswoman for the Labor and Industry Department, said the previous record high week for initial claims filings was 61,181 in January 2010.
She said claims filing is going relatively smoothly despite the enormous volume, but added that wait times for claims submitted over the phone "can be long" and urged newly jobless people to file online.
That rate puts Pennsylvania among the states with the fastest-rising unemployment. The U.S. Department of Labor says that for the week ending on March 14 alone, the commonwealth had the fourth-highest increase in initial unemployment claims, following California, Washington, and Nevada.
The most recent unemployment numbers available for the commonwealth right now are from February, before COVID-19 had started affecting the U.S. economy. It was relatively low then, as it had been for months, at 4.7%.
The last time Pennsylvania saw a severe uptick in unemployment was during the Great Recession. The state Department of Labor and Industry reported then that at the start of the economic downturn, the unemployed rate was 4.6% and it eventually peaked at 8.7% in 2010.
Nationwide, jobless numbers are rising much faster than they did during the recession, and indeed, faster than has ever been recorded in modern history.
The Labor Department reported Thursday morning that for the week ending on Saturday, March 21, 3,283,000 people around the country had filed for unemployment compensation. It was an increase of 3,001,000 from the previous week, and marked the "highest level of seasonally adjusted initial claims in the history of the seasonally adjusted series."
The previous record, 695,000, had come in 1982.