Pa. Supreme Court restores Philly's right to fight blight
The Pennsylvania Supreme Court reaffirmed the city's ability to force property owners to maintain appearances of their vacant buildings, reversing a 2015 lower court ruling.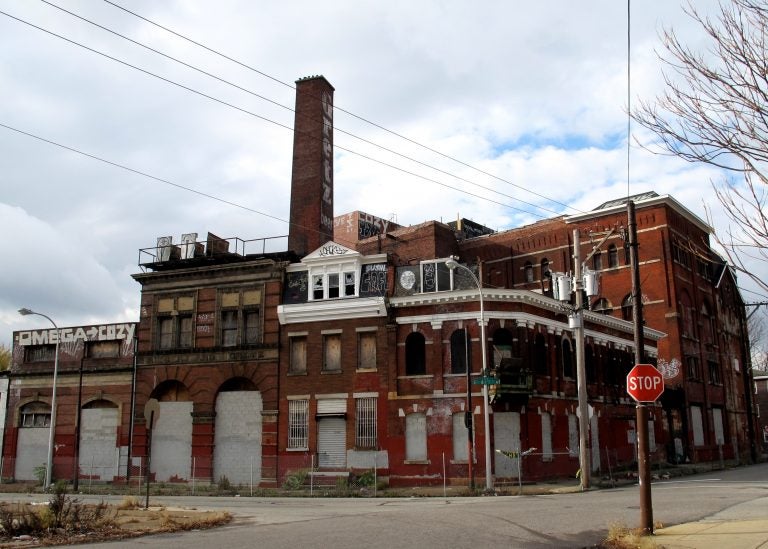 This story originally appeared on PlanPhilly.
—
Pennsylvania's Supreme Court has given Philadelphia back its favorite blight-fighting tool. In a Sept. 13 ruling, state justices unanimously reaffirmed the city's ability to force property owners to maintain the appearances of their vacant buildings, reversing a 2015 lower court ruling.
The case centers on the city's "Doors and Windows" ordinance, which the Department of Licenses and Inspections began enforcing in 2011 as a means to reduce the number of unkempt, boarded-up buildings in Philadelphia neighborhoods.
The regulation intends to serve as a hedge against creeping neighborhood blight. It requires owners on blocks where 80 percent of buildings are occupied to install operable windows and doors on empty structures, instead of just boarding them up.
To compel action, L&I inspectors prominently place a scarlet sticker on the buildings of noncompliant owners. If that doesn't provoke changes, they go to a special "blight court" set up under the auspices of the Common Pleas Court where fines are negotiated under the eye of a judge. Those owners who don't comply could be hit with fines of $300 daily per every window and door that remains boarded or open to the elements.
"This was an intentional tool for stopping the disinvestment spiral," said Alexander Balloon, director of the Tacony Community Development Corporation, which submitted an amicus brief in support of the city. "It was particularly important in middle neighborhoods where you have one house on a block that gets boarded up and then the next one and the next one."
Property owners who showed up for blight court had a compliance rate of 75 percent, making for 1,284  properties that were fixed up under the regulation.
When the ordinance was enforced between 2011 and 2015, L&I proactively identified vacant buildings that could be salvaged and whose owners could feasibly comply. When they began taking offending property owners to court, they targeted neighborhoods that suffered clusters of windowless properties but where the market remained strong enough that fines could conceivably act as a deterrent. If a house is only worth $5,000, the logic went, the owner is unlikely to pay fines to keep it.
"Really, the goal isn't to just put in doors and windows, but to get someone to reoccupy," said Rebecca Swanson, director of Planning and Analysis for L&I. "That means it's not going to further deteriorate, it's not going to become unsafe, we won't have to demolish it eventually and so we won't put a hole in the block."
It's not only the courts that have scrutinized the city policy. Among researchers, the consensus is that it works.  In 2015, The Reinvestment Fund found that census block groups where L&I concentrated their attentions enjoyed dramatic increases in home sale prices.
Epidemiologists and criminologists at University of Pennsylvania's medical school found the ordinance resulted in a significant decrease in both serious and nuisance crimes within a half mile of buildings where property owners cleaned up their properties.
But despite the enthusiasm of community groups, academic researchers, and the national media, lower courts ruled that the city could not exercise its police powers for what were deemed beautification purposes.
The dispute at the heart of these cases leads back to a vacant industrial block in Kensington.  The windows and doors ordinance generally applies only to blocks with a vacancy rate of 20 percent or less,  but it also includes a provision that allows L&I commissioners to apply the ordinance in select cases where that threshold isn't met.
That provision is in place so that if a heavily vacant block borders a stable residential neighborhood, the agency can decide to intervene to keep the contagion from spreading.
That's what happened with the blocks-long building that once housed the Gretz Brewery on Germantown Avenue and Oxford Street. When L&I took owner Tony Rufo to court, he appealed his numerous windows and doors violations. The judge proved sympathetic to his plight.
"The essential implementation of this ordinance, in this case, appears to be concerned more with aesthetics and the appearance of occupancy rather than blight, safety, and security," wrote Judge Linda Carpenter, a Common Pleas judge in Philadelphia, in her 2015 decision.
After that ruling, L&I put its enforcement strategy on hold until the appellate courts could hear their case. Under Commissioner Dave Perri, appointed in 2016, the agency has never been able to incorporate the tool into their larger anti-vacancy strategy.
Perri said that with the Supreme Court ruling on its side L&I  will redouble efforts to crack down on vacancy. L&I's data systems have improved greatly in the last three years, he said, allowing the office to more easily track compliance rates and target which owners to take to court. All of the department's inspectors will be assigned to look for applicable properties within the census tracts they patrol — a citywide strategy only briefly adopted in 2015 before the ordinance was put on hold.
Swanson said her inbox is already overflowing with emails from community members excited about the return of the regulation. When L&I inspectors are in the field enforcing the doors and windows ordinance — placing the agency's scarlet stickers on the offending pieces of particle board — they are hailed as heroes.
"We had engagement from the community on this more so than anything else," said Swanson. "The inspector who's been doing this since the beginning said little old ladies would come out and give him hugs just for putting up a sticker."
Harvey Spear of the landlord advocacy group the HAPCO said that his members largely support the idea, although he noted that the fines seem "excessive."
For groups like Balloon's Tacony Community Development Corporation, the regulation's return is a blessing, even though Tacony itself doesn't have as many boarded-up houses today as it did when the ordinance first went into use in the wake of the Great Recession.
But there are still plenty of other neighborhoods that need the help.
"Philadelphia is in a much stronger market position now than we were when this was introduced," said Balloon. "But we still have lots of vacant buildings. No one wants to live next to a boarded up, unmaintained house that aesthetically steals value from its neighbors."
WHYY is your source for fact-based, in-depth journalism and information. As a nonprofit organization, we rely on financial support from readers like you. Please give today.