Under GOP-proposed amendment, the Pa. Constitution would not ensure abortion rights
Any attempt to amend the Pa. constitution bypasses the governor and goes to a referendum, which often passes easily as it draws little attention at the polls.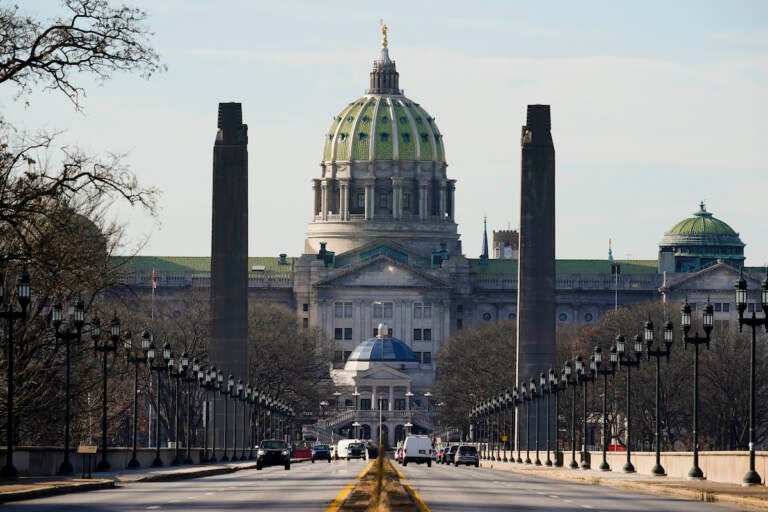 With Republicans in Pennsylvania moving a multi-pronged plan to restrict abortion now that Roe v. Wade is overturned, groups that both support and oppose access to the procedure are organizing what could be years-long spending and advocacy campaigns across the commonwealth.
The 2022 race for governor, which pits deeply anti-abortion-rights Republican Doug Mastriano against pro-abortion-rights Democrat Josh Shapiro, is seen as key for both sides, as is a U.S. Senate race that represents one of Democrats' best opportunities to pick up a seat in the chamber.
But perhaps even more important and far less understood is a GOP-proposed amendment, currently under consideration in the state Senate, that would explicitly say the Pennsylvania constitution doesn't guarantee abortion rights. The governor will have no power to veto it.
"This is the first time we've seen a mention of a constitutional amendment that would severely restrict access to abortion in all sexual and reproductive health care," said Signe Espinoza, the executive director of Planned Parenthood Pennsylvania. "The stakes are really, really, really high and haven't been this high in a long time."
The amendment wouldn't restrict abortion outright. It says that the "policy of Pennsylvania is to protect the life of every unborn child from conception to birth," and that nothing in the state constitution ensures "any right relating to abortion or the public funding thereof."
Republicans in the legislature have pitched it as a minor adjustment — a way, as Senate GOP spokeswoman Erica Clayton Wright put it, of opening "the door to have dialogue, one way or another."
But even the like-minded abortion opponents pushing for the amendment on the ground see it differently: as an intentional step toward significantly restricting abortion in Pennsylvania, by heading off Democrats' ability to challenge anti-abortion-rights laws in state courts.
"Now that the Supreme Court at the federal level gave the American people their voice back on this issue, Planned Parenthood and their allies are going to run back to court. They're just going to do it at the state level," said Stephen Billy, who is vice president for state affairs with the national anti-abortion-rights group SBA Pro-Life America. "We're going to fight back against that."
The Pennsylvania chapter of the American Civil Liberties Union, which opposes the amendment, has made essentially the same assessment: that the language will head off any possibility of abortion rights advocates using provisions of the state constitution — like one that guarantees equality of rights on the basis of sex — to argue that abortion restrictions are unconstitutional on the state level.
The group wrote in a memo to the state Senate that not only could abortion be banned completely, but the amendment "could also allow restrictions to in vitro fertilization (IVF), contraception, and birthing care," like treating ectopic pregnancies or miscarriages.
The amendment represents "an extreme position that would have devastating consequences for all pregnant people," the memo said.
The measure is still at a relatively early stage. In order for a proposed constitutional amendment to go before voters in a statewide referendum, the legislature must pass it twice, in consecutive legislative sessions, using identical language.
Right now, it's awaiting final passage in the Senate and will then need approval from the House. Then, both chambers must pass it once more when the new two-year legislative session begins in 2023. The earliest it can get on the ballot is the May primary election of next year, and it's unclear if the legislature will act quickly enough to get it there.
Advocates on both sides of the issue say while they're already fundraising heavily and are planning to pour millions of dollars into advocacy around Pennsylvania's gubernatorial and U.S. Senate races, they're still in a wait-and-see mode on the amendment.
Espinoza, with Planned Parenthood, said while the scale of the outreach isn't yet certain, it'll be significant. Part of the challenge of advocating around constitutional amendments, she said, is that voters don't always know how they work. By and large, amendments pass easily in Pennsylvania, often because they aren't controversial, or even if they are, aren't well-publicized.
"What we have been doing is making sure that people in the state understand and know that anti-abortion legislators in Harrisburg are trying to legislate our bodies sneakily and behind closed doors," she said. "We're seeing this wave of activation. I think it's a different conversation, and a different playing field" than previous amendments have seen.
SBA Pro-Life America is already funding door-knockers in Pennsylvania, and has committed more than $2.3 million to pro-abortion outreach in the commonwealth, according to a spokesperson. Billy noted that it's mostly focused on the 2022 gubernatorial and U.S. Senate races for now.
The amendment is next. Billy is expecting a battle.
"When it gets the time for these different ballots to come online [abortion rights groups are] going to have a lot of resources," he said. "We're going to actively fight."
WHYY is your source for fact-based, in-depth journalism and information. As a nonprofit organization, we rely on financial support from readers like you. Please give today.