PennDOT pleased to meet with waterfront advocates, but says I-95 widening is largely dictated by safety, efficiency standards
Image above shows PennDOT's proposed design for Richmond and Cambria streets.
Concerned that the scheduled widening of I-95 through the Central Delaware Waterfront area could exacerbate the separation of city and river Philadelphia hopes to bridge, the Central Delaware Waterfront Advocacy Group wants to meet with PennDOT.
"One thing that's going to happen in a good number of chunks is the decking – the actual physical highway, is proposed to be widened," CDAG Chairman Matt Ruben, the Northern Liberties representative, told the group at their June meeting. "These things are not proposed without reason … but regardless of the reasons we are facing large swaths of new highway that are only going to increase the gash that comes through our communities."
The reasons, said several PennDOT project leaders in a recent interview, are safety and improved traffic flow.
Final design has yet to be completed for the next two phases of the highway re-do in Philadelphia. For GR4, in which the southbound highway would be widened from Columbia Avenue to north of Ann Street, the final design should be finished in 2017, with construction slated to begin in 2018. For GR5, in which the north and southbound lanes between Race and Shackamaxon streets, along with the I-676/Vine street ramp connections with I-95 north and south bound, would be widened, the final design would be finished in 2018 or even later, with an estimated construction start of 2019 or 2020. Here's an overview of I-95 improvements in the city. And here's more detail on all Girard Avenue Interchange-related projects, of which GR4 and GR5 are two.
But the basic route the highway will take through these areas, and the about 60 feet the roadway that needs to be widened to achieve federal and state highway standards, are set, the project leaders said.
At the CDAG meeting, Pennsport's Rene Goodwin suggested asking PennDOT for a presentation. "We represent large amounts of population immediately next to, adjacent to I-95," she said.
"They could explain to us what the rationale is behind it," agreed the Pennsylvania Horticultural Society's Tammy Leigh DeMent.
Goodwin said the project gave her a dose of deja vu. "This is the fight of 40 years ago, when Pennsport and Whitman and Queen Village fought not to have properties taken for I-95, which (PennDOT) did anyway. We need a full disclosure of what the plans are and how it impacts the neighborhoods, the (Central Delaware) Master Plan and the development of the waterfront," she said. "This is a big issue."
PennDOT would be happy to meet with CDAG, said District 6 Project Manager Elaine Elbich. There is a certain amount of adjustment that can take place – and has in earlier and on-going portions of the highway rebuild – to accommodate community goals. Not to mention physical obstacles.
But the federal safety standards, which have been adopted by Pennsylvania as state standards, have to be met. If not, the funding "would go away," said Assistant District Executive for Design Chuck Davies. And the roughly $460 million projected cost of the next two phases is all coming from either the federal government (the vast preponderance) or the state.
The standards call for shoulders that are at least 10 feet wide, and they say lanes should not be dropped. A dropped lane is one that disappears, necessitating a merge.
The standards aren't just "bureaucratic boxes that have to be checked off," Davies said. They are backed by national transportation studies.
Based on them, here's what can't change, the PennDOT team said:
"The shoulders are substandard in most locations," said URS Corporation Project Manager Mark Rhoads. URS is PennDOT's engineering consultant on the Revive 95 project. To allow for emergency vehicles and emergency pull-off of cars that have been in accidents or broken down, the standards call for at least 10 feet, he said.
In Philadelphia, the shoulders of I-95 before reconstruction are between four and 8 feet wide, said Elbich. For example, if someone is traveling southbound from the Girard ramp and breaks down, whether they pull off on I-95 or make it to Vine Street, "there is not enough width for a car," Elbich said. "The left tire is on the stripe, and they open the door into the live lane."
The remainder of the widening is to eliminate dropped lanes, Davies said. Accidents occur everywhere on the highway, but a greater number tend to happen at these points, he said. See the chart of I-95 crashes by injury severity and road segment beneath this article.
"They are a decision point, where somebody has got to win out, and someone has to let someone else move in. Otherwise, there's an accident," Elbich said.
This decision process also leads to congestion, she said.
Through the city, I-95 will be widened about 60 feet, said Rhoads. Generally, in the north end, around Port Richmond, all 60 feet will be added to the water side of the roadway. Because the northbound section is already underway, the widening footprint has already been determined, he said.
He notes that further south, right across from the PECO station near Montgomery Avenue, "we are building out over Delaware Avenue."
Moving south into Fishtown, the widening shifts to be more symmetrical, with the new space split about equally between the west and east sides of the roadway.
South toward Spring Garden, the widening is also mostly symmetrical, Rhoads said.
He cautioned that his overview is a general one, however. "It varies from street to street, from property to property," he said.
Further south, less is known about where the additional real estate will come from, Elbich said. She knows some shifts will be necessary to accommodate existing obstacles, including the Market-Frankford El. She did not yet know if any properties would need to be purchased or condemned to make way for the road – always a big community worry.
Here's where some flexibility lies:
PennDOT has also planned expansion around community obstacles, such as playgrounds.
When asked if the new width could be taken from one side or another based on future goals, including increasing waterfront access, Elbich referred to the Central Delaware Master Plan and said, "we're always coordinating with that effort."
She said a small amount of widening might be shaved in places if that would not impact safety. "If it's a foot or six inches, it may happen." But Elbich also pointed out other ways in which I-95 has worked with the quasi-city Delaware River Waterfront Corporation and I-95 communities.
Public meetings are always held with near neighbors to help chose the design of things like sound barriers, she noted. And special meetings are held when the highway project includes one of the master plan's connector streets – streets singled out for improvements designed to improve neighborhood-to-river access. This was the case for Columbia Avenue, for example, which links Fishtown to Penn Treaty Park. Learn more about such initiatives here. Click on the pushpin images, and then on view initiatives.
In some areas, retaining walls have been used instead of slopes so that the total project takes up less space, she said.
And if the city wants to use a particular area for river access, it's possible for PennDOT to locate usable green space there to fulfill storm water management needs, she said.
Community meetings with neighbors of the GR4 will start late this year, or early spring next year, Elbich said.
Eventually, I-95 will be widened and otherwise redone the whole way through the Central Delaware waterfront and all of Philadelphia, but some sections are quite far off: The viaducts between Queen Street and Washington Avenue won't be rebuilt until about 2026, according to the PennDOT website. Other sections have yet to be scheduled at all.
Davies noted that none of the widening is happening to accommodate more cars, only to make better use of current capacity, making the roadway safer and more efficient.
One non-widening portion of the projects calls for the expansion of PennDOT's camera and dynamic sign program, where travelers can check out traffic cams before they begin trips and are informed by electronic signs beside the road of upcoming accidents, congestion, and travel times. The idea is that with more information, drivers can manage their expectations or switch to an alternate route, said PennDOT spokesman Gene Blaum.
How much time will the changes save drivers? Davies said it's hard to pinpoint exactly, but even in rush hour traffic, travel time should be more predictable with simple math: Distance divided by speed limit.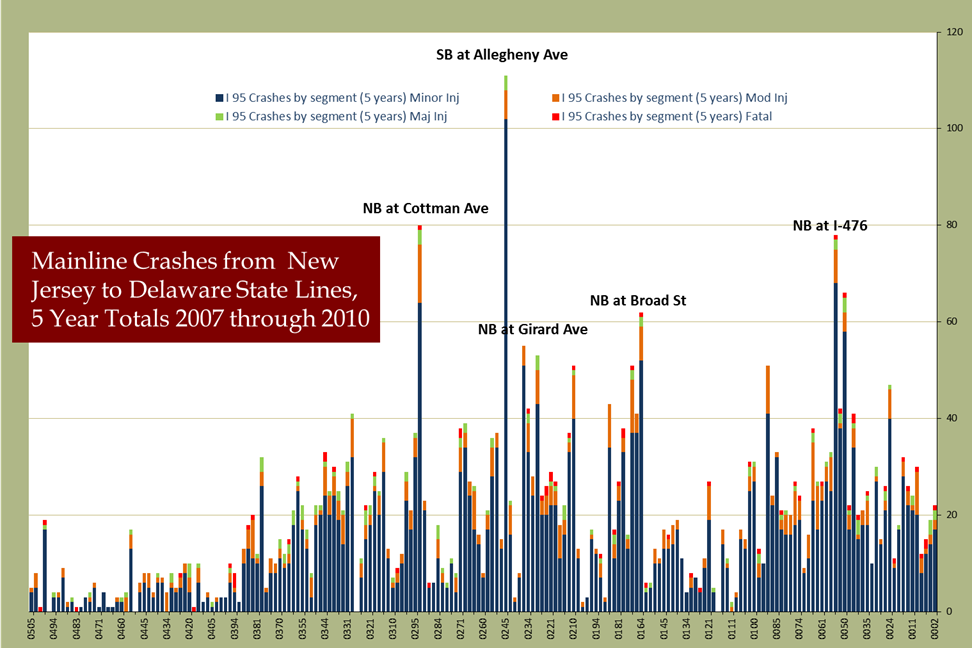 WHYY is your source for fact-based, in-depth journalism and information. As a nonprofit organization, we rely on financial support from readers like you. Please give today.