Parents, students say bringing armed police officers to Cherry Hill schools 'a really good step'
Starting Monday, around seven to 10 armed police officers have been assigned to all Cherry Hill schools full-time through the end of the school year on June 19.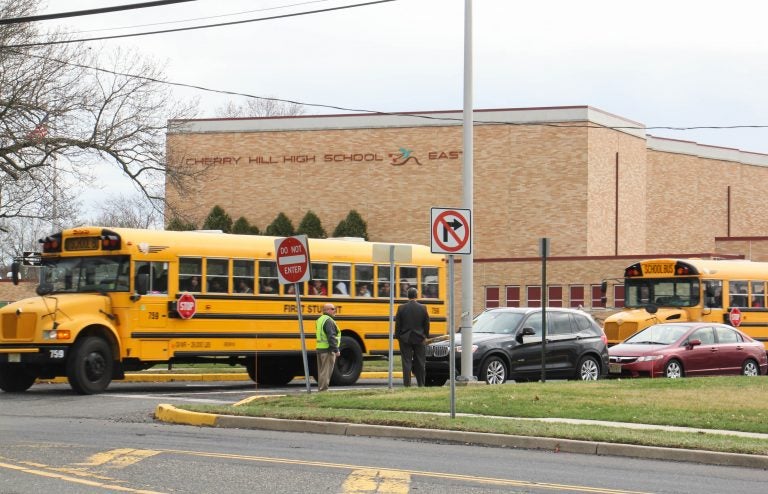 Starting Monday morning, there will be a new presence in Cherry Hill schools: armed police officers.
The move comes after a week of outcry in the Camden County school district, where students protested the suspension of a history teacher who raised concerns about safety following the deadly mass shooting at a high school in Parkland, Florida. According to at least one student who was there, the teacher, Timothy Locke, complained that the security guards at Cherry Hill High School East were unarmed. His comments upset at least one student who brought the issue to the school's principal.
District officials announced Friday night that armed police officers have been assigned to all schools full-time through the end of the school year on June 19.
Around seven to 10 police officers will patrol the township's schools, said Cherry Hill Mayor Chuck Cahn. The district's high schools and middle schools will have officers assigned on a daily basis, while the elementary schools will have officers patrolling on a rotational basis.
"I think it's something that the parents and students wanted and were looking forward to," Cahn said, "and I know that our schools are very safe and this is one step to make them safer."
Additional security protocols will require any visitors to make appointments ahead of time and to show photo identification before entering the schools. All family members will have to present photo IDs, as well as their children's student identification numbers before they are admitted into the buildings.
Cahn said the new security measures are part of a conversation among school district and township officials that began after the Sandy Hook shooting in 2012. Police Chief William Monaghan suggested placing armed police officers in Cherry Hill schools sometime within the past year, but Cahn acknowledged that students and parents calling for better school safety over the past week has pushed the issue to the forefront.
"As a result of Parkland, I think the voices of parents are being heard more. The parents have come out more," he said.
'A really good step'
Many parents and students are supporting the move to bring armed officers into the schools.
"I think any action would have been a good first start," said Scott Seligman, a parent of three Cherry Hill students and one of the more than 100 people who packed last Tuesday's school board meeting. During the meeting, Seligman criticized the administration for failing to properly address the community's concerns.
"These kids need to feel the presence of security in their school," he said on Sunday. "They need to know that the township cares and they're actually physically doing something to protect them."
Seligman said he will be signing up to be part of a new security council Cherry Hill East is organizing for students and parents to voice their concerns and work together to improve school safety. The high school is also going to start hosting weekly open forums for students to talk with administrators.
Gabriel Ritter, a senior at Cherry Hill East, said the impending security changes have made him and many of his friends feel safer. In the past, he said it's been easy for anyone to walk into the school because the side doors are not always locked, and though visitors have been required to stop by the administrative office to check in and receive a name tag, the policy wasn't strictly enforced.
"I think now on top of having armed guards … requiring people to show ID and have a student ID, I think for a majority of the student body that's a really good step in terms of tightening it up and making sure students feel safe coming to school everyday," Ritter said.
Ritter is one of the students who has been pushing for better security, and helped collect more than 500 signatures on a petition asking that suspended teacher Timothy Locke be reinstated.
While the district has not commented on Locke's status, Ritter said he and his peers feel heard — and proud of their efforts.
"It came back to a moment of pride in the sense that all the activism that's been going on and all the students' feelings, something constructive finally came from it," he said.
According to Cahn, the next step is for the Board of Education to decide whether to arm the four unarmed resource officers at Cherry Hill High Schools East and West. The board will take up the issue during a special meeting at 7 p.m. on Tuesday in the auditorium at Cherry Hill West.
WHYY is your source for fact-based, in-depth journalism and information. As a nonprofit organization, we rely on financial support from readers like you. Please give today.