Pa. Primary: Krasner wins; mail ballot mistake delayed count
Stakes are high this primary election, which features races that could have a resounding impact on the city and state criminal justice systems.
Updated 12:o6 a.m. Wednesday
Incumbent District Attorney Larry Krasner won the Democratic primary over former prosecutor Carlos Vega. The tally by the Philadelphia City Commissioner's Office showed Krasner with a comfortable lead throughout the night. Vega conceded the race at about 11:45p.m. and the Associated Press called it shortly after midnight.
It looks like tonight we did not get the result we wanted, but even in defeat we have grace & we smile.

THANK YOU to our supporters, and most especially the victims of crime who bravely stood up when the establishment, the celebrities and the media decided they wouldn't listen. pic.twitter.com/G2MypjnPJ7

— Carlos Vega (@VegaForDA) May 19, 2021
The final results of the municipal primary in Philadelphia were not expected to be available before midnight Tuesday, in part because of an unexpected delay in counting mail ballots.
Election workers were expected to post the results of roughly 40,000 mail ballots shortly after polls closed at 8 p.m. But the city's set of ballot extractors, designed to remove the paper ballots from both an outer and inner envelope, malfunctioned, forcing employees to start counting some ballots by hand, as well as use a pair of older machines known as "grinders."
"We didn't want to damage too many ballots so we stopped using the extractors," said Nick Custodio with the City Commissioners Office, who said all votes would still be able to be processed.
The snafu means the results of just 10,000 mail ballots will be reflected in the results posted after 8 p.m. Another batch of results will be posted online at midnight. "It's not a major hiccup, it's just something that's unfortunately slowed the process down," said Custodio.
Another batch of mail ballots, which came in after poll books were cut, are expected to be counted on Wednesday and Thursday. At stake this Primary Day are races that could have a resounding impact on local school boards and both Philadelphia's and Pennsylvania's criminal justice systems.
Britt McLaughlin, an election judge for the second ward in South Philadelphia said a lot of people voted by mail, which might be due to the long lines during last year's presidential election.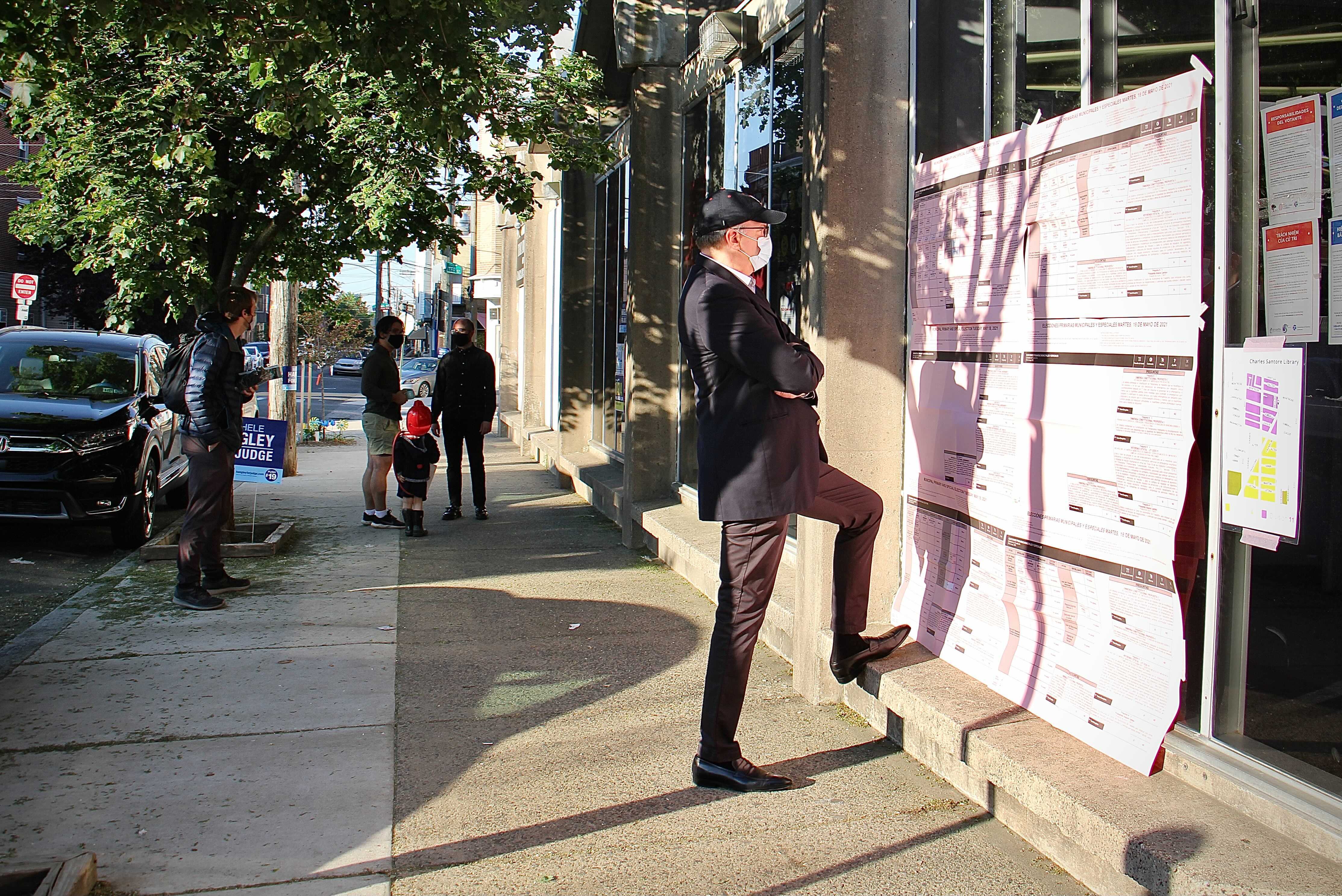 Statewide, Pennsylvania officials sent out 820,757 mail and absentee ballots to residents. As of Tuesday morning, the last time the Department of State updated its estimate, voters had returned about 69% of these ballots, which had to be received by county officials by 8 p.m.
Despite scattered issues, including Philadelphia's, York County running out of ballots, Lancaster County being forced to count 15,000 ballots by hand due to a printing issue, and some Luzerne County voting machines showing a graphic for the wrong political party, Acting Secretary of State Veronica Degraffenreid said things had gone smoothly enough that she was cancelling a planned 11 p.m. press conference.
The day's election, she said, was "indeed successful" and there were "no widespread incidents to report."
In Philadelphia, where Democrats outnumber Republicans seven to one, the most heated contest was between incumbent Krasner and Vega.
Although, according to WHYY's Billy Penn, some Republicans switched parties to vote for Vega in the Democratic primary.
Voter Jason Sandman, an Independent, decided against switching parties to vote in the DA's race.
"I'm not able to vote on some of the elections, but I can answer some of the [ballot] questions and some of the amendments to the charter," he said. "I just wanted to make my vote count."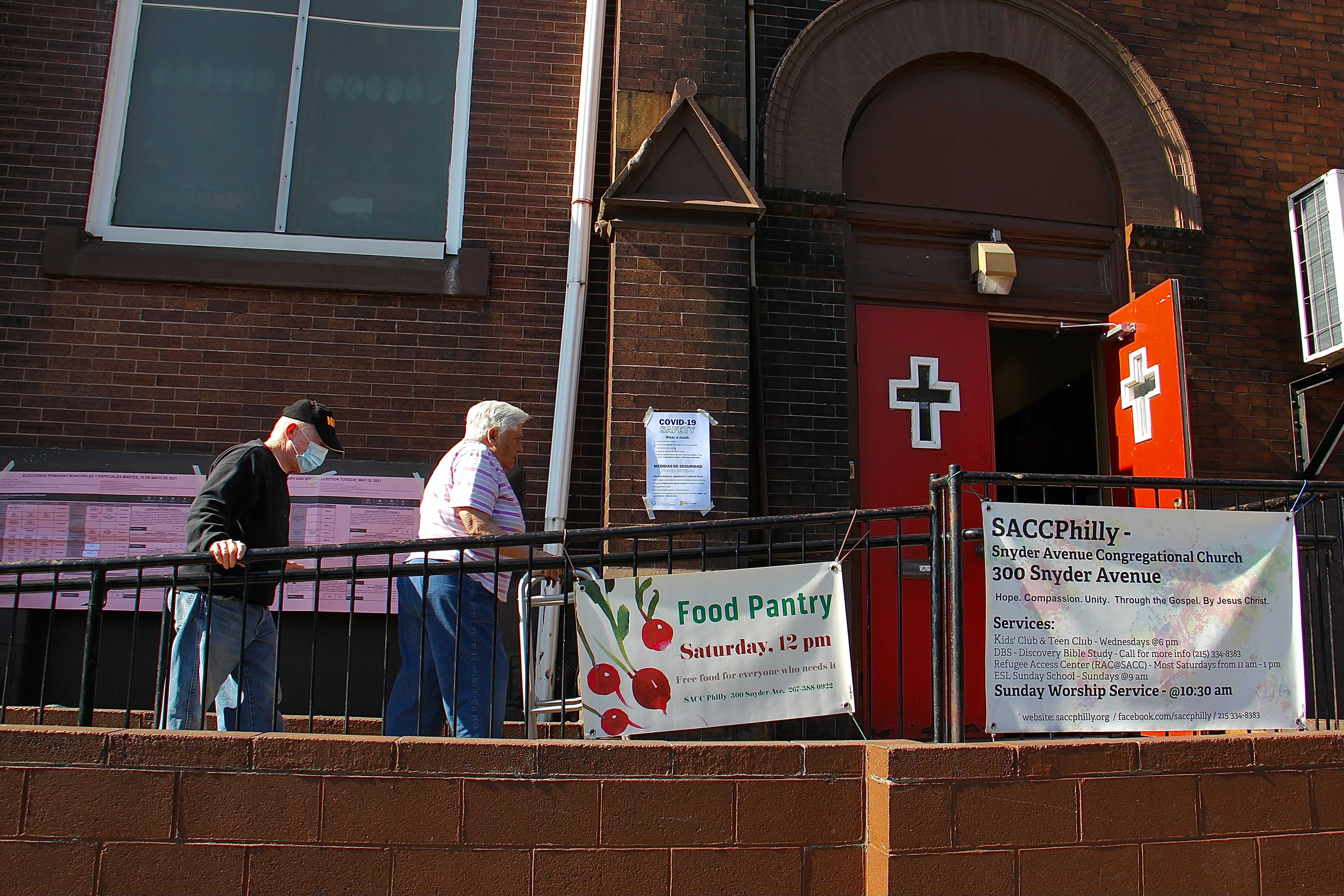 He said he did use the opportunity to talk to his friends about the district attorney race, and explain the voting process to his toddler.
South Philadelphia resident Phil George voted at the Santore Library and was determined to get incumbent District Attorney Larry Krasner reelected.
"I just like that he's keeping [police] accountable, which is what the city really needs," said George. He added that he thinks Krasner's opponent, former prosecutor Carlos Vega, is "horrible" and disapproves of Vega's support from the Fraternal Order of Police Lodge 5, the city's powerful police union.
"I think the FOP really just needs a little bit of a, I hate to say it, a little smack in the face," he said.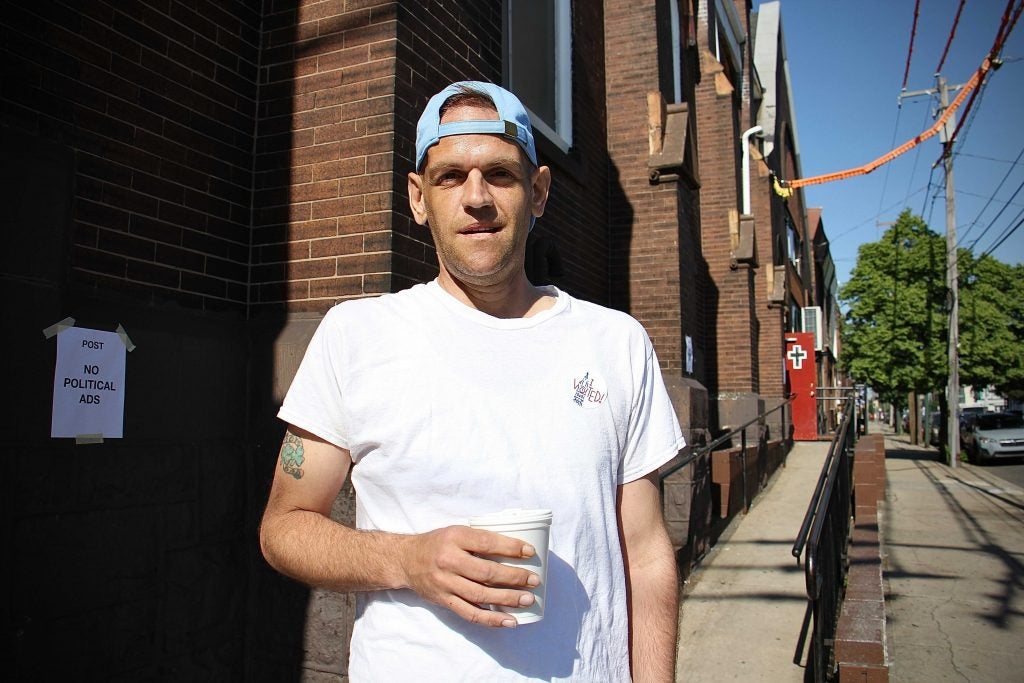 Michael Notto, who lives in South Philly's Pennsport neighborhood, said he made a point to vote today to replace Krasner.
"It's time for a change, I don't like his policies," he said.
In Montgomery County, there were not many people voting in person either. Elkins Park resident Suni Blackwell said he voted by mail in last year's presidential election, but felt good about voting in person today, because it restores some kind of normalcy.
"A lot of people … talk about what needs to be done sometimes, or may complain," he said. "If you're not getting here [or] you're not exercising your right to vote, then there's no need to talk … We're past that time of 'our vote doesn't matter.'"
Sydney Shuster echoed that sentiment, and said she felt comfortable voting in person because she has been vaccinated against COVID-19. Alexus Reynolds said she was happy to see plenty of hand sanitizer and people still wearing masks at the polling location at Cheltenham Elementary School.
Some voters in Abington Township came to vote primarily because of two related ballot questions about whether the governor should be able to continue declaring emergencies. Pennsylvania Gov. Tom Wolf renewed his COVID-19 disaster declaration for a fourth time in February. Republican lawmakers tried unsuccessfully to limit the governor's power in court and through legislation but did approve a ballot measure to put a question before voters allowing the legislature to override the executive branch in such matters by simple majority.
"I thought that's a useful and a necessary approach so … that's what drove me here today, in particular," said voter Tom Tyler in Abington.
However, Kelly Viola said she wanted the governor to retain the constitutional power to declare emergencies, and to vote in favor of another ballot measure to amend the Pennsylvania constitution to protect people from discrimination based on race and ethnicity. She went to the polls with her daughter, 18-year-old Olivia Viola, who voted for the first time.
Mary Lynn Ellis said she votes in every election, and was particularly motivated to vote this time because of the Jan 6 insurrection at the U.S. Capitol and the importance of equity and diversity in municipal courts and school boards.
"It's vital for our democracy, which was … scarily threatened," she said. "So I'm here. I'm all in."
She said she voted by mail for the first time last year due to the pandemic and her autoimmune issues, but decided to vote in person this time because it took her a while to research the candidates. She said she felt good voting in a safe place and to not have to wait in line, though she admires the people who do wait to vote.
Tracy Robinson, of Upper Darby, said she would feel guilty if she didn't come out to vote for good public officials.
"It's my job. I would feel bad because my ancestors did so much for us to be able to vote," she said, adding that her top concerns are safety and education.
WHYY's Laura Benshoff and Katie Meyer contributed reporting.
—
Correction: A previous version of this article included a headline that said Krasner won a second term. He is now set to face Republican challenger A. Charles Peruto in the primary. 
A Snyder Avenue resident shows support for Carlos Vega for district attorney. (Emma Lee/WHYY)

Sidewalk chalk shows support for incumbent District Attorney Larry Krasner in Jefferson Square Park in South Philadelphia. (Emma Lee/WHYY)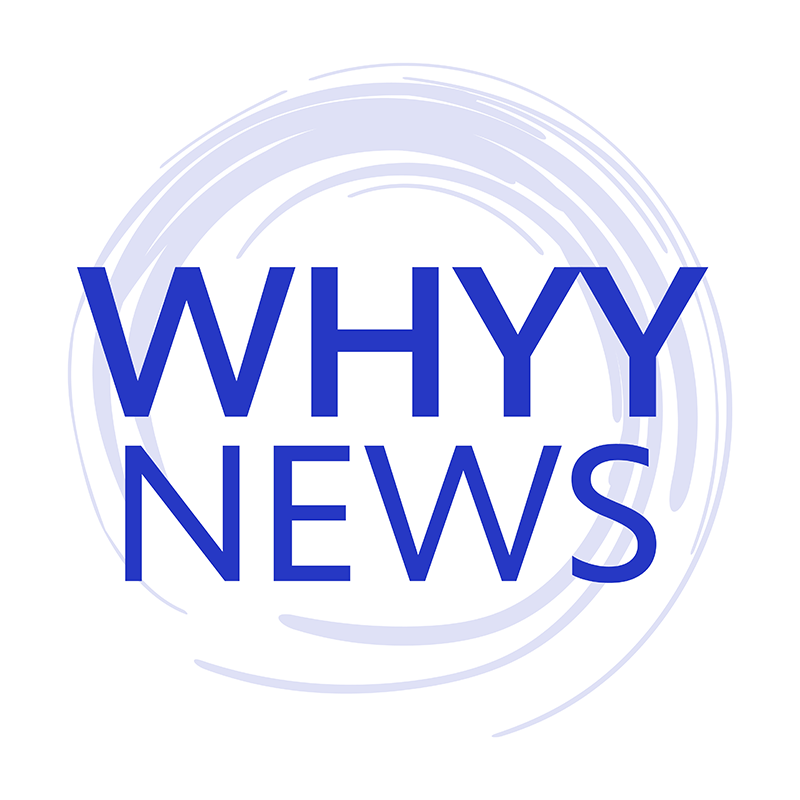 Get daily updates from WHYY News!
WHYY is your source for fact-based, in-depth journalism and information. As a nonprofit organization, we rely on financial support from readers like you. Please give today.