On trails and in wetlands, conflict continues over driving in Pinelands
This article originally appeared on NJ Spotlight.
—
The sandy shore of Cedar Lake, a former quarry in Gloucester County, is rutted with tire marks from jeeps, dirt bikes and all-terrain vehicles, and dotted with piles of trash left by the off-road vehicle drivers who apparently don't know or care that they have been whooping it up in a state-run Wildlife Management Area.
The 359-acre site would be an ideal location for hiking, fishing, birdwatching, or other nonmotorized outdoor recreation if it were properly managed, conservationists say, but instead it is one of many locations in New Jersey's Pinelands now being damaged by off-road vehicle use.
The lake and its surroundings highlight a long-running fight between drivers of off-road vehicles, who fiercely resist any attempt to restrict where they can go in the vast South Jersey forests, and conservationists, who say sensitive habitat is being destroyed and their enjoyment of the outdoors is spoiled by the motorized users.
Despite years of acrimony between the two sides, and several attempts by interest groups to reach an accommodation, Pinelands users on both sides say there is still no clear state policy on where the drivers can and cannot go.
DEP's last plan went nowhere
The last attempt by the Department of Environmental Protection to restrict vehicle access to Wharton State Forest, its Motorized Access Plan, was withdrawn only a week after its publication in 2015 amid a storm of protest by the drivers. The forest, which at some 123,000 acres is the largest tract in the state park system, is especially popular for off-roading.
In 2017, the Pinelands Commission approved a map by the U.S. Geological Survey showing which Pinelands roads were accessible by the drivers, but the DEP never adopted the plan.
And in October last year, a plan to protect the interests of both motorized and nonmotorized users was presented to the DEP by the Pinelands Preservation Alliance, the New Jersey Conservation Foundation, and the East Coast Enduro Association, which runs off-road motorcycle events in the Pinelands. That plan called on the DEP to create a "clear policy statement" on motorized vehicle use and recreation in the area.
Now, with COVID-19 restrictions boosting demand for outdoor recreation, off-road vehicle use in the Pinelands is at least as popular as it has ever been, and its opponents say the DEP is doing little to prevent the continuing destruction of a fragile natural asset.
"We are experiencing multiple, systemic, institutional failures," said Jason Howell, a public lands advocate at the Pinelands Preservation Alliance, an environmental group that has long pressed for stronger regulation of recreation in the area. "There isn't an on-the-ground appreciation of what's happening in our public lands. Our government seems unable and unwilling to respond in a meaningful way."
Park police, conservation officers outnumbered
Howell and other conservationists say state park police and conservation officers are heavily outnumbered by drivers; rarely issue tickets for driving in areas where the vehicles are not legally permitted, and may not even know where the drivers can legally take their vehicles because land-use rules are so unclear.
Al Horner, a photographer who has long advocated for tighter restrictions on motorized vehicle use in the Pinelands, said abuse of the forests has been worsened by supporters of President Donald Trump who seem to use their allegiance as a license to drive wherever they want.
"Today's political situation nationally has emboldened these people," Horner said in an interview outside a gun club recently. "They are not afraid of anyone. You see them flying around with the big flags flying off the trucks. They know nothing is going to happen because the parks police are inadequate, and they go and do what they want to do."
Some off-roaders come from surrounding states where restrictions on their vehicles are stronger, and where it's harder for them to engage in the "anything-goes" approach to off-road driving that they can find in the Pinelands, Horner said.
Horner called on Nov. 10 for the resignation of Ray Bukowski, the DEP's assistant commissioner for Natural and Historic Resources, who heads management of publicly owned tracts of the Pinelands, for failing to protect the Pinelands from off-road drivers.
DEP spokesman says there is enforcement
Brendon Shank, a DEP spokesman, would not comment on Horner's call, but said the department continues to address illegal off-road vehicle use and the damage it causes to natural resources. Shank said state park police and conservation officers regularly conduct enforcement actions to limit damage from "destructive activities" by the vehicles.
"While we continue to educate the public and enforce our rules regarding this activity, we are engaging our stakeholders in both the environmental community and recreational users on ways to further protect both our natural resources and the public's enjoyment of them," the DEP said in a statement.
Organized events such as Enduro rides are required to obtain special permits, which will be issued only if officials are satisfied that the event won't damage the natural environment, and won't spread COVID-19, the DEP said.
For critics, the worst offenders drive their "mud trucks" through wetlands and vernal pools, spinning their wheels, and doing long-term damage to natural sites that may contain rare species of plants and animals.
But advocates for the off-roaders say it's only a reckless minority who behave irresponsibly, and that most stick to the miles of well-traveled sand roads where their trucks, bikes and all-terrain vehicles will not damage the forests.
Blaming 'the party crowd'
"The majority of them are going down trails that already exist; the people who are actually going off are the party crowd," said Dave Demsey, a longtime off-road driver who lives near Atco on the edge of Wharton State Forest. "It only takes a handful of trucks going into an area to make it look like a battle zone. To an untrained eye, it may look like there were fifty to sixty trucks that were out here."
Demsey, 39, who founded the off-road access group Open Trails New Jersey but no longer belongs to any such group, said he "used to be that person" who would drive his truck wherever he wanted in the Pinelands, but now recognizes that it's not OK to damage fragile natural sites.
"When I was younger, I was going wherever the hell I wanted to go," Demsey said, standing beside a jacked-up red Jeep parked in his driveway. "Between self-education and also hearing from the other side, I have learned quite a bit. I have an appreciation for the Pines well beyond just driving through them."
To protect sensitive sites, Demsey said he favors more barriers and signage at those locations rather than any new attempt to regulate overall access.
He cited Jemima Mount, a wooded hill in Wharton State Forest, as a site that was once ravaged by off-roaders like himself but where nature is now recovering, thanks to wooden barriers built on the site in 2016, blocking access by vehicles.
Coming for nature, 'not here to party'
He promised to fight any new attempt to impose overall restrictions on motor vehicle use in the Pinelands following the DEP's failed access plan five years ago. "If anything remotely close to what came up before comes around again, I'm ready to battle again," he said.
Some off-road drivers in the Pinelands said they value the opportunity to get out into nature without having to obey a lot of rules, and deny they are destroying anything.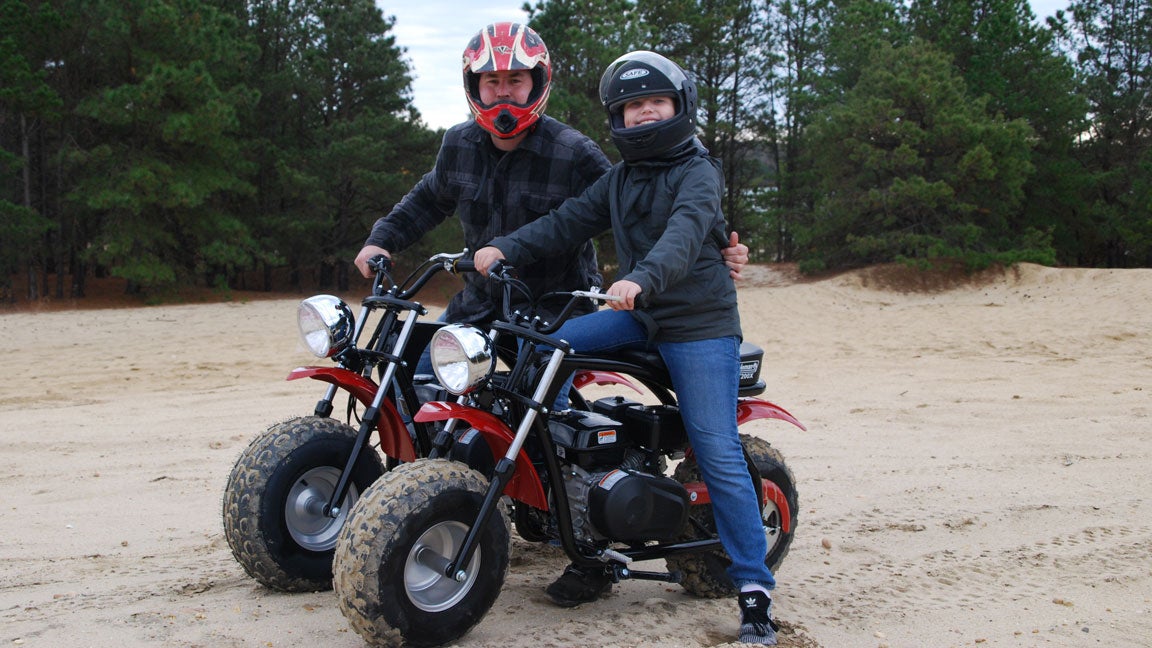 David Seybert, a retired police officer from Audubon, and his 11-year-old son, Liam, were riding their mini dirt bikes up a sand hill at the Cedar Lake preserve on Nov. 15, and had no thought of tearing through the woods or leaving trash behind.
"We come here for the nature; we're not here to party," Seybert said. "I was taught how to ride a dirt bike in a place like this so I'm bringing my son back here to do the same thing."
Asked whether he was legally allowed to ride at the site, Seybert said there are some access points with signs that ban off-road vehicles, and other places where users can freely enter. "I've come here multiple times over the years; the police have never said anything or tried to stop us," he said.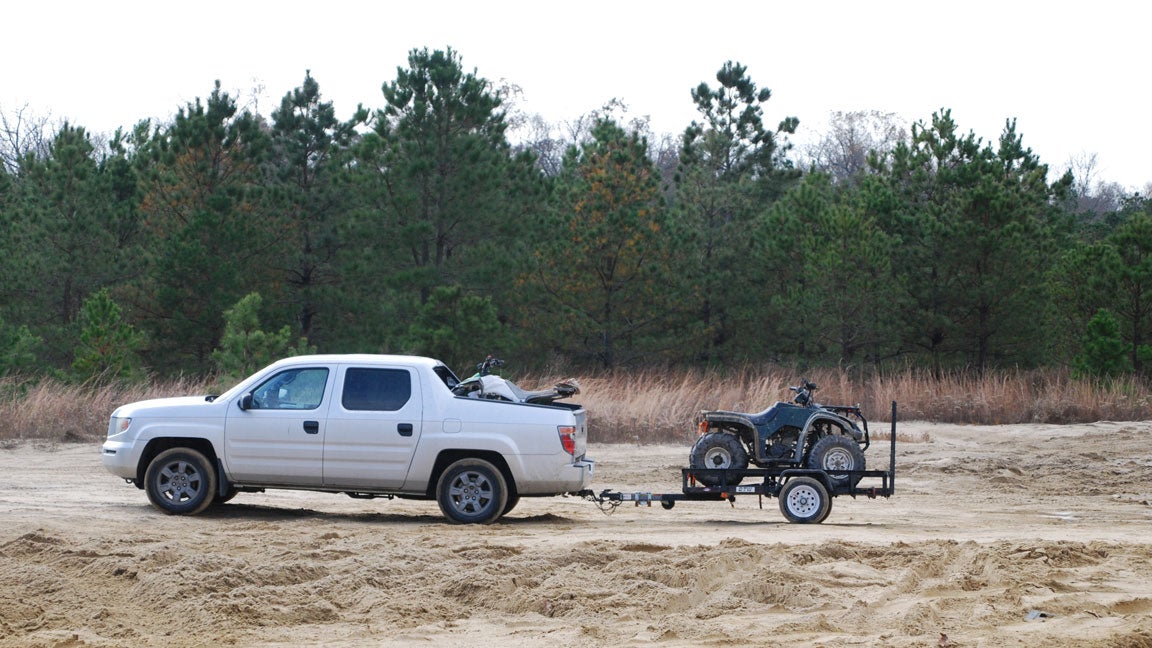 Another driver who was carrying a dirt bike and an all-terrain vehicle on his trailer said he knew he was not legally allowed to ride the vehicles at Cedar Lake — where a sign at one entrance says no off-road vehicles are allowed — but denied that he was doing any harm.
"We're not bothering anybody," said the driver, who declined to give his name. "We're not going crazy; sometimes people go fast in large groups, drinking and littering. We're just taking it easy, exploring the outdoors and seeing what's out here."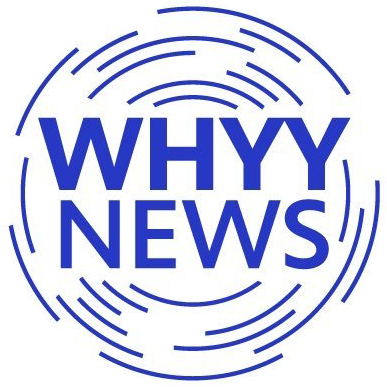 Get daily updates from WHYY News!