Old fish, new fish: Tracing the history of Fishtown's most ubiquitous sign
The popular fish address sign is a potent symbol with different meanings for different people in the fast-changing Philadelphia neighborhood.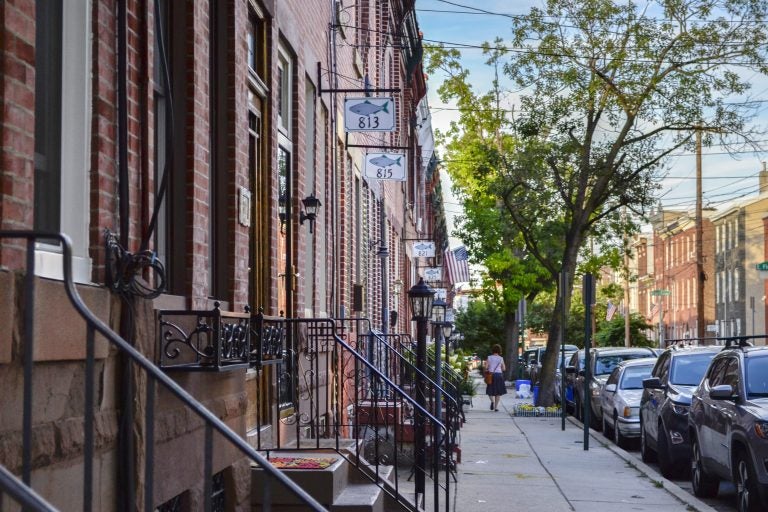 This article originally appeared on PlanPhilly.
—
When Joe Billitto and Megan Minner moved into their brick rowhouse on Sepviva Street last fall, just one thing was missing. The couple, not quite in their 30s, had renovated the place from top to bottom and painted the facade an eye-catching white with bold blue trim that set it apart from its neighbors.
But the missing detail, which had a more traditional look, would blend right in with countless other homes in their adopted Fishtown neighborhood: a white wooden address sign depicting a silver and green fish.
"It was all I wanted when we were moving in," Minner said.
Billitto was less bullish on the accessory.
"It's an ugly-ass fish," he said.
Still, a few months after moving in, Billitto tracked a sign down to give to Minner as a Valentine's Day present.
"It's kind of an icing on the cake," Minner said.
For both, the sign was a way to honor the culture of the tight-knit community they saw around them. They noticed how people sat in circles of lawn chairs out on the sidewalk on evenings when the weather was nice, shooting the breeze with neighbors who passed by.
"A lot of people know everyone, and a lot of people have been here," Billitto says, noting that families spanning multiple generations often live on the same block. And the fish address signs were everywhere.
"The embodiment of the culture is in the sign," Billitto said.
But that culture is changing.
Younger people, many of them from outside the area and better educated than the average Philadelphian, are moving into the formerly blue-collar enclave, drawn by the neighborhood's tranquil streets, hip restaurants, and proximity to Center City. More than half of Fishtown residents now work in professional occupations, up from less than a third two decades ago, according to a 2016 report from Pew Charitable Trusts. Houses on the block where Billito and Minner bought sell for prices rarely seen outside of Center City until a few years ago.
Billitto, who works as a sprinkler fitter, and Minner, who works for a pharmaceutical company, say hanging the sign above their door was a small way to preserve what came before them and show solidarity with their new neighbors. It was a "way to connect us all," Minner said.
"It's something historical about this neighborhood, and we're embracing it," she said.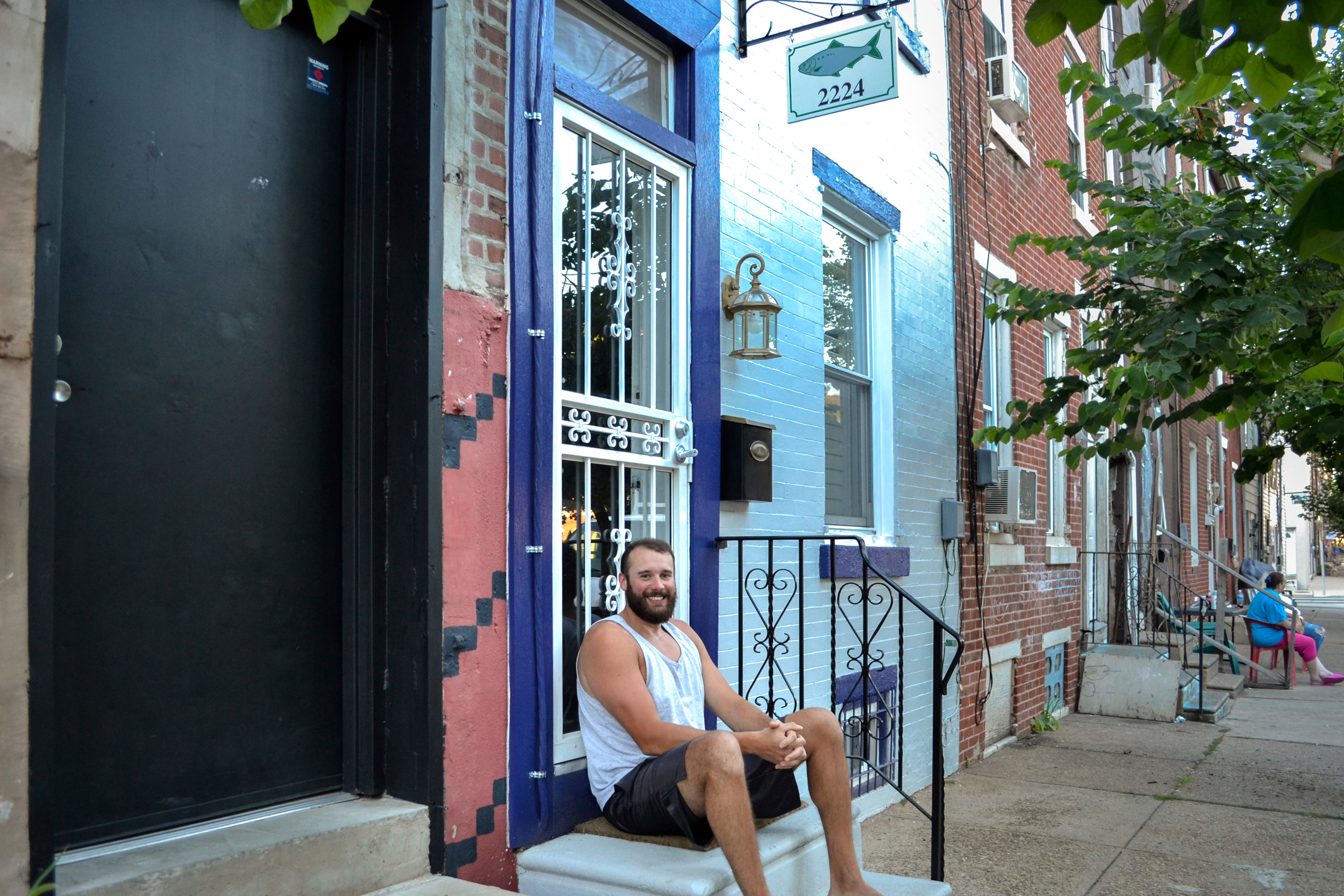 Billitto and Minner aren't  the only ones charmed by the antique-looking signs. They hang from rowhomes all over Fishtown's irregularly shaped blocks and hidden alleyways, adorning weathered old trinities and the homogenous, newly built townhouses remaking the neighborhood's fabric.  The fish, a shad, nods to the storied fishing industry that once drove the local economy and gave the neighborhood its name.
Some homes sport the signs alongside shamrocks and Celtic designs, suggesting an enduring connection to the neighborhood's working-class, Irish Catholic roots.
But while some residents see history in the signs, others see a fad driven by droves of millennials moving to the neighborhood.
As it turns out, the history of the house-number fish has one fin in the old Fishtown, and one fin in the new.
Spawning of the shad
The "official" Fishtown address sign is the invention of the Fishtown Neighbors Association,  a registered community organization formed around the year 2000 by residents who felt neglected by city government.
"Anything we wanted in this neighborhood, we had to raise the money for ourselves," said Maggie O'Brien, 62, one of the FNA's founding members.
It was right before newcomers started moving in. At the time, O'Brien says, Fishtown had big problems to contend with: drug houses; hundreds of abandoned cars marooned on streets where parking was scarce; and slumlords from New York buying up rental properties. A bigger police presence was at the top of the FNA's wish list, alongside new playground equipment and fixing the air conditioning at Fishtown Recreation Center.
The group members brainstormed ideas for something they could sell to raise the money to make the investments themselves and landed on the fish sign.
"We took a vote, everyone voted on the shad fish, and we got those address signs made," said O'Brien.
The signs capitalized on a familiar symbol of neighborhood pride in Fishtown, where homeowners had long exhibited a soft spot for piscine decor.
"People loved those signs!" O'Brien said
The fledgling FNA raised enough money selling the signs to buy a new bicycle to put another police officer on patrol in the 26th District, she said. The cop only stayed for three days.
"We were so pissed! 'What happened to our bike cop?'" O'Brien recalled.
But even if there were some problems back then, O'Brien remembers pre-gentrification Fishtown fondly. It was a great place to raise her two kids, she said.
"People looked out for each other, everyone on the street knew each other," she recalled. "It was like a little village."
Her two grown kids, a teacher and a medical technician, had since moved to Bridesburg.
"They couldn't afford to buy here," O'Brien said.
Despite her role in the creation of the fish signs, there isn't a shad to be found hanging over the door of her Norris Street rowhouse.
"I don't really care for them; I'll tell you the truth," she said with a laugh. "I think they're ugly."
As the neighborhood changed, O'Brien's relationship with the FNA became strained. She left the association a decade ago when a bitter debate over whether to support the construction of the SugarHouse Casino created a rift among members.
Old fish
One of the biggest shad runs in Fishtown stretches down the 800 block of Thompson Street — the white signs mark nearly every facade in the handsome brick row.
Emma "Ottsie" Groves is the woman responsible for this sight. She has lived on the block since the early 1960s, when she bought her home for $6,000. A member of the FNA in its early days, Groves, who is now in her mid-80s, gave each household a fish sign in exchange for becoming dues-paying members of the new civic association.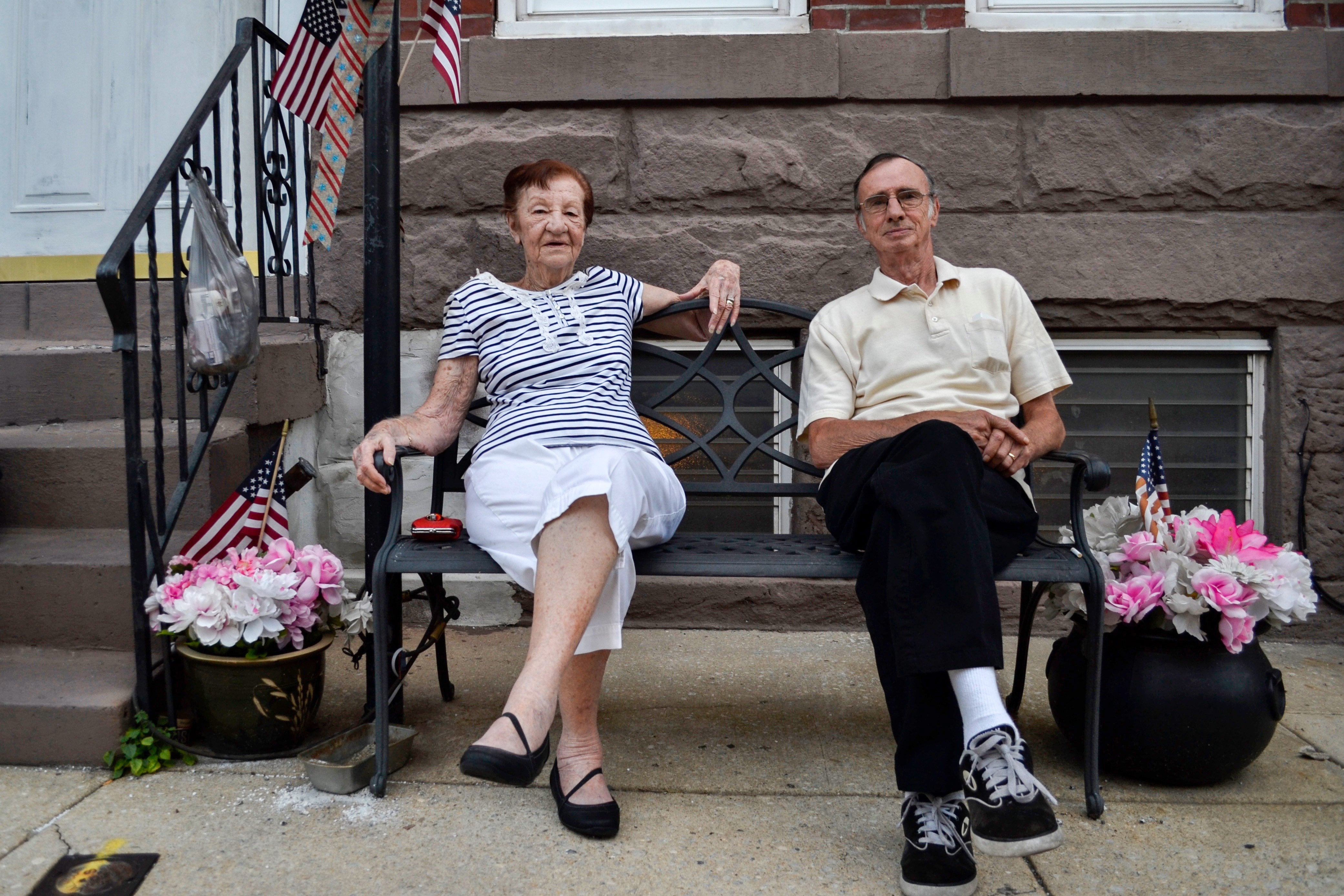 One recent, pleasant evening, Groves sat on a bench front of her home and smoked a cigarette.
Before long, a neighbor, Jim Lavin, wandered over and joined her on the bench.  The two settled into punchy banter, recalling how the signs took over the block.
"I probably didn't want one but was forced to buy it," joked Lavin. "[She] threatened to beat me up or something," the septuagenarian said. His wife thought the signs made the block look like a row of doctor's offices, he recalled.
"The FNA was a good group, I'll tell ya," Groves said.
"Back then it was," Lavin added.
"You had a problem, they were right there," Groves continued, remembering how members used to sit in picket lines outside houses that were used for dealing drugs, forcing the dealers out of business.
Groves said she wasn't sure who was now living in the houses decorated with the signs she handed out. It was a stark difference from the Fishtown of old.
"You knew everybody on your block," said Lavin. "And the next block, and 15 blocks over."
For grown kids, leaving home meant moving down the street. Lavin still lives in the house where he was born. Such familiarity bred tight bonds between neighbors, who were always ready to help each other out during times of need, Groves and Lavin said. Now, their old friends and later generations of native Fishtowners they knew had mostly moved away.
"They're building all them big houses and people don't want to buy here. It's too expensive," Groves said.  A new townhouse on the block sold in 2017 for $650,000, and market prices in the area remain well above the city average.
Instead of families with children, the people moving in were often young singles living as roommates.
"I mean they're friendly enough, but they don't sit out like we do," Groves said. "They come from work and stay in."
"We cheer when we see a kid," Lavin said.
Groves agreed. "They don't have kids anymore, they have dogs."
Sign of the times
Visitors seeing the hundreds of fish signs hanging from houses all over Fishtown may at first be struck by the uniform aesthetic. But look more closely, and quirks appear. The signs have always left a blank space for address numbers, which some residents treat like a blank canvas. They emboss them with numbers fancier than the manufacturer's fonts.
Others forgo the numbers entirely, printing family names. Then there are the nonconformists. On Belgrade Street, there's an unofficial sign in the shape of a smiling shark. And more than a few intricate, metallic fish sculptures — species unknown — hang from neighborhood buildings.
It's not unusual to see blocks of brand-new homes outfitted not just with "For Sale" signs, but the FNA's classic shad signs too. For those modern, minimalist-style homes cropping up everywhere, the FNA's Arthur Meckler has created a whole new design. Meckler, who runs a business selling midcentury modern furniture, wanted something that was a better fit with the new architecture than the FNA's original design.
"It's a good fish, it's a good sign, but it's kind of traditional — it goes with the old-fashioned houses," Meckler said. "The newer ones I thought could use something a little more updated."
The FNA has a name for the new fish on the block: the "shaddress." The signs are cut into an abstract fish shape, giving them a sleeker look than the rectangular classic.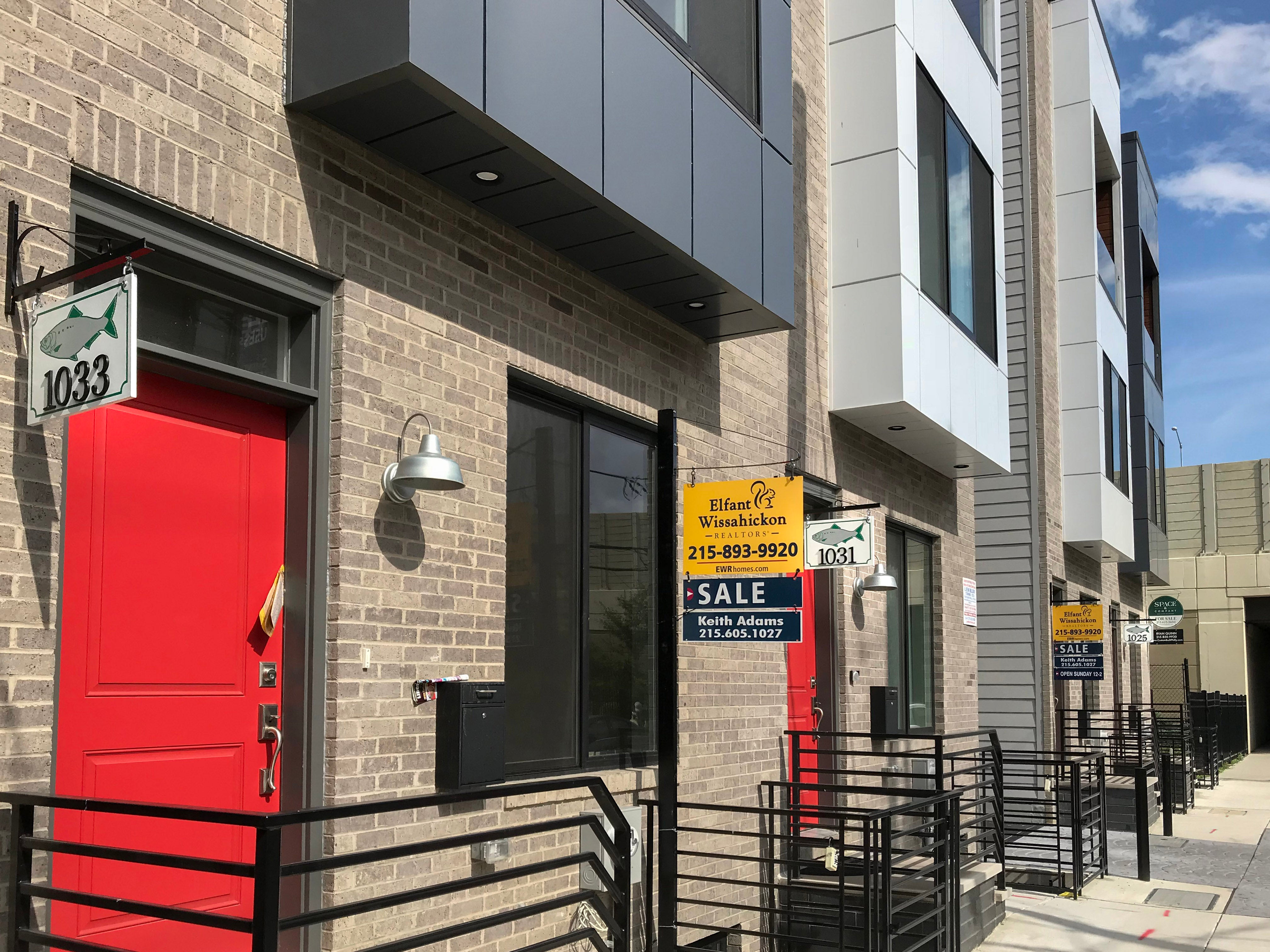 The association still makes the original design, and they are "insanely popular," said its Ian Wilson, the fomer president of FNA. The FNA orders about 50 signs each year and quickly runs out of stock. Residents can order them for $60 a pop on the association's website — or $72, if they want to add their house number.
But these days, the signs aren't about raising money; the FNA takes a profit of only about $4 on each one. They're an established tradition, a popular symbol of neighborhood pride that current members say fosters a sense of community. And, as in the FNA's early days, the fish signs still serve as bait for luring new members. Buyers are asked to pick them up at general membership meetings, and the FNA hopes that first introduction to the organization will lead to continuing involvement.
Still, some new arrivals won't have to go to the trouble.
"Sometimes we have real estate agents who will come by and buy 10 or 15 because they have a new development and want fish signs on everything," Wilson said.
Is the popularity driven in part by Fishtown's hip image? Wilson concedes that's possible. But FNA members say what the signs represent remains constant even as the neighborhood they symbolize has transformed. For them, the fish sign has always been fundamentally about creating community.
"I think it becomes sort of an instant way of identifying with the history of the neighborhood and your other neighbors," said Meckler. "I think it binds the community together in many ways."
Meckler acknowledged that the SugarHouse Casino and other issues had divided longtime residents from newer ones over the years. Having lived in the neighborhood for 30 years, the 70-year-old Meckler has been around longer than most of today's FNA membership.
But Meckler said the "gap is being bridged," as the newer residents settle in, have kids, and get to know their neighbors. But new, fresh-off-the-El residents are moving in all the time. One of the FNA's priorities is to better integrate them into the community, said member Shannon Wink.
"One of the things that we're trying to do, especially in the coming year, is create more unity," Wink said. The association is sending out "Welcome to the Neighborhood" postcards to new residents with a link to a webpage that offers suggestions for getting involved in the community. Wink sees the fish signs as furthering the goal of connecting neighbors too.
Maggie O'Brien had also recently rejoined the FNA, serving as co-chair of Wink's Outreach Committee. And she was well-positioned to reach out to at least one of Fishtown's newest residents; her daughter had recently moved back to the neighborhood from Bridesburg.
On Joe Billito and Megan Minner's block, there's a weathered old sign that has "FISHTOWN" stenciled in. It's the type of fish sign that seems to suggest a deep, longtime connection.
For some native Fishtowners, that's what the signs originally signified: local roots.
"You were born and raised here —that was the true meaning of it," said Patrick Colville. The 31-year-old construction worker lives a couple doors down from Billitto and Minner.
"What gets me is the real Fishtowners started the signs. The older generation," he said. "Then people come and start buying them. They don't actually know what it represented."
Still, he said, he didn't mind seeing new residents showing neighborhood pride, especially his neighbor, Billitto.
"Joe, that's my boy," Colville said.
But he does miss the greetings neighbors always used to exchange when they passed each other on the sidewalk.
That could be a sign of the times, Colville said.
"You're not worried about the person in front of you liking you, you're worried about 250 people on Facebook liking you that you've never met a day in your life," Colville said.
But the influx of newcomers also brought some positive changes, he said. He no longer sees anyone selling heroin in the park across the street.
Colville also had a bigger problem to worry about than unreturned pleasantries. A wooden beam was propping up the front wall of his mother-in-law's house, preventing the buckling facade from collapsing. He'd been trying to get the home repaired for three years, but didn't have the money for it.
"I was thinking about getting a sign," Colville said. But, he said, first he needs to fix the wall where it would hang.
---
Editor's Note: This article has been updated with information about changes to FNA's board. 
WHYY is your source for fact-based, in-depth journalism and information. As a nonprofit organization, we rely on financial support from readers like you. Please give today.